Part 1 was here; general references still useful
http://www.network54.com/Forum/78440/message/1158403418/
For chronos, this page is the natural starting point
http://adenoma.sites.uol.com.br/61xx-70xx-english.html
No pictures in the English version but the Brazilian version has pictures;
http://adenoma.sites.uol.com.br/61xx-70xx.html
Like Randalls article in the previous post, this means I can more or less leave out the technical details so let us start off with a bit of history. I started collecting watches last year after inheriting some pocket watches from my great great grandfather who was a watch maker and watch collector. I got fascinated by the technical aspects and due to limited funds, the most accessible and technically interesting watches were Russian chronos like this;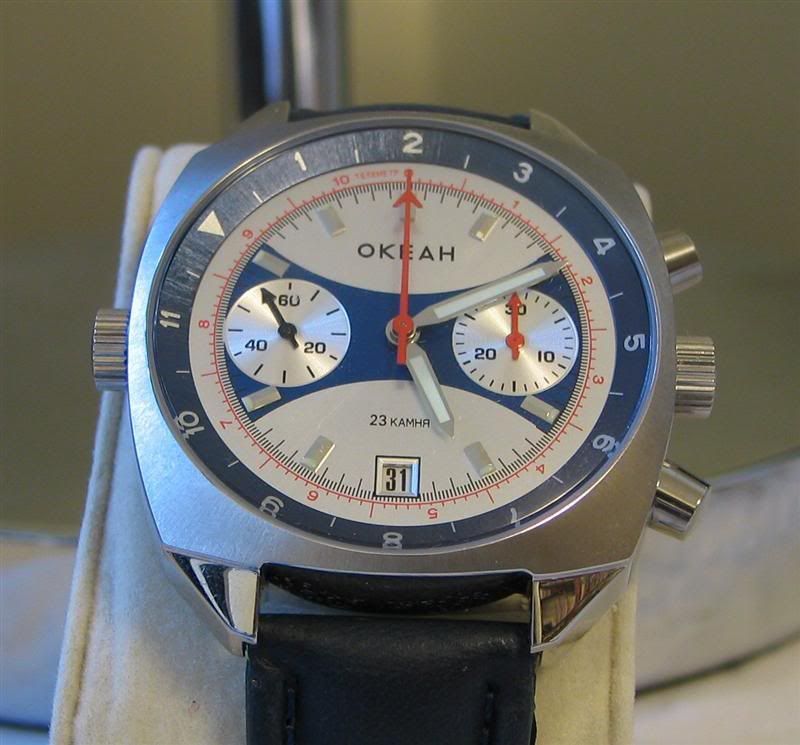 I spent a few months collecting Russian watches but there is a very limited amount of information and spare parts about Russian watches. When the info and discussions in the limited number of Russian watch forums started to come around for the third and fourth times I needed to find something else to collect. The neverending praise for Seiko at the PMWF started me on Seikos but unfortunately not on SCWF from the beginning. I therefore started off my collection with two purchases from one of the Singapore cobblers. You know how it is (at least if you admit it), cheap prices, good feedback and I could not recognise an original Seiko from a three dollar bill.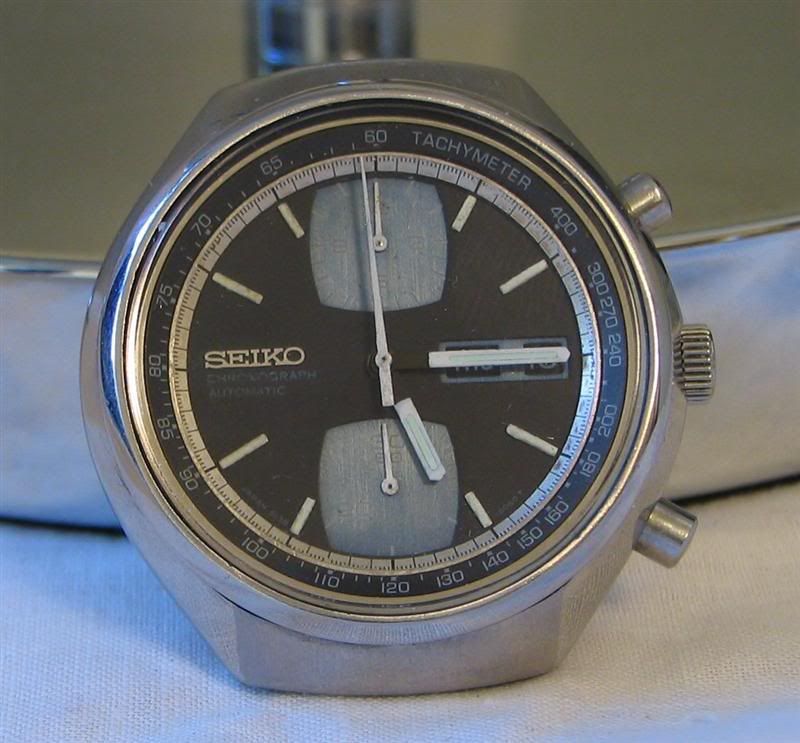 A quick read had put me on to 6138s and 6139s. I had also heard about Speedtimers so I got these two. Not my proudest moment but both of them actually work.
Pepsis also seemed to be a popular watch so in comes a Pepsi.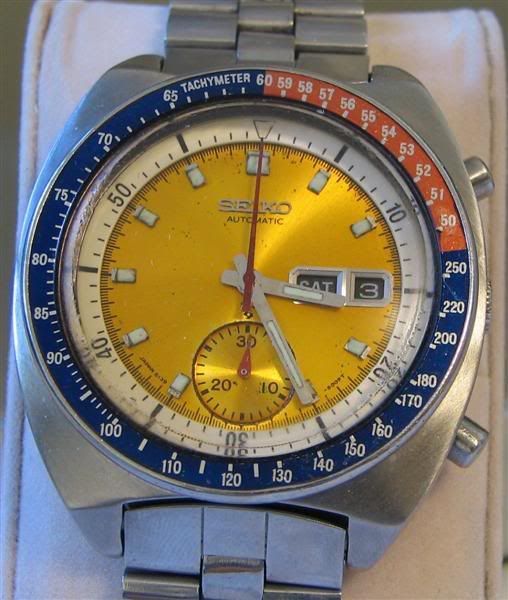 I had now learnt a bit more so this one I did some research for authenticity. It has some nicks and scratches but a good bezel and a nice deep yellow colour. But now, into the picture comes SCWF and SCTF. I read and I listen and I learn.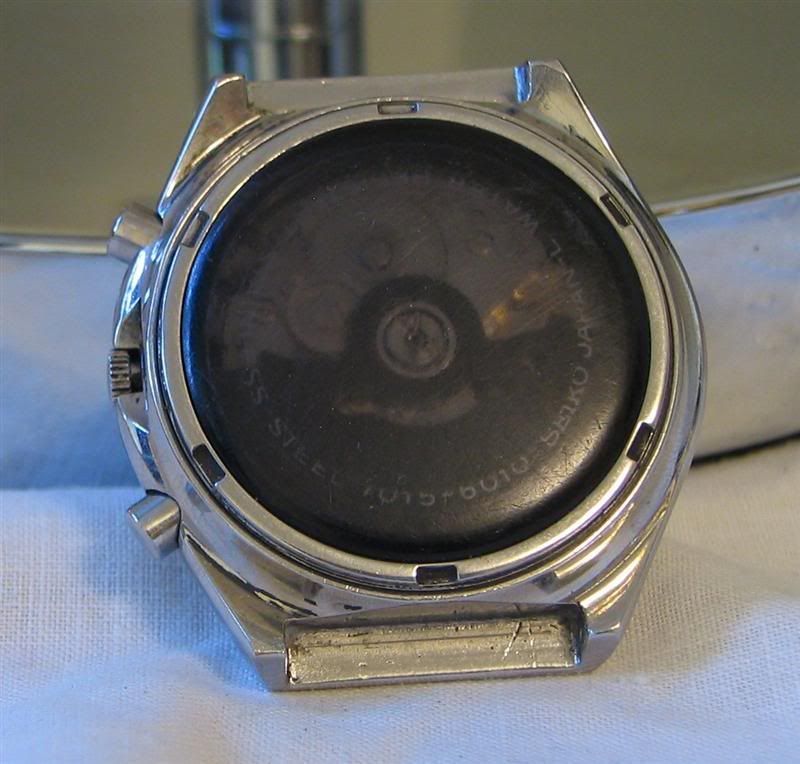 My first really researched watch was a 7015-6010 also known as a TimeSonar. TimeSonars come as 7015 and 7018 calibers (There is also a 2XXX called TimeSonar) but AFAIK that does not have a see through caseback. The 7015 is a flyback chrono without subdial and has three dial versions (beige, grey and black, first two translucent). I think this is a great looking watch and is not that uncommon on ebay. Fair ones are USD 175-225. Add at least another USD 50 if you want a non scratched caseback. Below some good posts from Don and petew regarding 701Xs and others.
http://www.larrybiggs.net/scwf/index.php?mod=103&action=0&id=1137091258
http://www.larrybiggs.net/scwf/index.php?mod=103&action=0&id=1078269795
http://www.larrybiggs.net/scwf/index.php?mod=103&action=0&id=1025548230
Moving on one notch you get to the 7016 with the two hand subdial. I think that the round one is a bit more rare than the square with the "Monaco" version the most common (some colour combinations however quite rare). An interesting sub-version of the round one is the 1974 Asian Games white dial.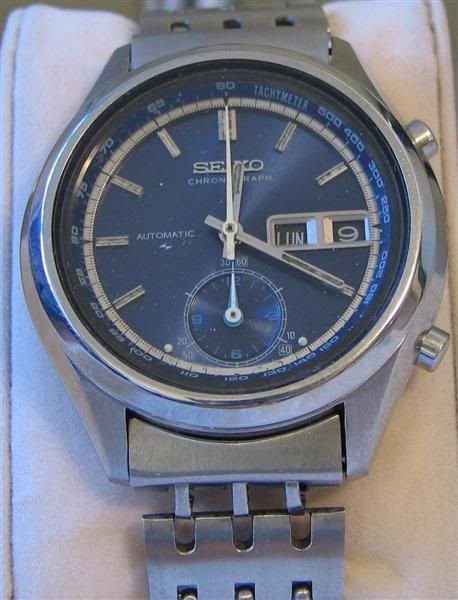 Also a great watch from a technical perspective. There are not very many two hand subdials in the market and Seiko usually says that theirs was the first. The square one is a SCTF purchase from a well known Dutch-based cyclist (and yes, he told me that hands were not original). Lot of posts on the 7016 in the archive so I will not summarize them. It is also interesting how the square 7016 design still tends to be very modern. It is very similar to my new Casio.
Rounding things out, only a few 6139s to go. First, SCTF and the Dutch-based cyclist strikes again with a 6139-7070 from 1975.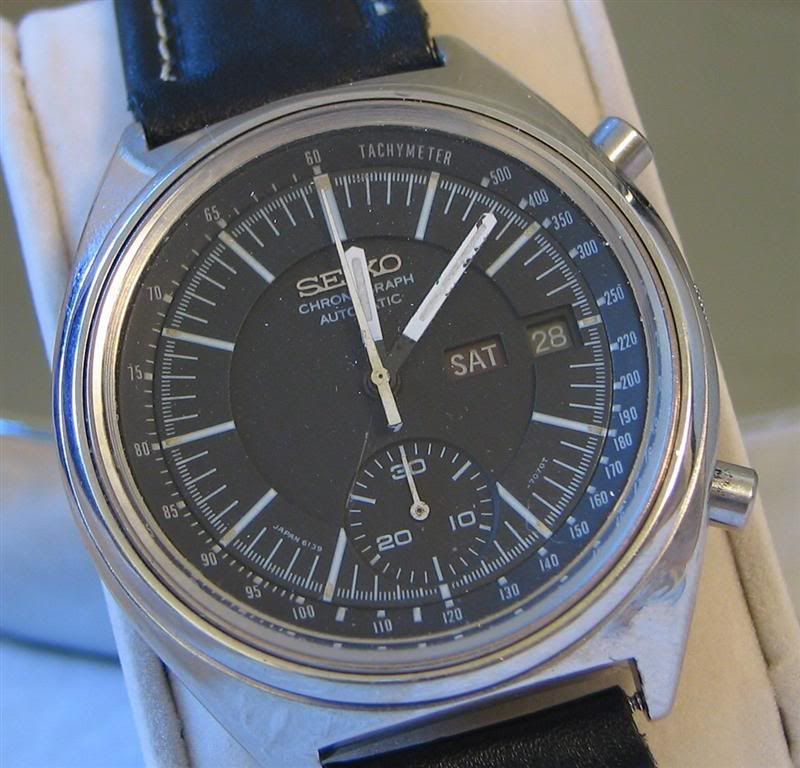 I think this is one of the classic Seiko designs (even if it has borrowed a few clues from other watches). Sporty but yet understated and a nice clean design. I manage to wear it with suits as well as casual.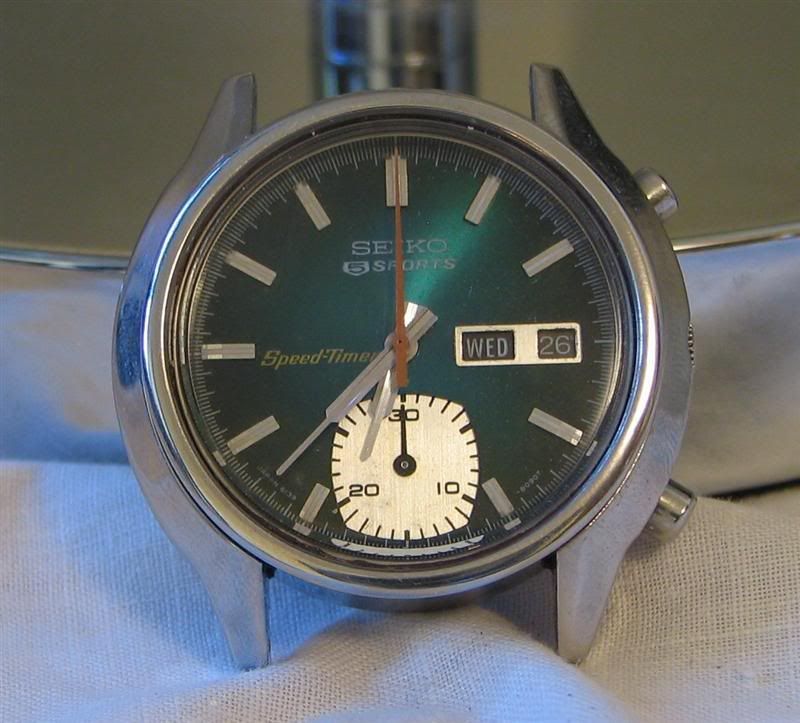 Final watch a Speedtimer 6139-8050. It breaches one of my collection limitations (no divers, no fivers), but no rule without exceptions. For some reason, Seikos green dials often turn out better than the other colours and this watch was so cheap I could not skip it.
At the moment, my interest has moved away a bit from chronos but they are still among Seikos best technical achievements so this is probably only a momentary thing.