It has been 5 months since the last update so there are a few more pictures than usual. I will do this large pic update with a few comments followed by the full update later today (EDIT: Full collection now online as well). As my purchases seem to gather neatly into distinct parts, I have grouped the watches together here as well. A few of these watches have been subject to previous individual posts with additional information.
Early Watches
I have finally bought a version of Seikos first wristwatch, the Laurel from 1913. There are at least two versions of these, one with a red "12" marker and this one with the black one. There are also different orientations of the dial, with this one having a 90 degree twist, which does however not seem to have been unusual at this time. The Laurel is a small but not tiny watch at 31mm. It is the fancy version in a silver case. The other two are a post-war Seikosha Precision, unusual for having the Seikosha rather than the Seiko name and a very early Super from the 1950s.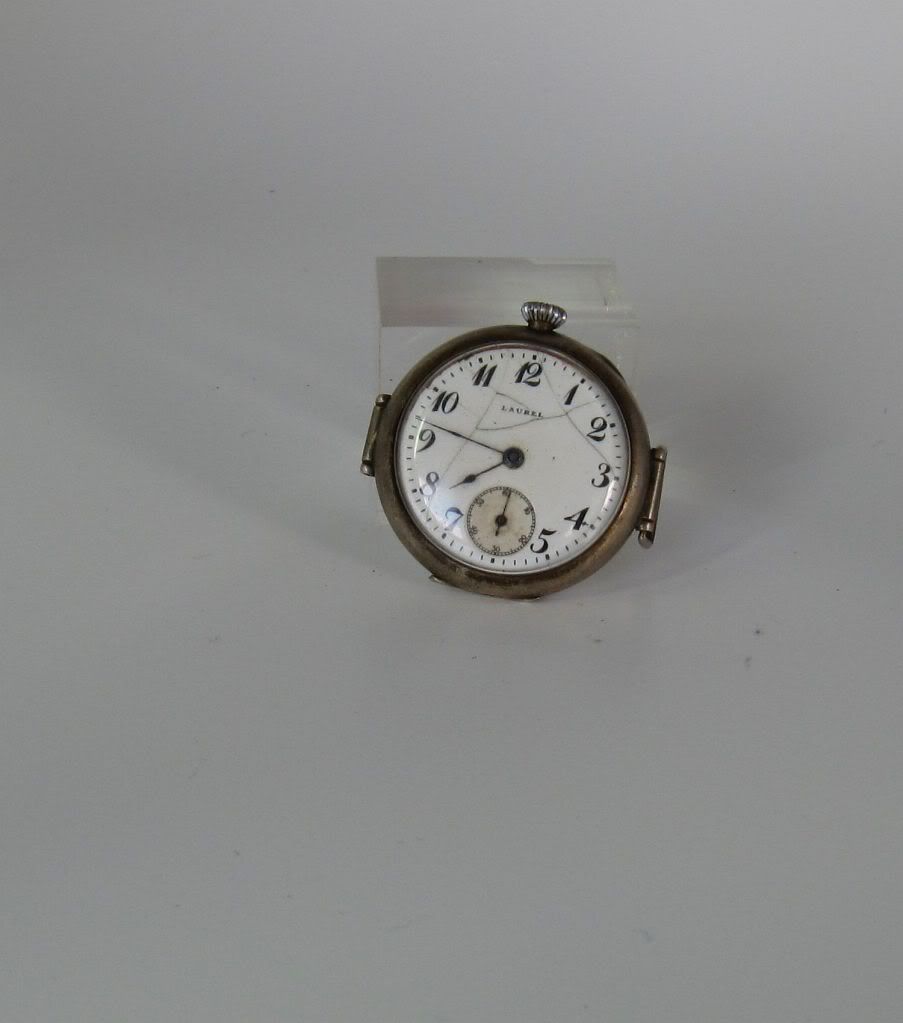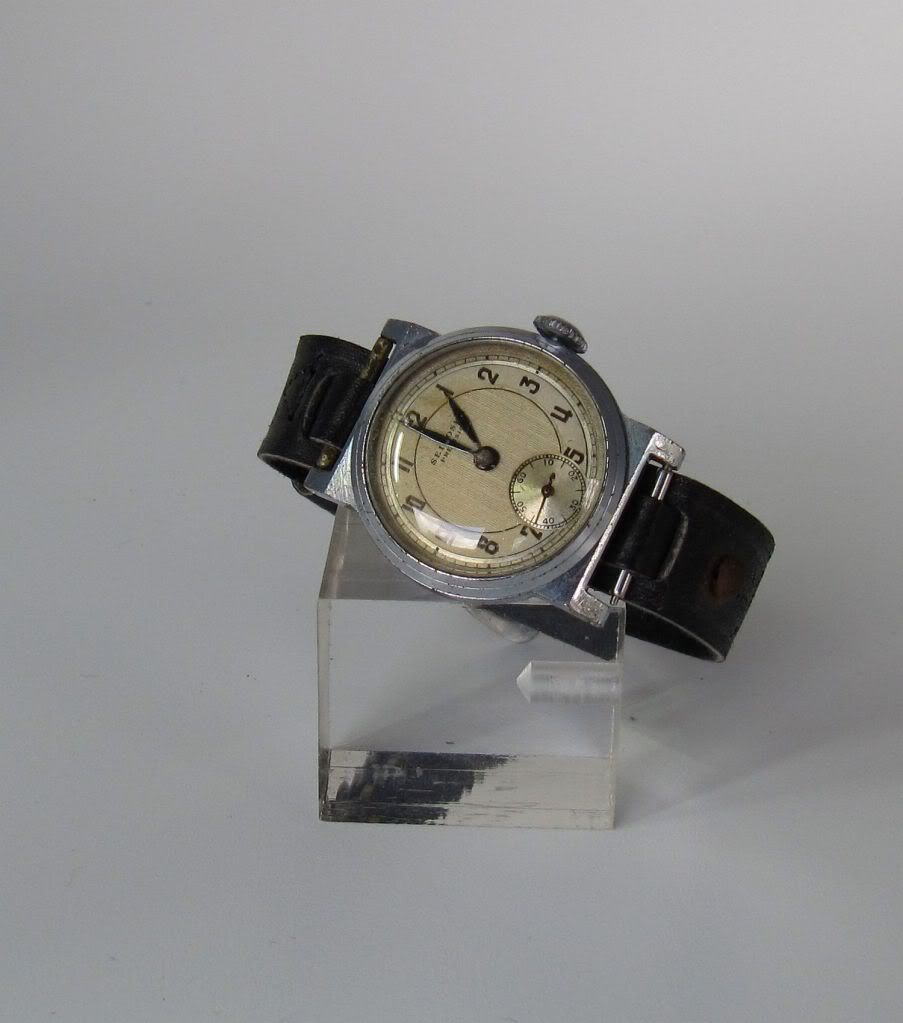 SUS
A few of these watches should have been posted earlier as the are not recent purchases, but they were quickly apportioned to my wifes watch collection. I think the two coloured-dial green and red ones are the best of this pack, but the full lume dial is also a very nice watch. The coloured dials have a great luster and fullness to them which does not come through properly in my pictures. Green SUS is on its original rubber strap, which is a very unusual design for a Seiko watch. All in all, the SUS series have a lot of very nicely designed watches where most of them are still quite affordable.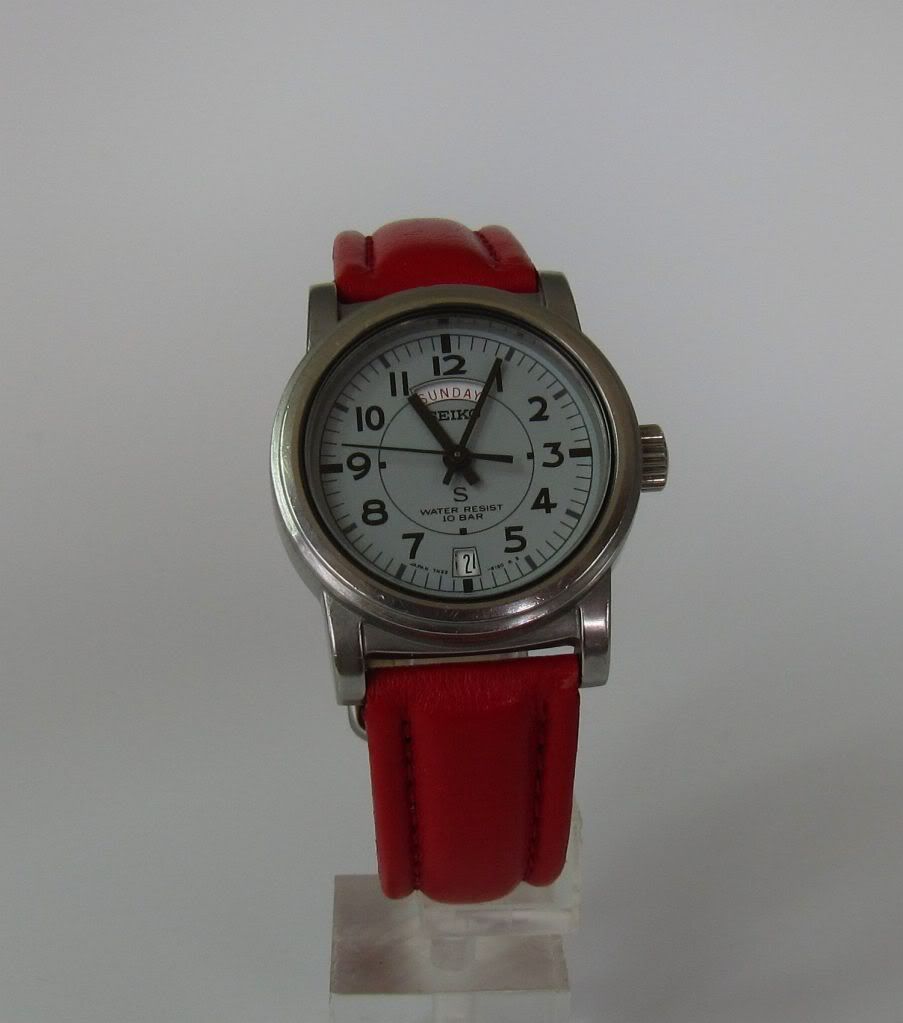 Electronic and Electrical
This section goes from the very interesting horseshoe shaped 3102 caliber which was Seiko first electronic watch in 1969, through one of the best electrics the 0723 caliber Elnix SG from 1972, a nice blue dial EL-330 to a pair of very late green dial NOS 0703 caliber Elnix from 1975.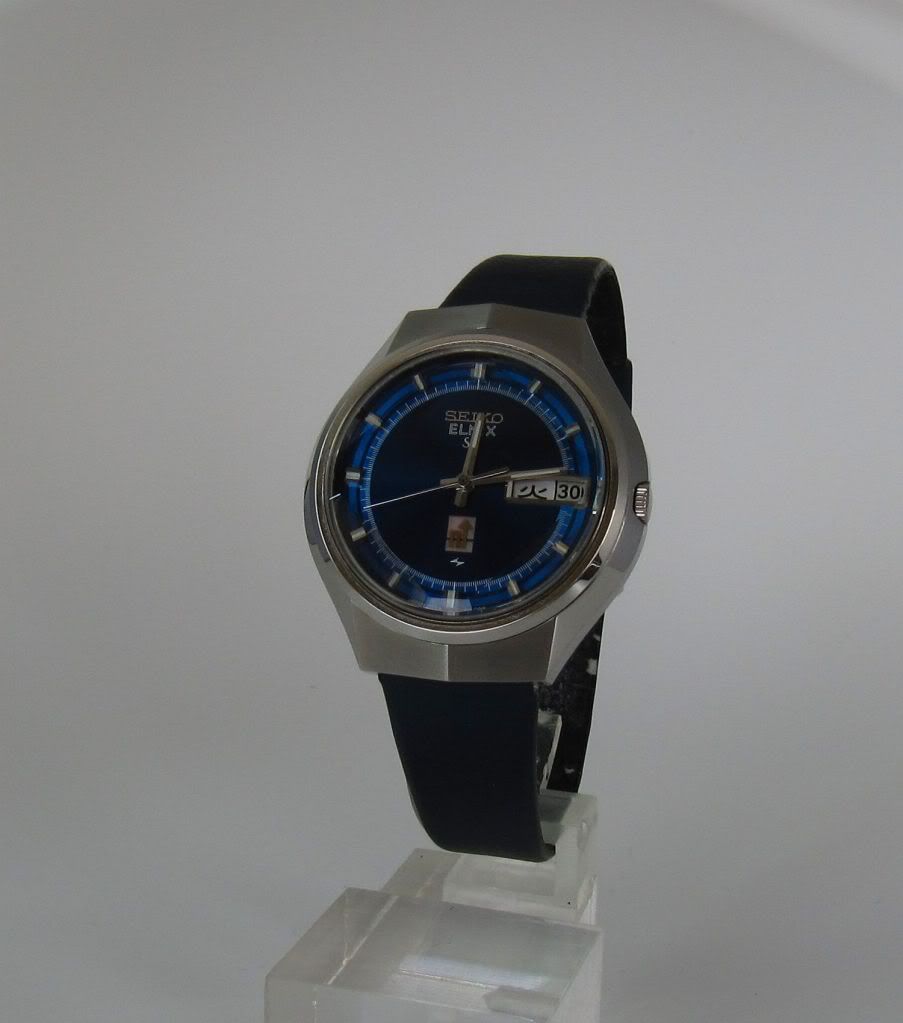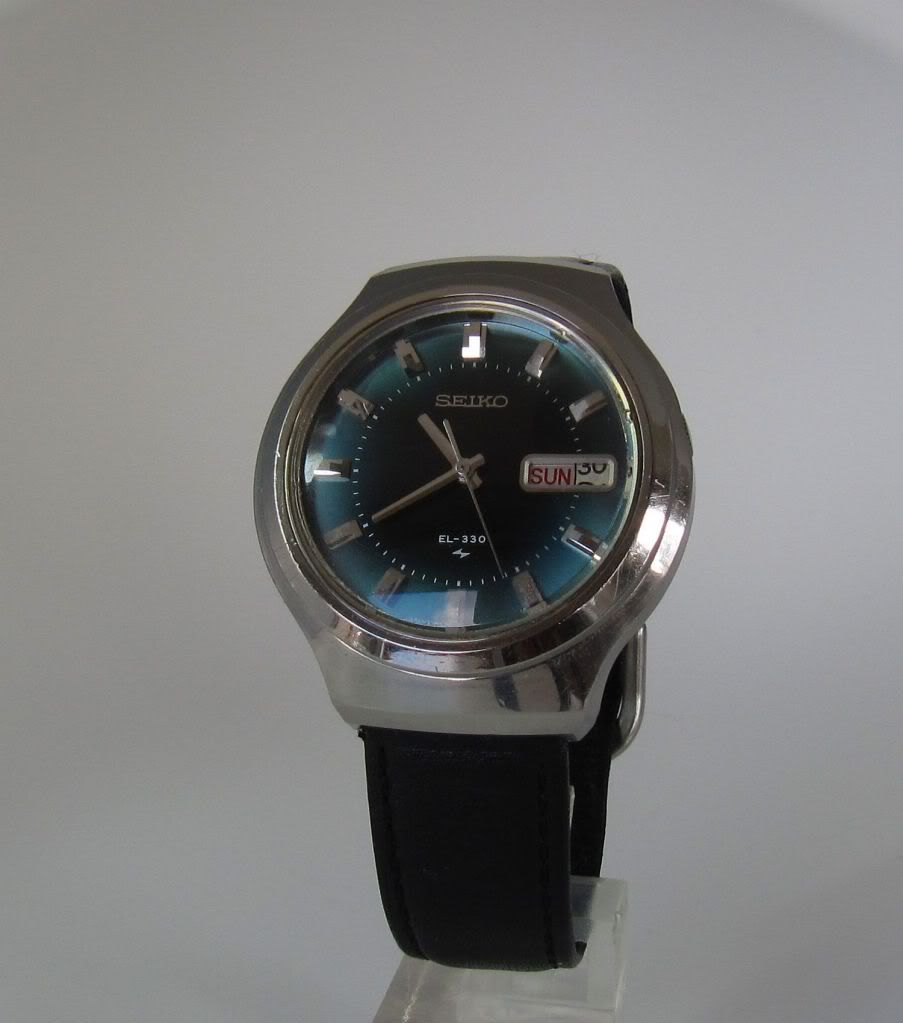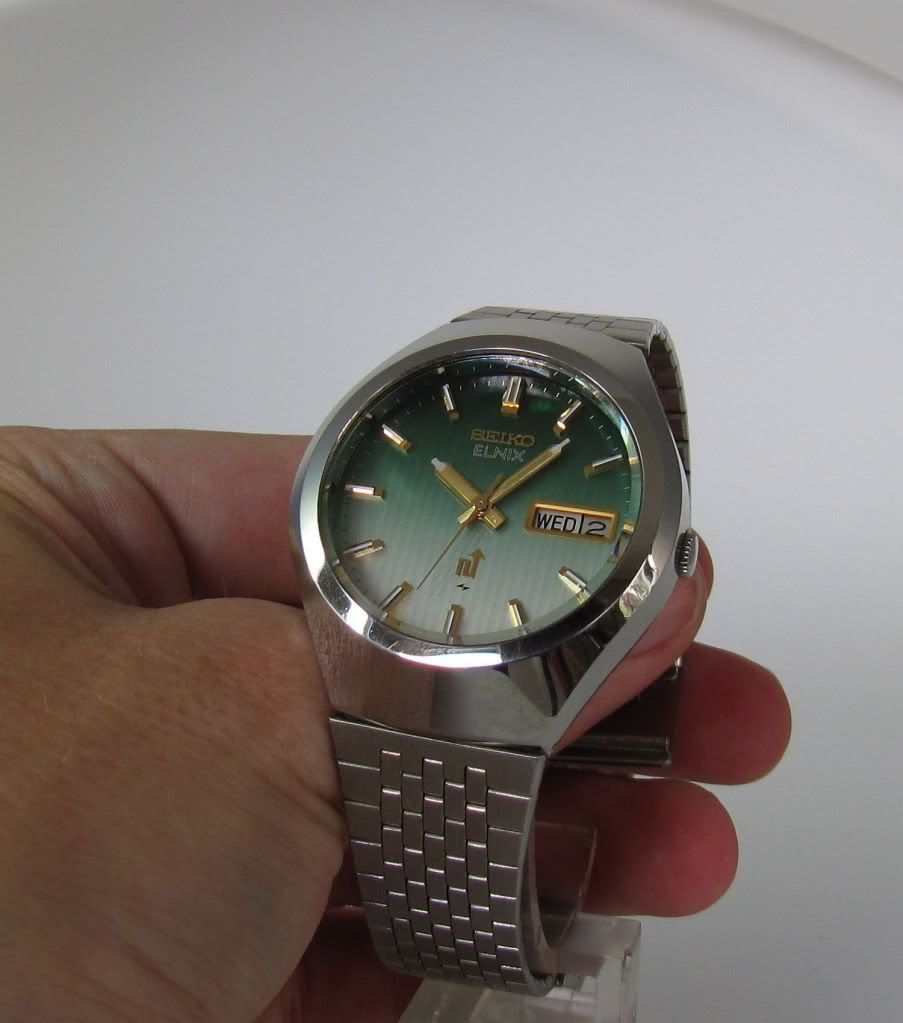 38 Series Quartz
The early 70s 38 series is the core of my quartz collection and I always seem to find more interesting variations. This time, my favourites would be the red dial QR and the 3802 with the drop shaped case and the 3D dial. Noteworthy is also the gold QT and the textured dial on the 3003. All of the 38 series watches are extremely well made to justify their very high pricing at the time. Most of these watches cost more than the most expensive Seiko mechanical watches.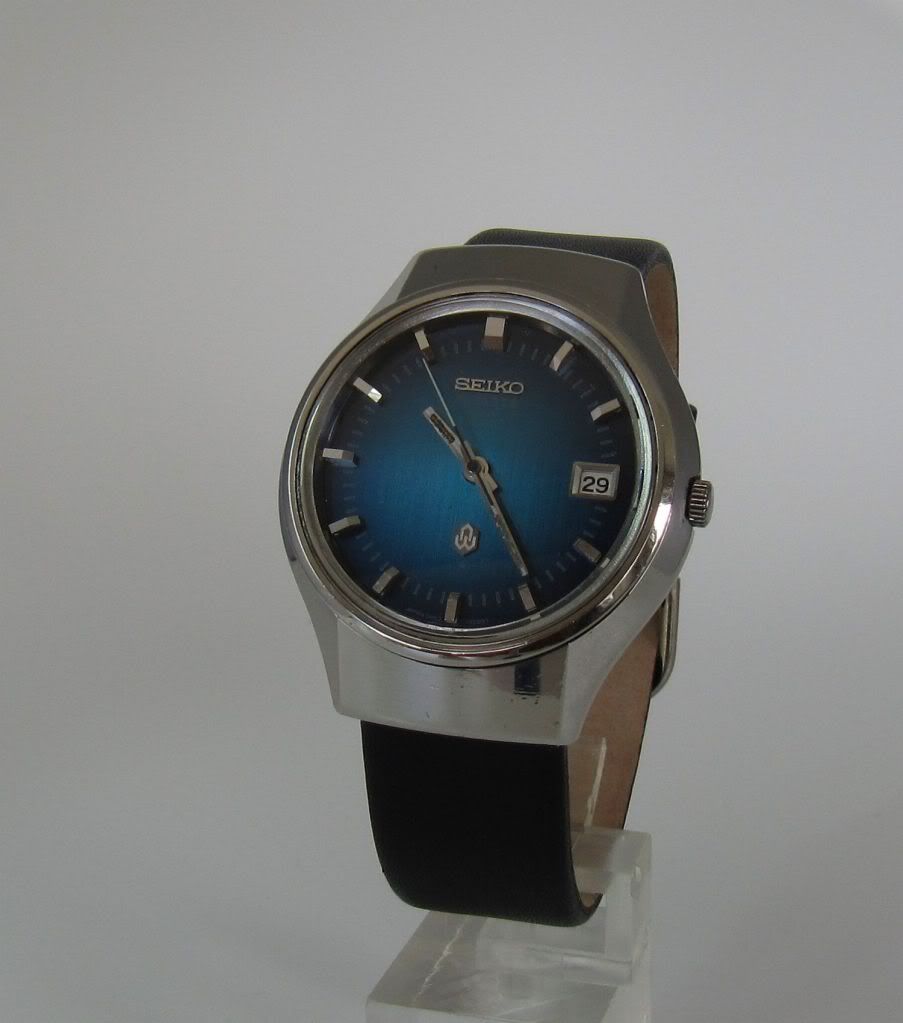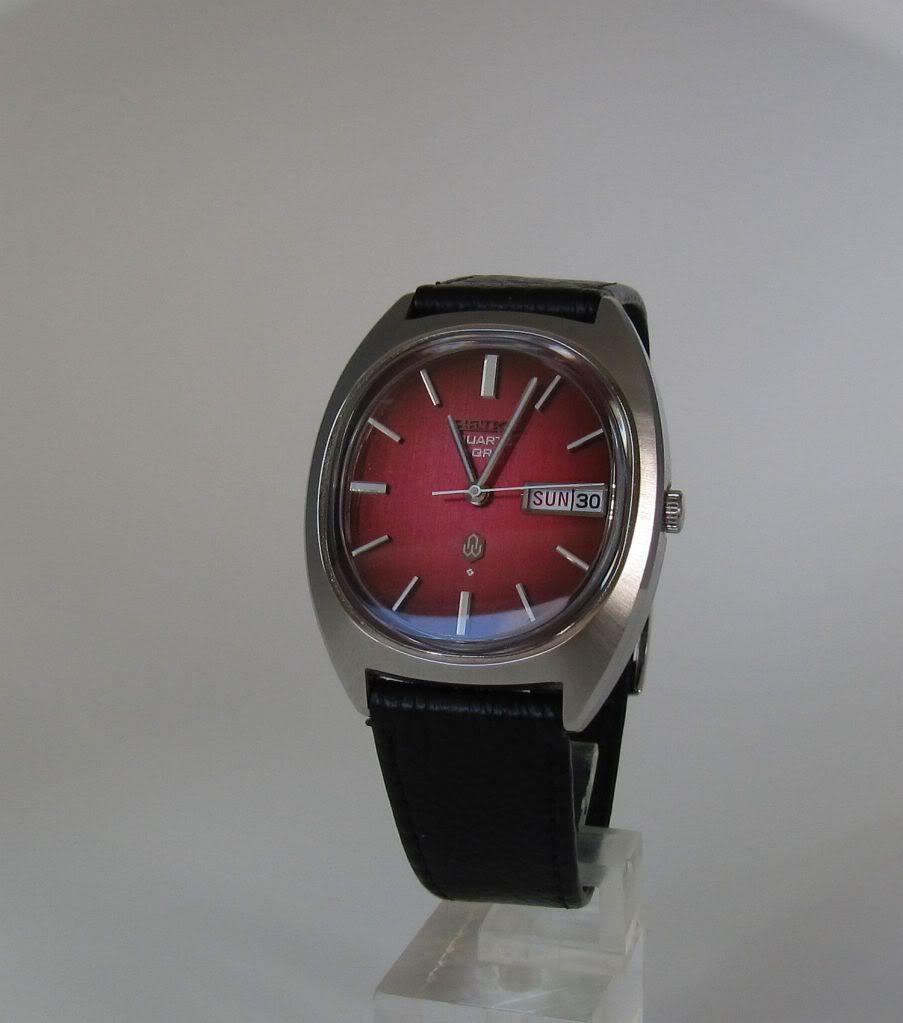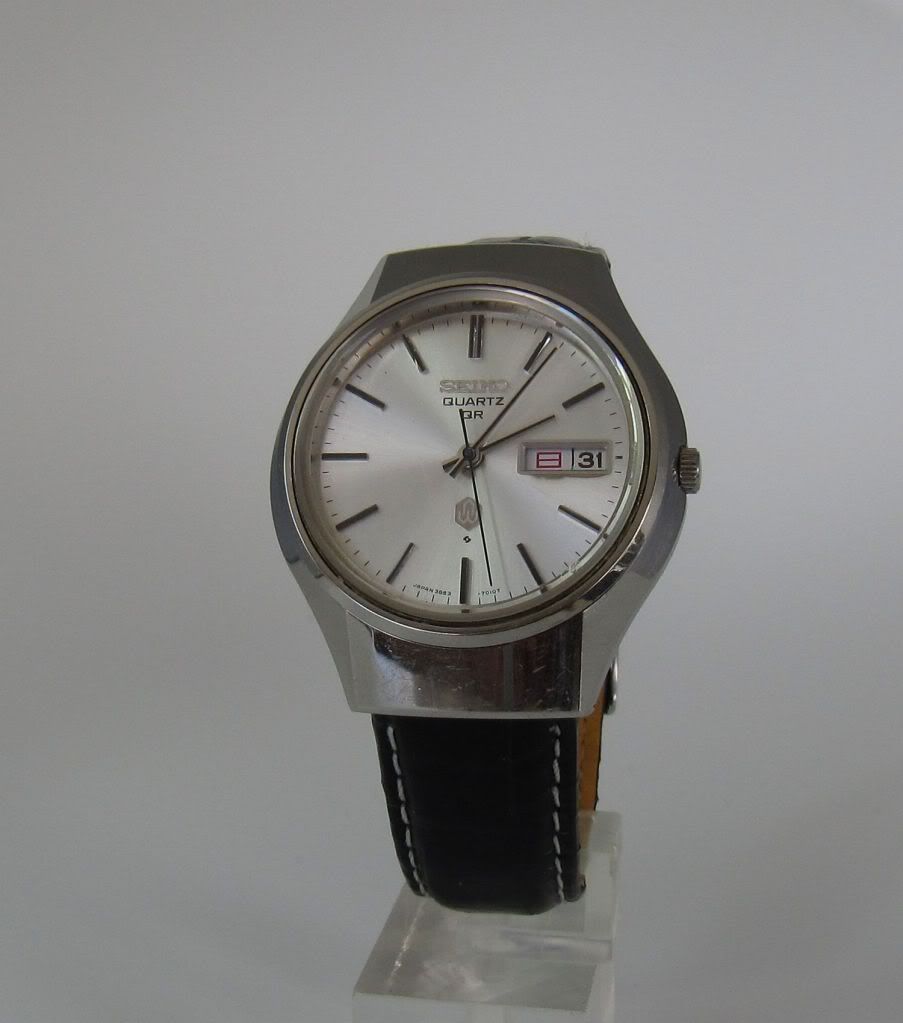 Design and Designers
Seikos collaboration with international designers is well known and often leads to watches with excellent design.
The first one is an Alba Chrono in the Riki Watanabe series. It has the typical Riki design elements with a very legible minimalistic design.
The second one is the Alessi "Record" watch.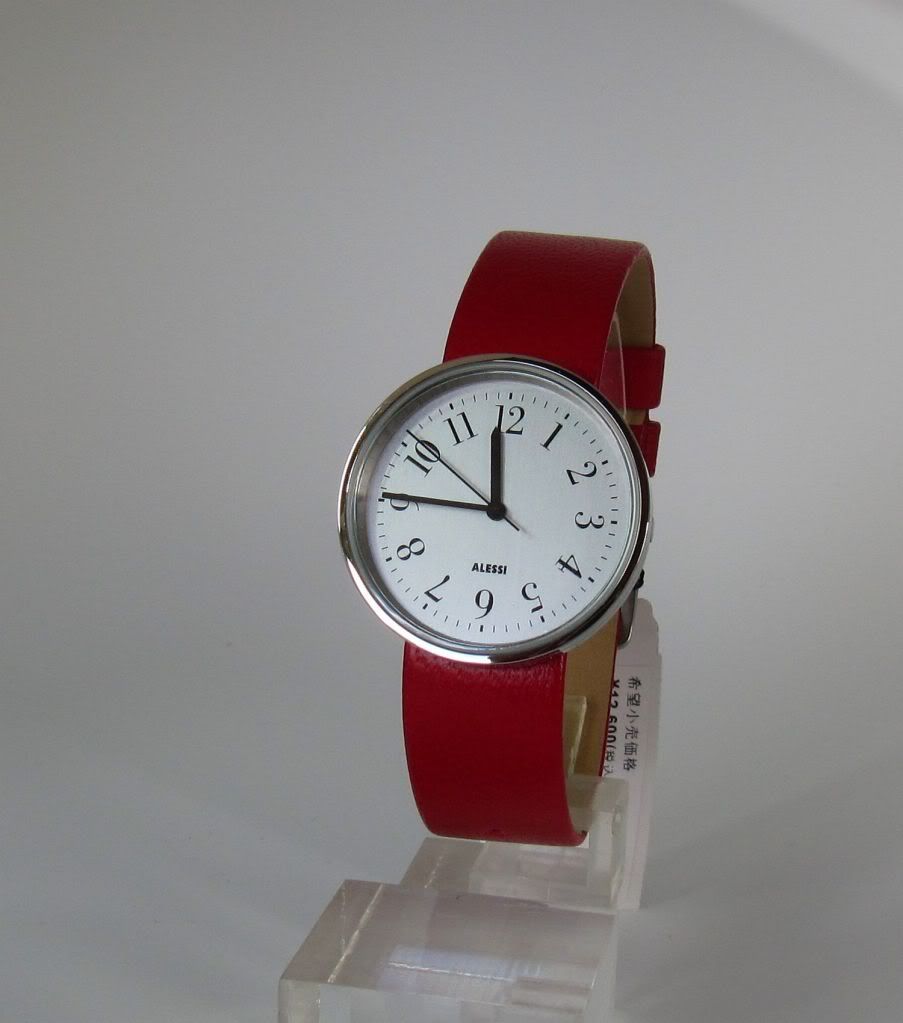 Another minimalistic design is this Issey Miyake by Tokujin Yoshioka. It has a bit of a Ron Arad feel to it while being very Japanese. Check the GMT+9 articles on both the TO watch, the Alessi watch and the Riki series.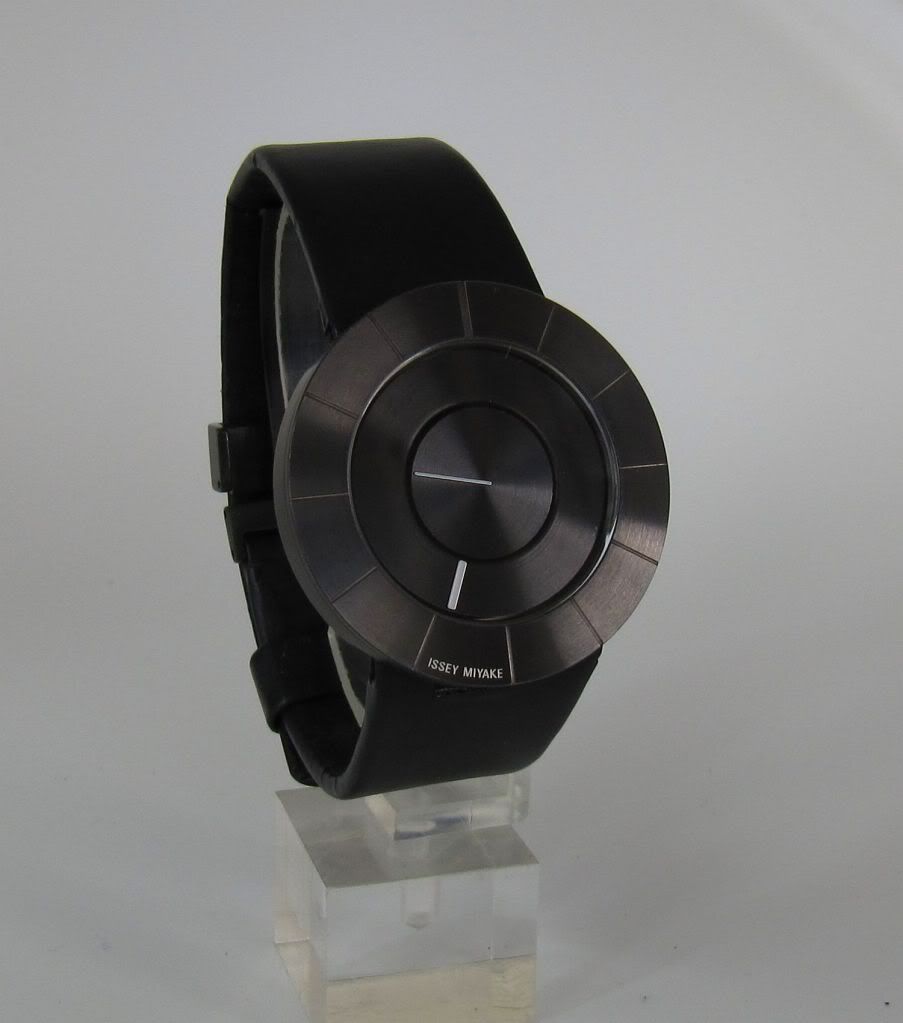 Wired watches often have solid designs. This square XYZ-version is one of the better.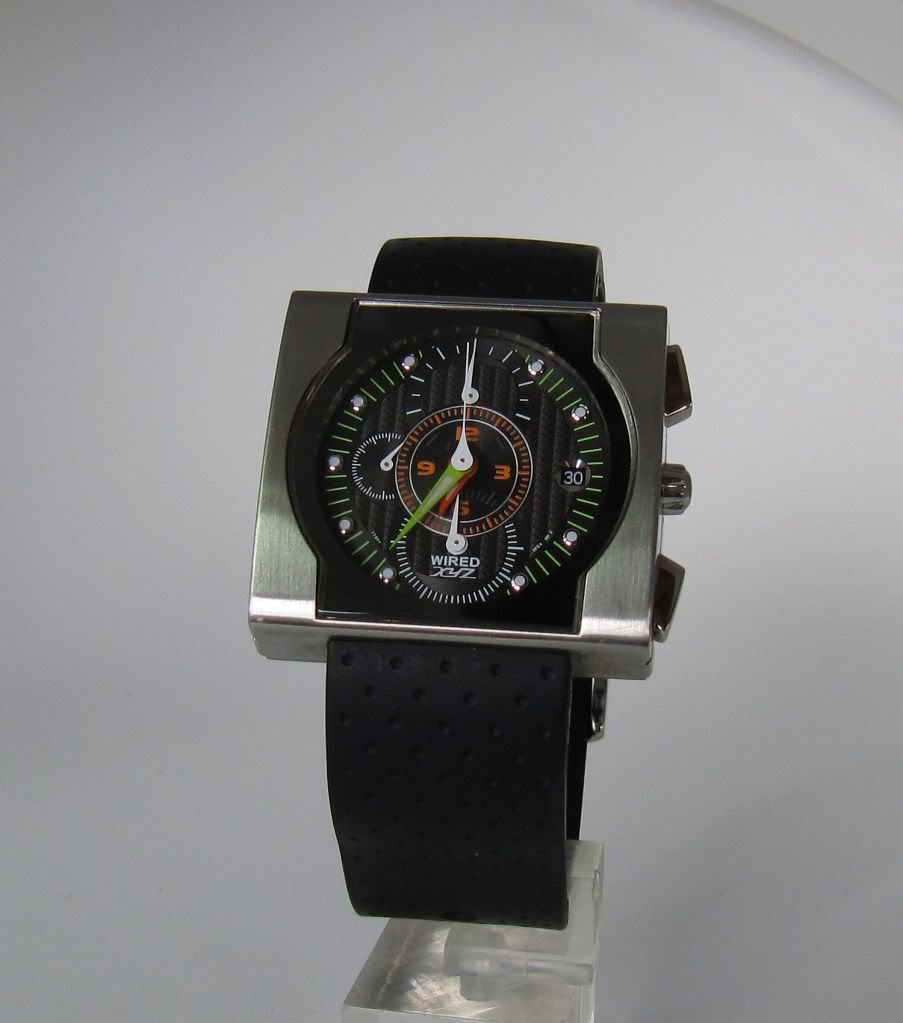 Merchandise
It is always fun to have a few merchandising items. The most interesting is the AGS man. It is about 6 inches (15 cm) high and made of plastic. I have not figured out if you are supposed to hang a watch on it, but there is not obvious way to do it.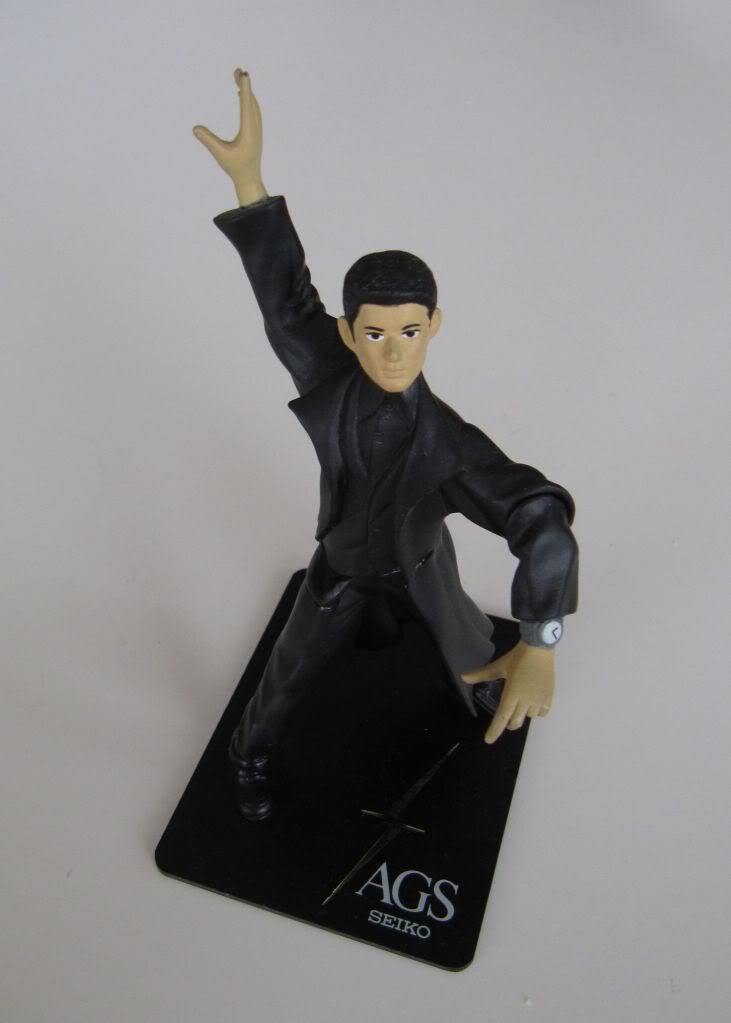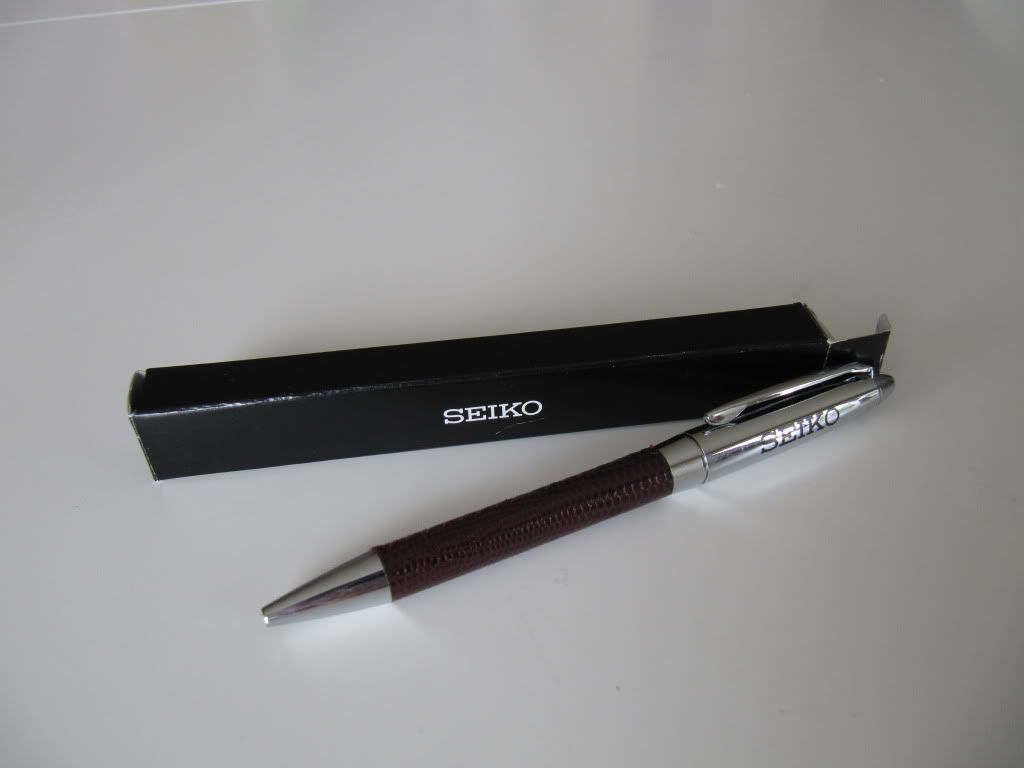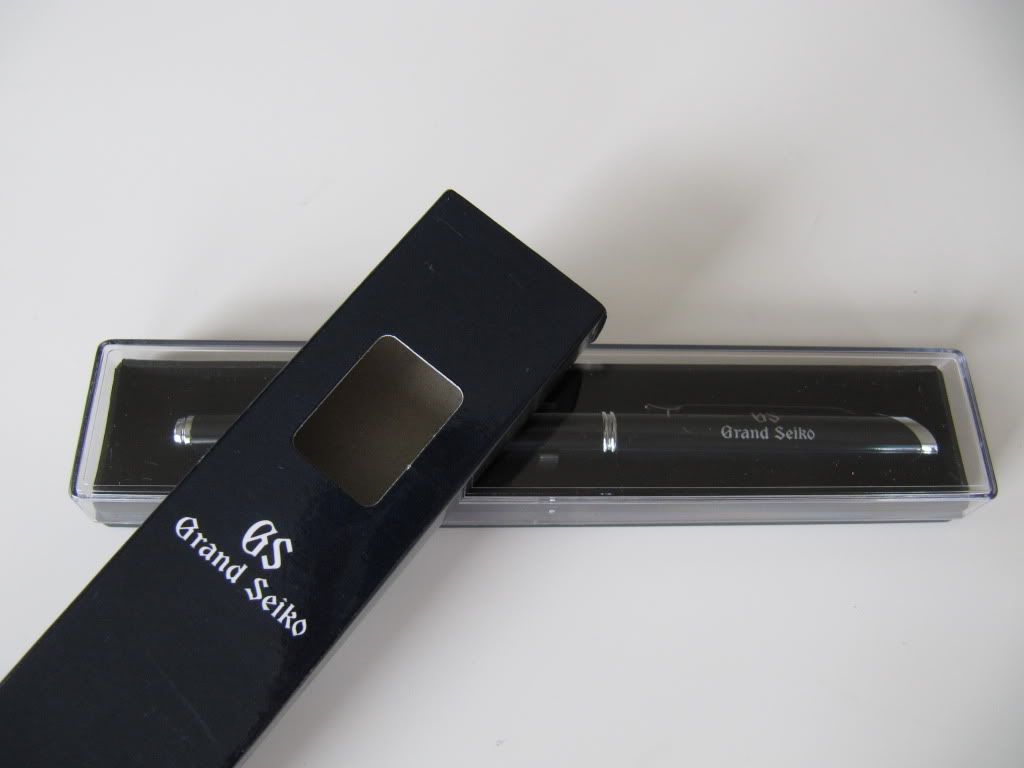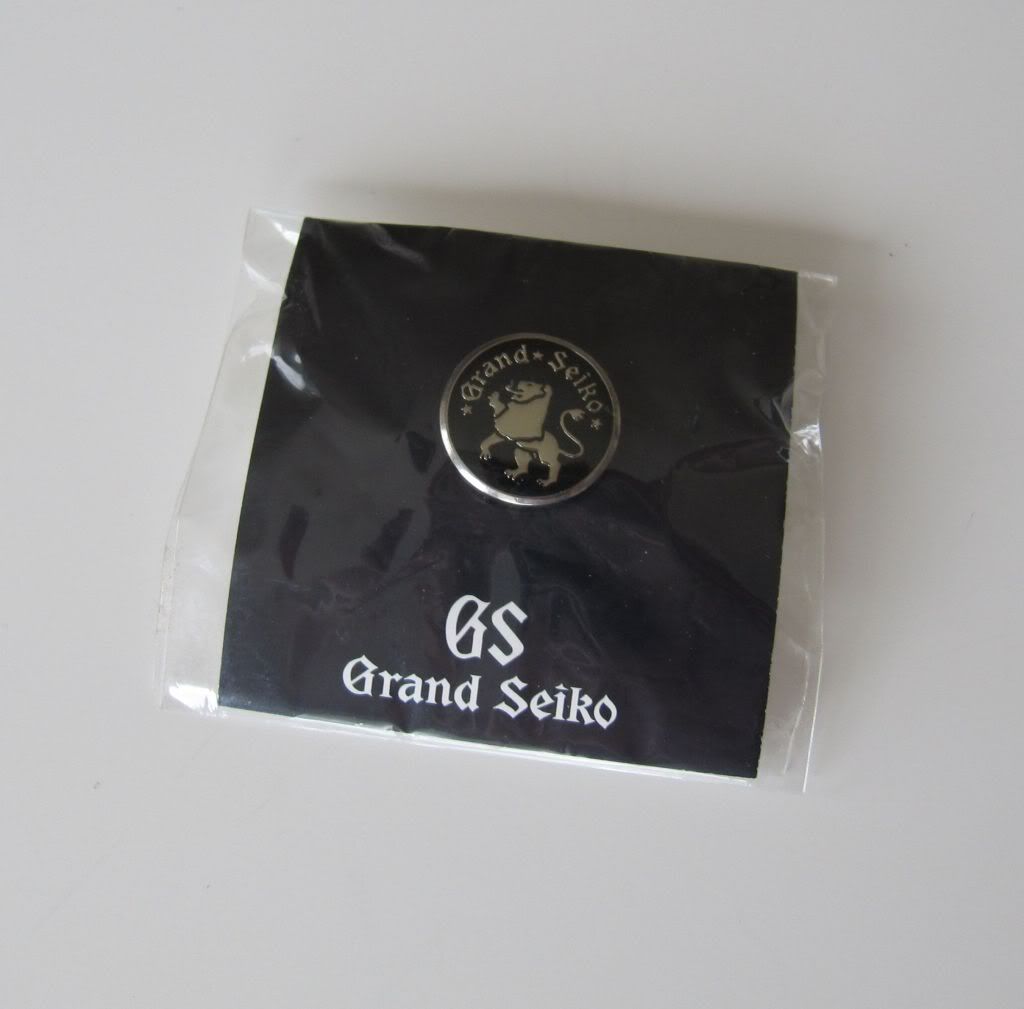 The rest
An additional 603 caliber Seikomatic with a very unusual gold accented dial. I now have about 20 different verions of the 603 caliber Seikomatic.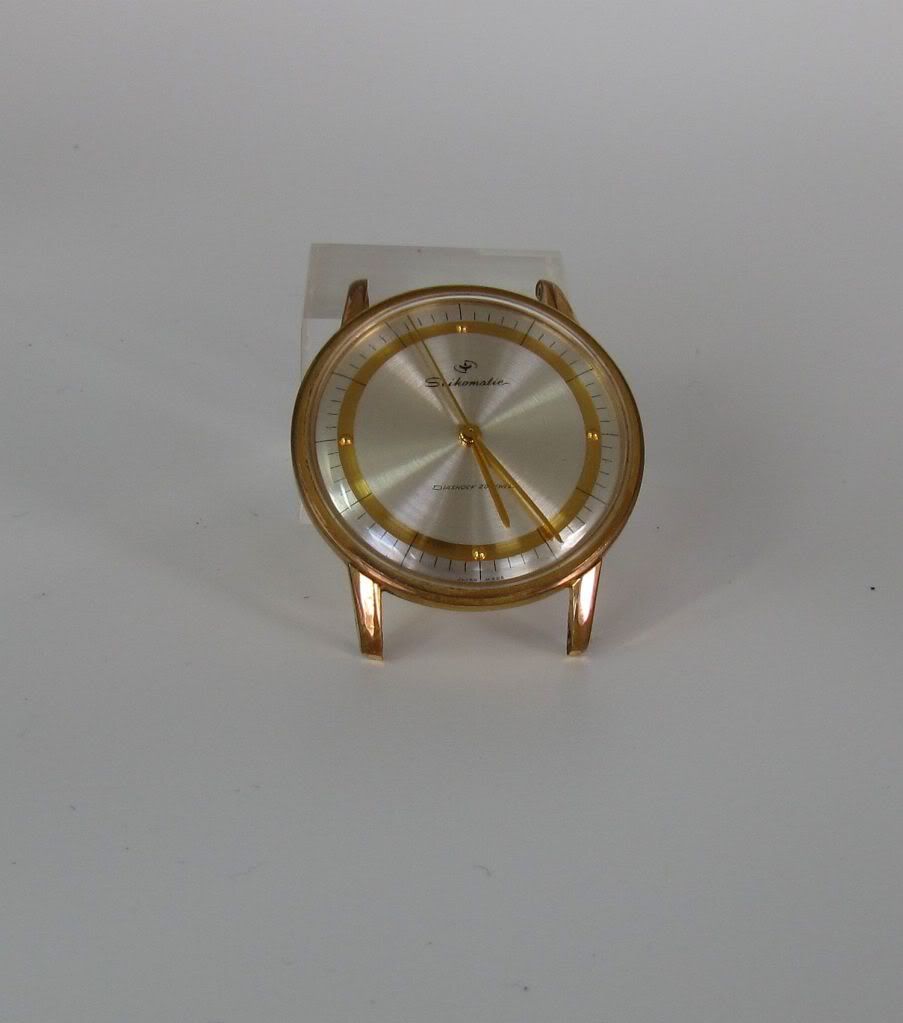 A NOS Contra with hang-tag. I also have the compass module but this is the European version so it does not have a LCD module.
The Type II was the first mass-market Seiko Quartz watch in the mid-70s. This one a a very good TV-dial design which to me is very 70s.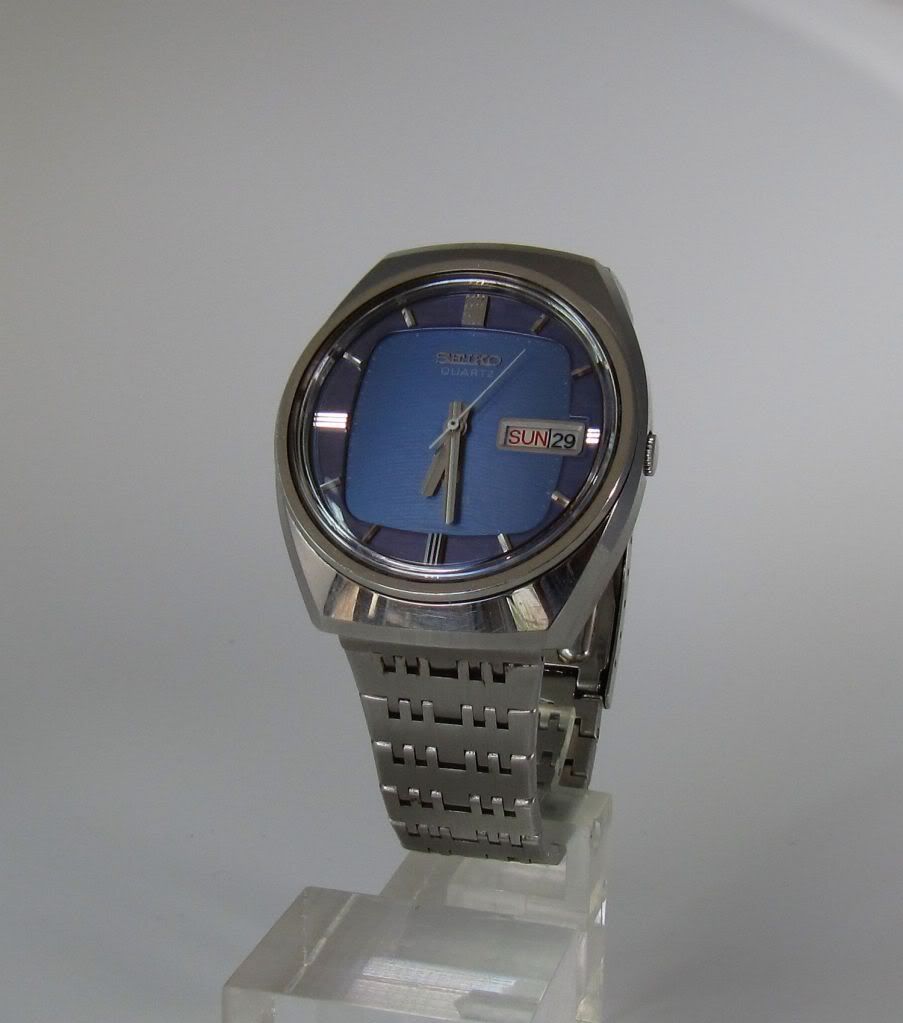 An unusual design in this Quartz watch which I assume should be hung from a belt or similar.
A solid chunky Hibeat KS with the 5626 caliber.
This is one of my favourite dress diver watches. It has an excellent deep black dial well balanced by the silver bezel. As usual the 5M Kinetics also have very high quality cases and dials and cost far below what they should. This one was less than USD 100 and it is practically unused.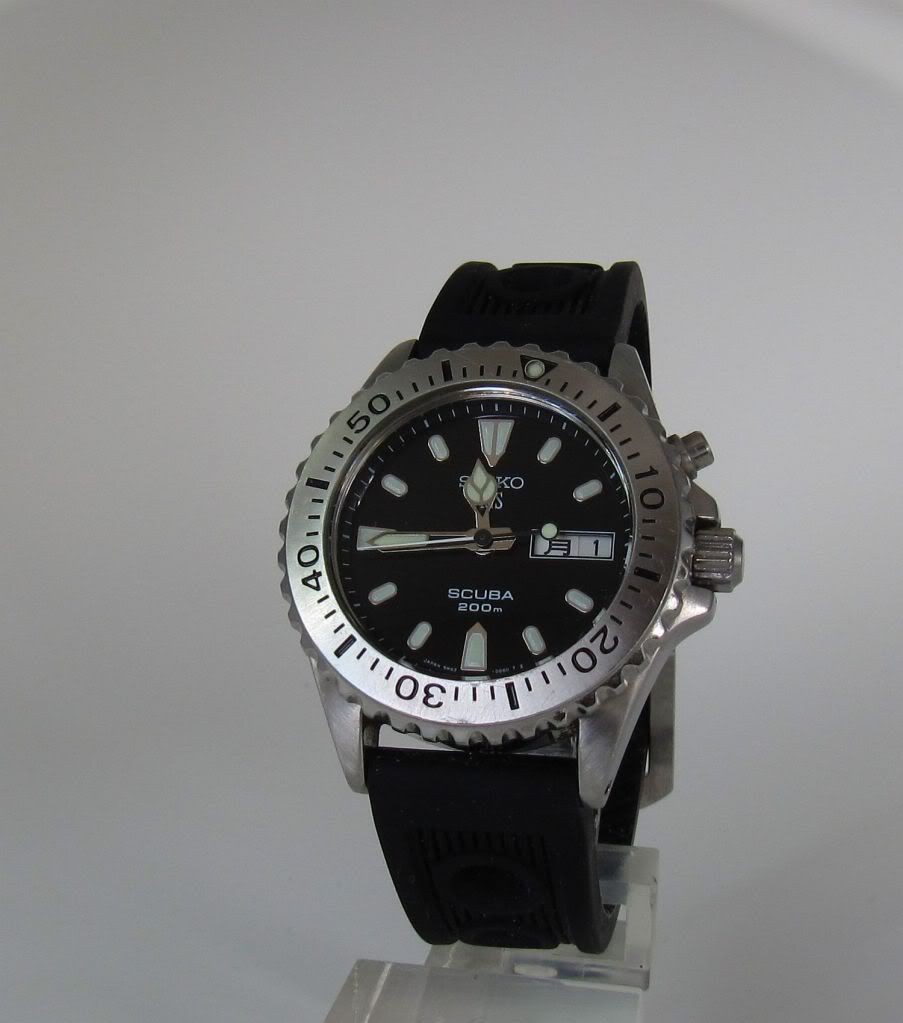 Also an excellent watch with the 5M65 GMT Kinetic caliber, where perhaps the bezel styling does not appeal to everyone. I think it It is however Seikos first watch made in Brightz Titanium. I do not have any other Brightz Ti watches, but I am perfectly happy with the texture and polish of this one. It does loose its shine a bit quicker than the SS watches but is not really sensitive to scratches.
It does not show in the picture, but the dial on this watch has the typical deep blue Seiko colour. Bracelet is original with a good 70s design.
A few PVD watches from the early 70s. A quite boring 6139 but a much more vibrant all black 7019 Actus where the red second hand is a good accent.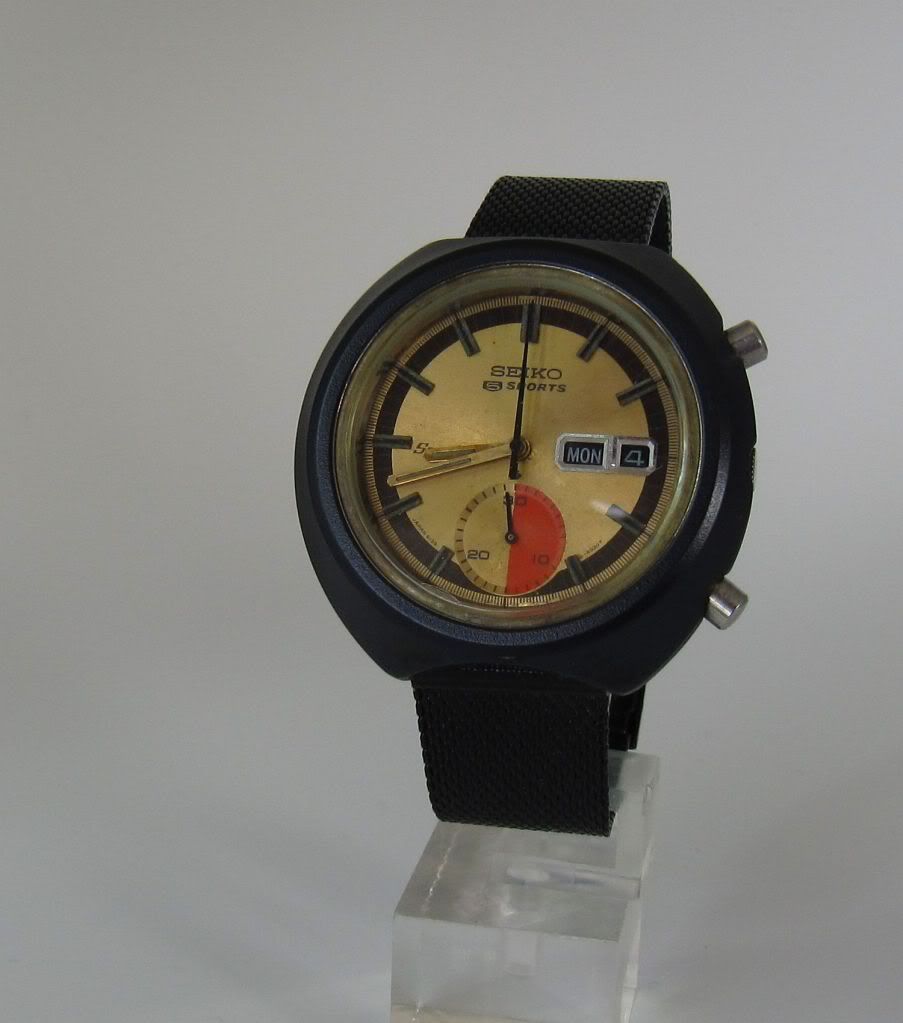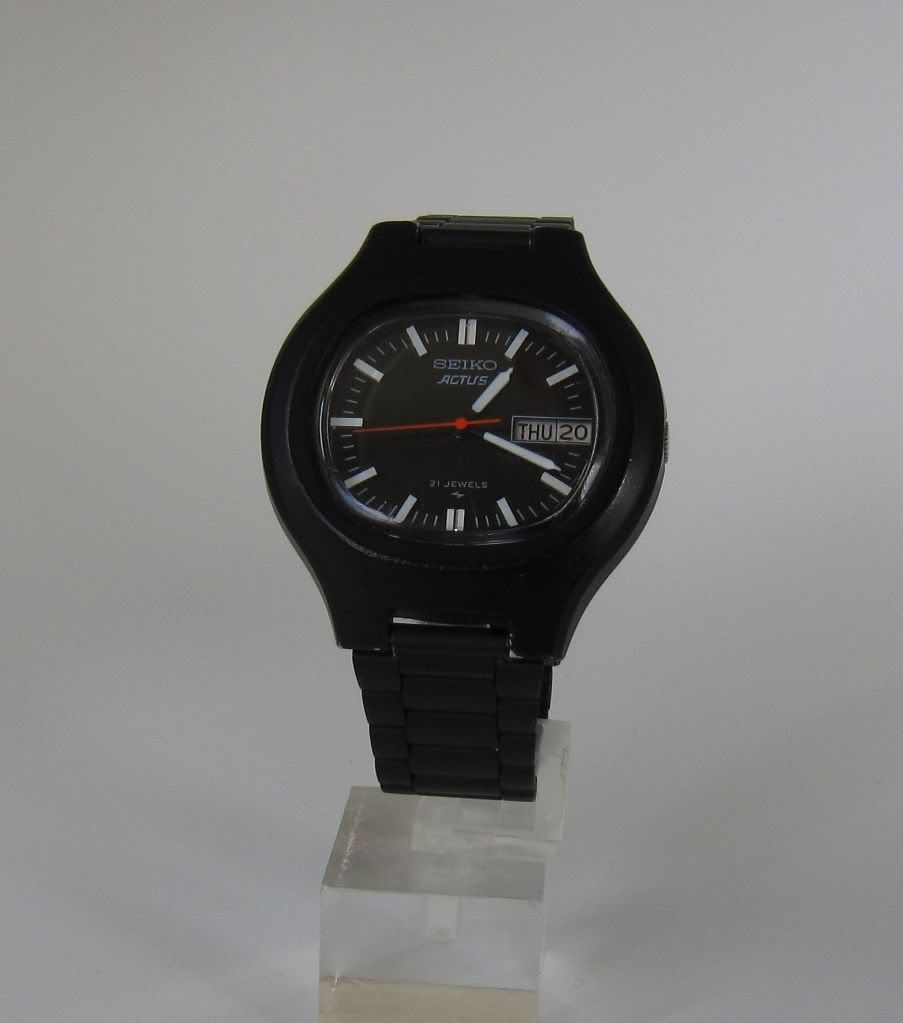 Two Seikomatics. The first is the excellent 39j 6216 and the other is a 6218 with the uncommon sapphire crystal. Don has a few good posts on the 6216 over at the Seikoholic forum for more information.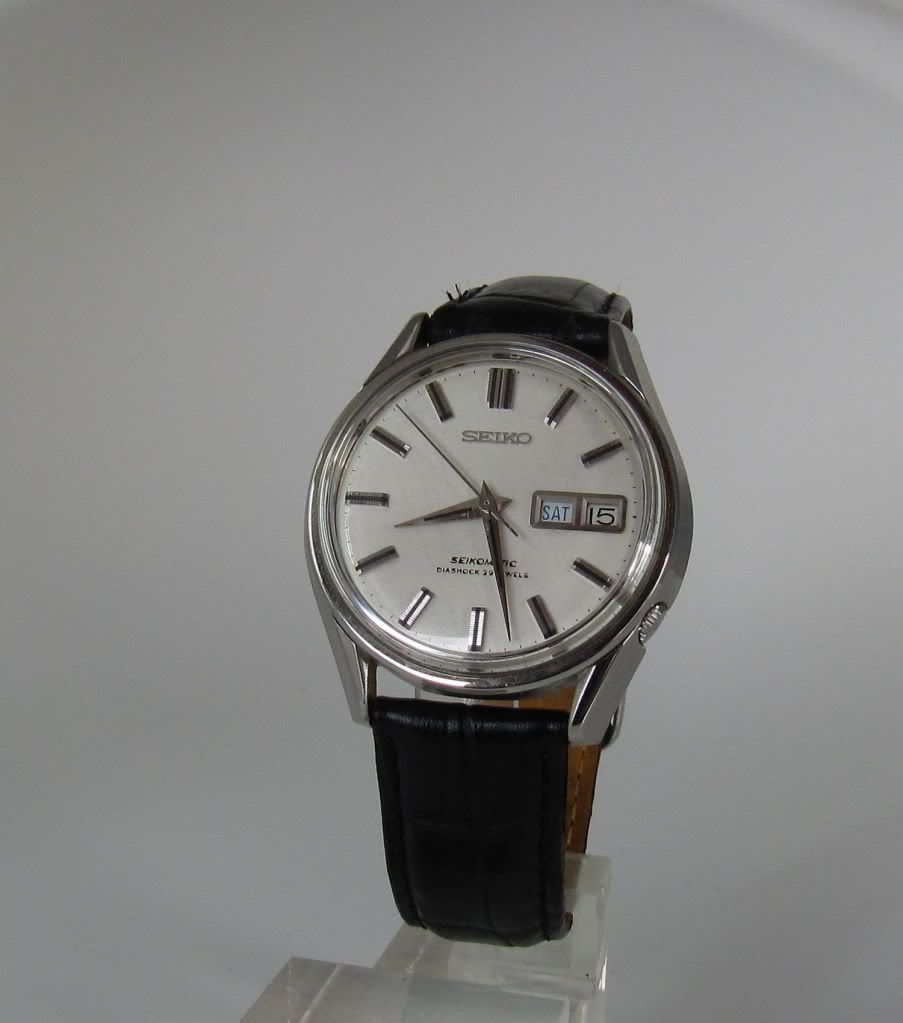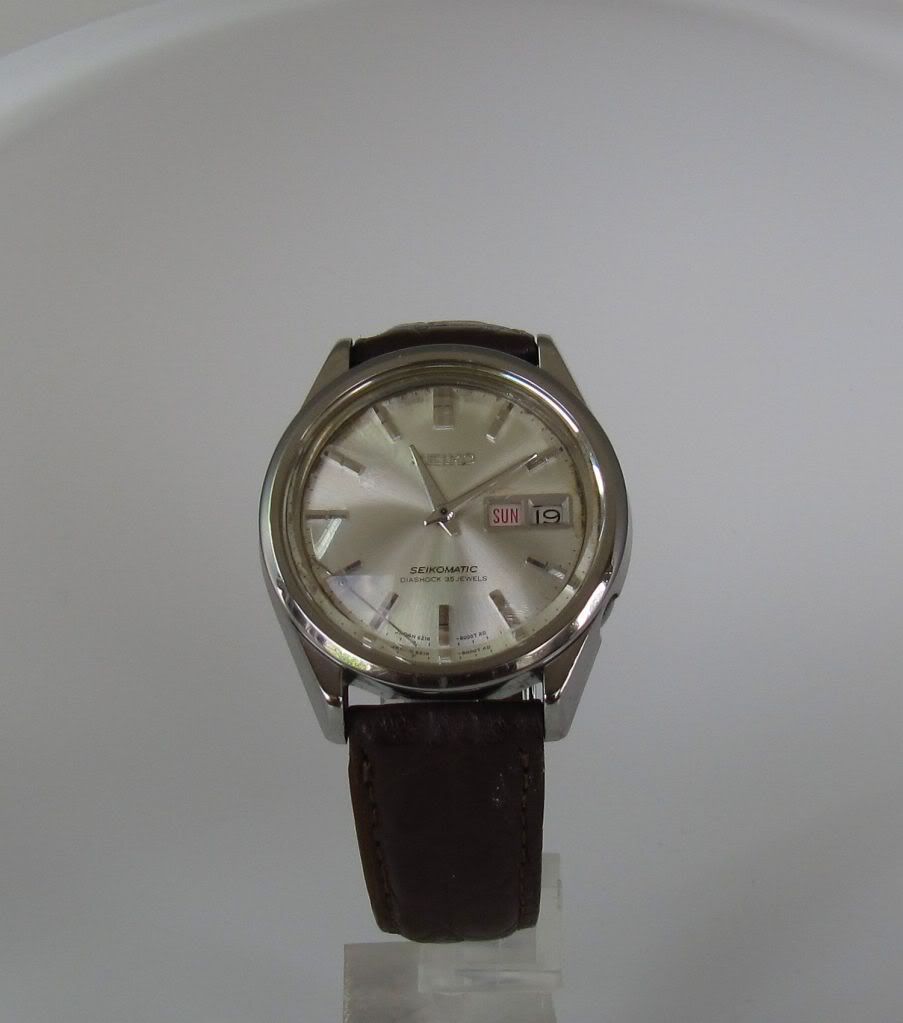 A 6618 caliber watch for the blind.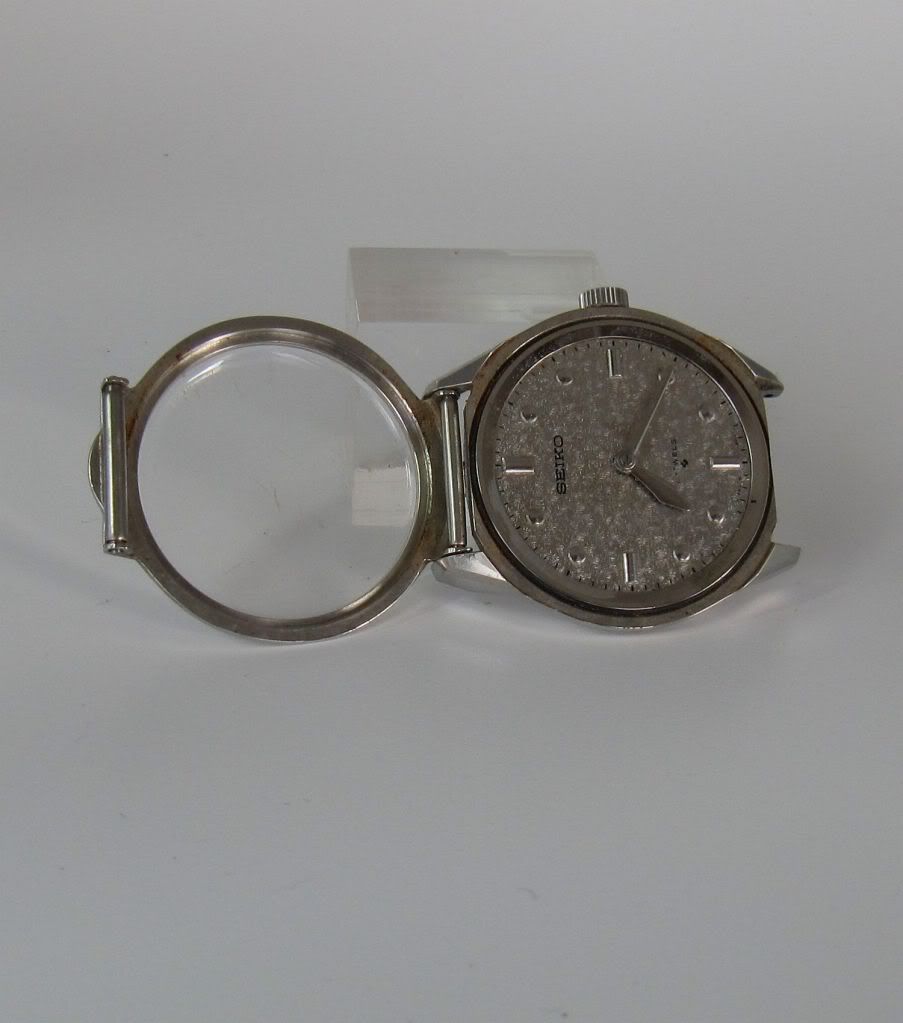 6M37 Yacht Timer. A lot of nice functions and gimmicks on this one. The compass bezel on the 24h subdial seems however a bit superfluous for the experienced yachtsman.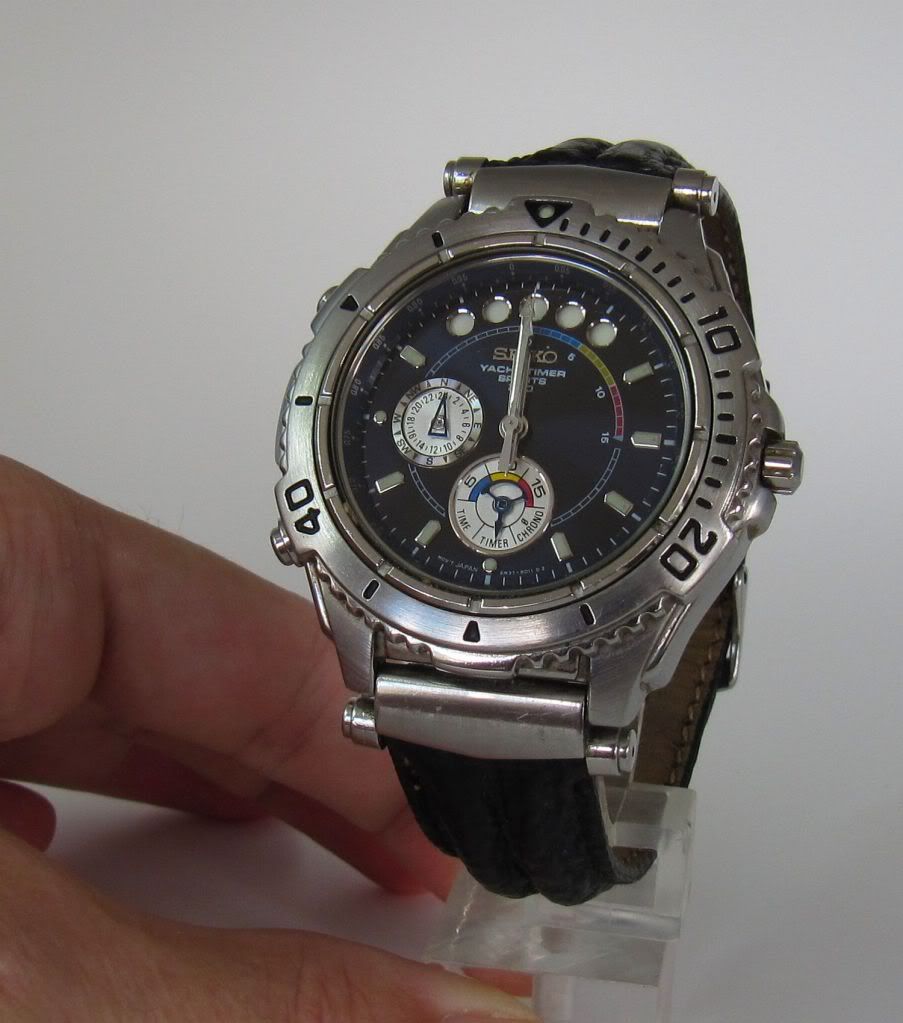 A modern but classic 6R15 Spirit. This design will never get outdated. I was surprised by the chunky case which makes the watch feel more substantial than it is.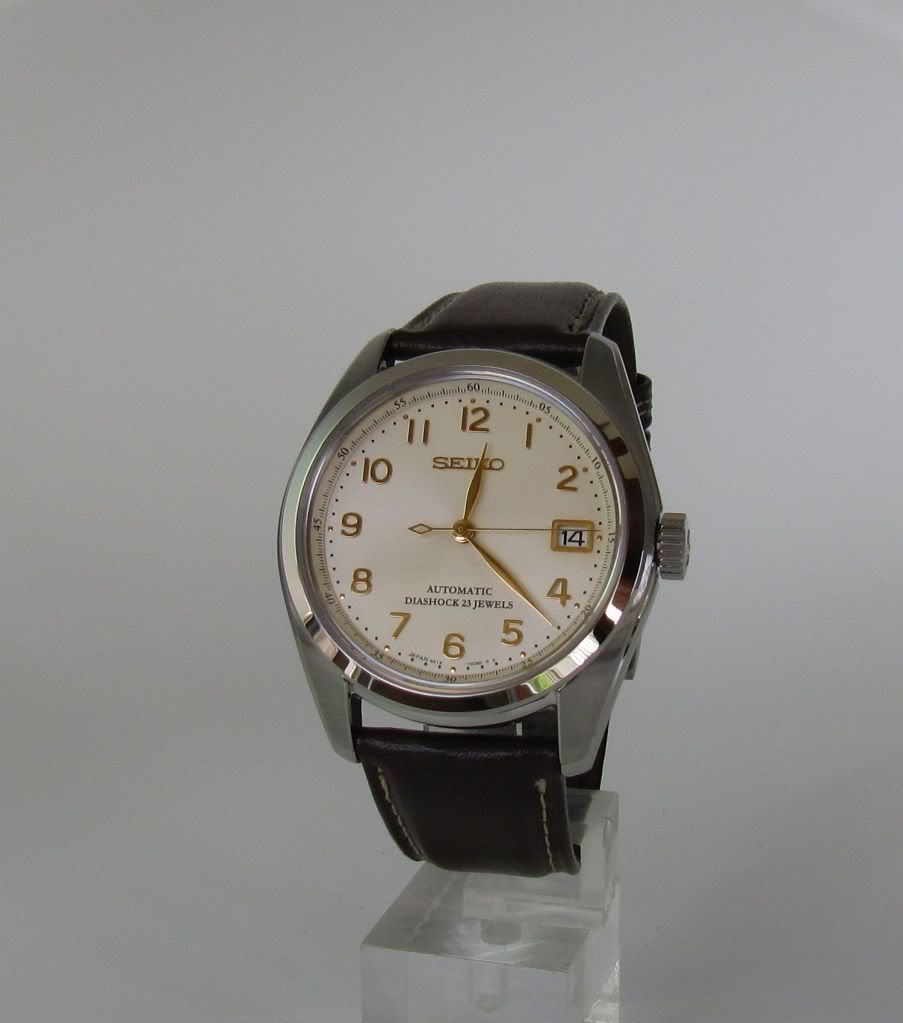 Nice two-tone dial Advan with an assymetric case.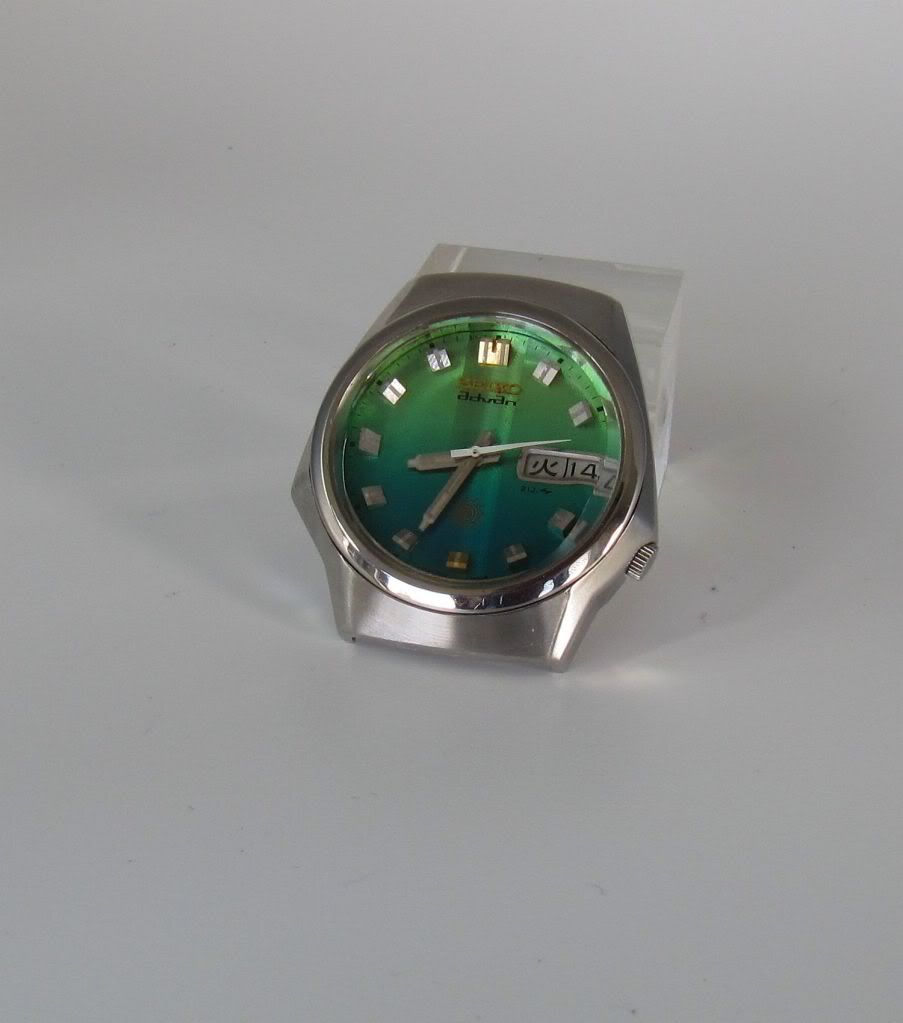 This was a souvenir from the 10 year anniversary of the graduation from the law school at Nihon university. The lawyer who sold this watch could not have been happy with his classmates (or his choice of occupation).
I have a standard SKX orange dial diver but the Japanese version with the gold accents is a better design, IMHO.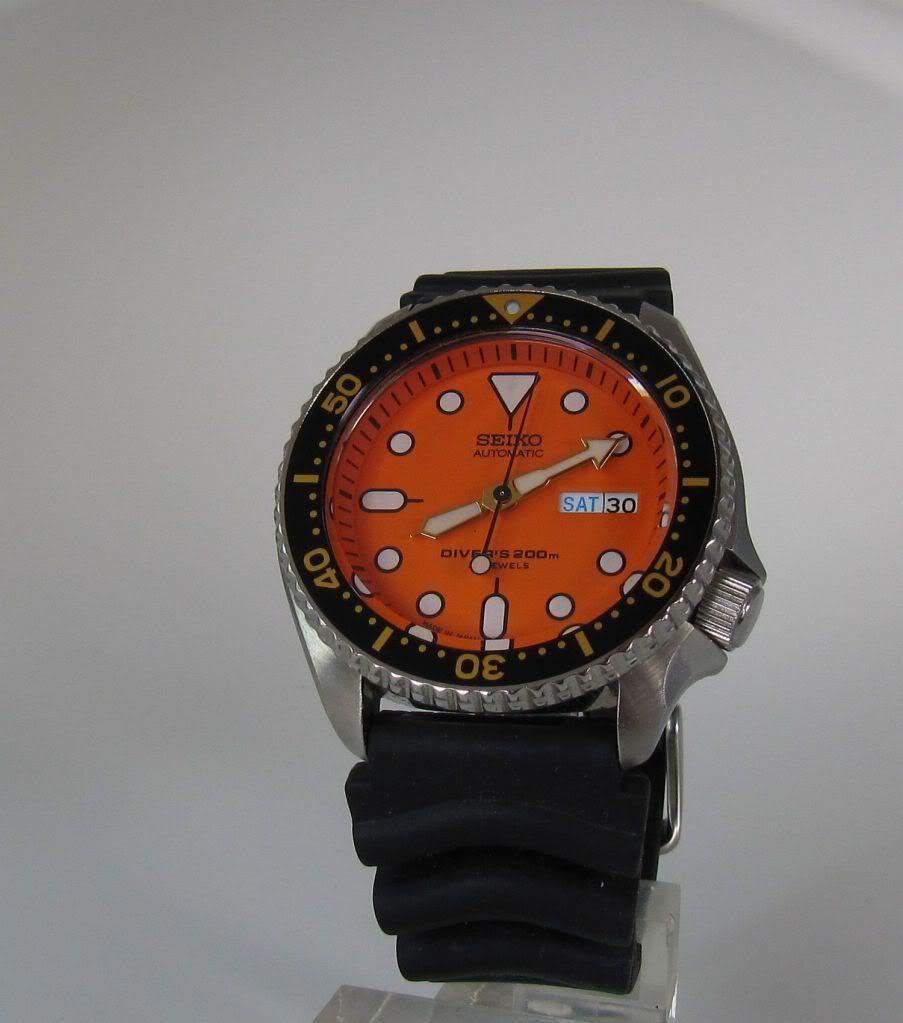 Yobokies mod. Looks like the new Seiko divers (or a Sinn).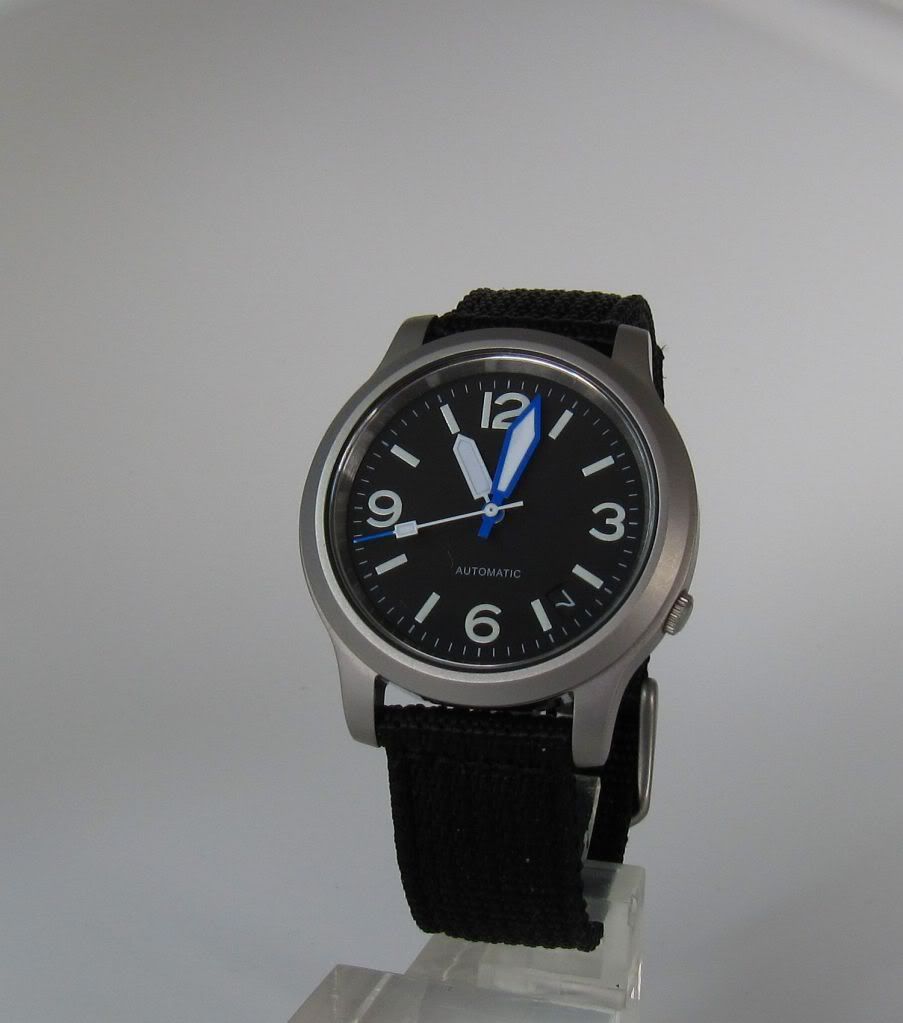 This 8T23 caliber was Seikos first Kinetic watch and is more of a proof of concept than a practical watch. It is hand would (therefore the very large crown) and takes at least five minutes of effort to get a a full charge. The small LED at 6 will tell you when to stop winding.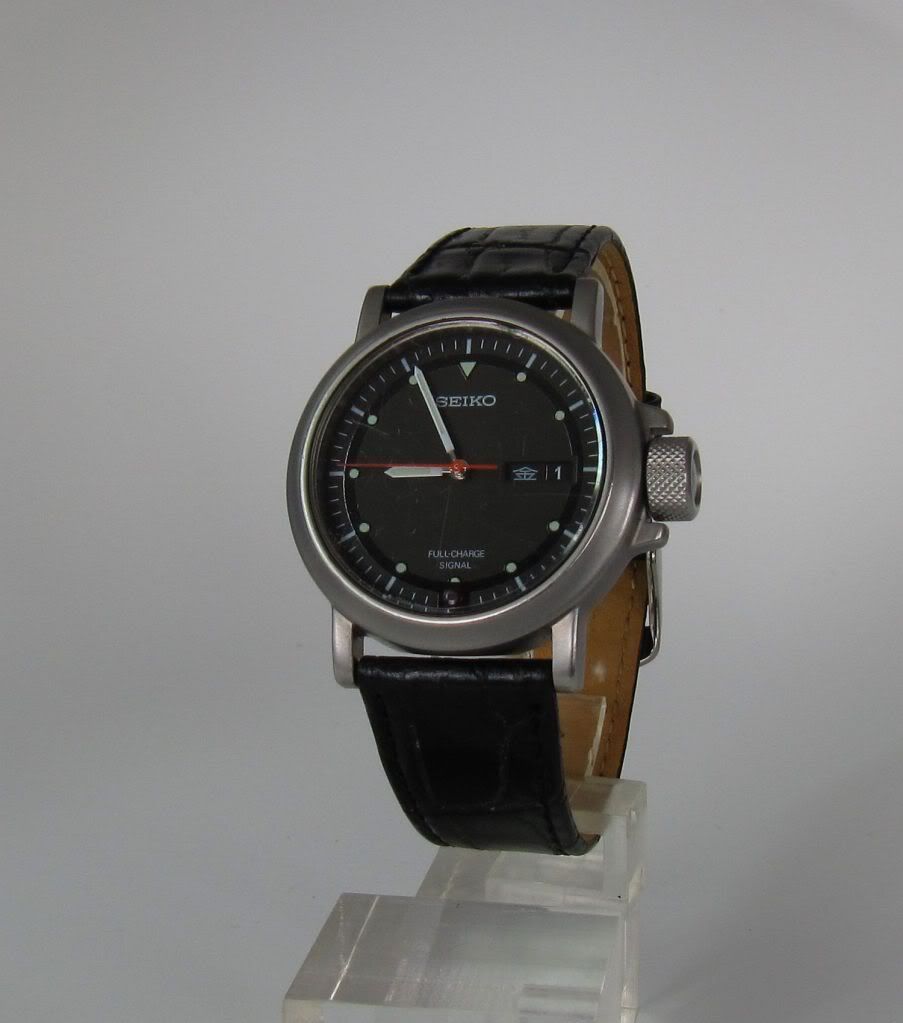 The Seiko World Time LCD watch is a classic. A bit less known is this titanium Alba version.
Very few classic watches seem to be added to my collection lately. I was however a bit short on 18K version and this linen dial early 60s Goldfeather is the real deal.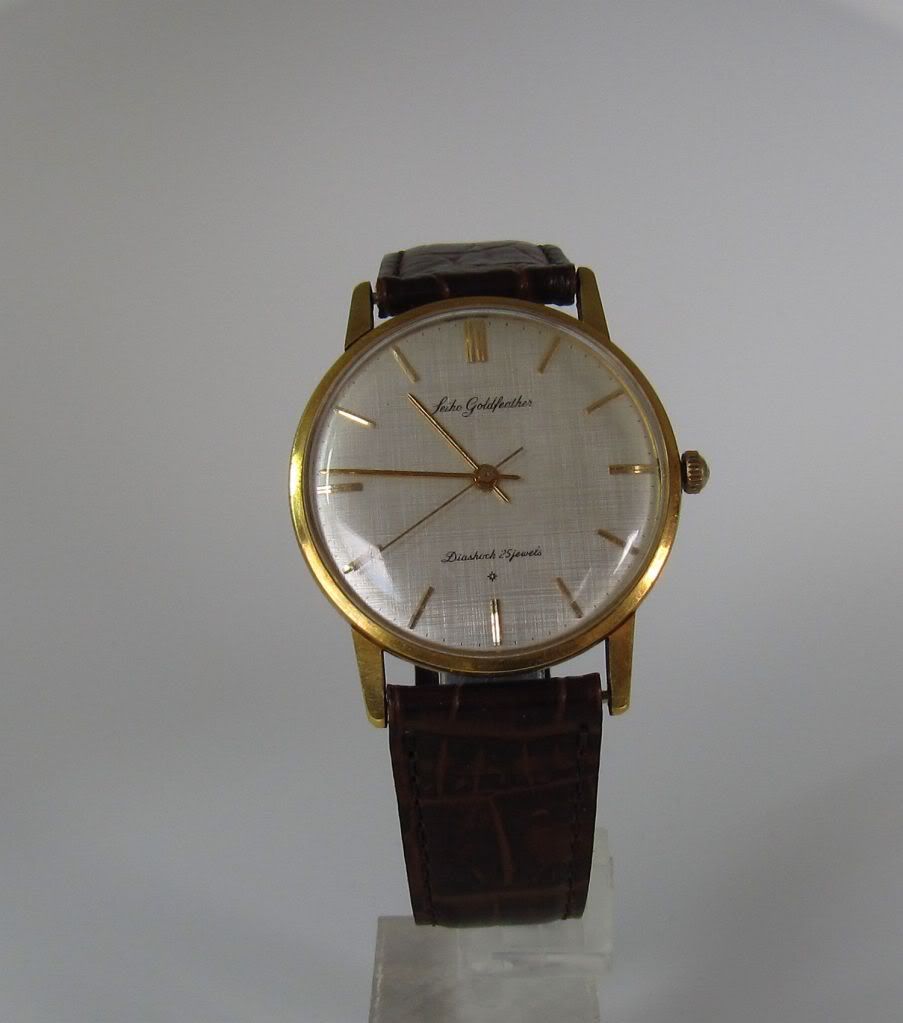 Going from old to modern this H023 caliber Sportura has every function imaginable. I thought this watch would be much too large for me but the wrist hugging design of both the case and the strap makes it easy to wear, even on very small wrists.
This Solar V14J caliber chrono is more familiar from the Audrey series but this one is also quite interesting. Note the see tru bezel and the minute markers on the dial.
Finally the least interesting watch. A mondaine copy quartz that I got for the kids.
/ martin