These are the new watches in the collection acquired from September to January (plus a few that I forgot in previous posts). Complete collection post is just above.


Old quartz

The 38 series watches from 1973-75 is the core of my early quartz collection and these are number 11 and 12. As you can see from the watches below, they had a very wide range of designs often with a colourful 70s twist. The top one, with a very unusual faceted crystal is probably the fanciest design I have seen on the 38 series. Both the crystal and the case is assymetrical and slants toward the bottom.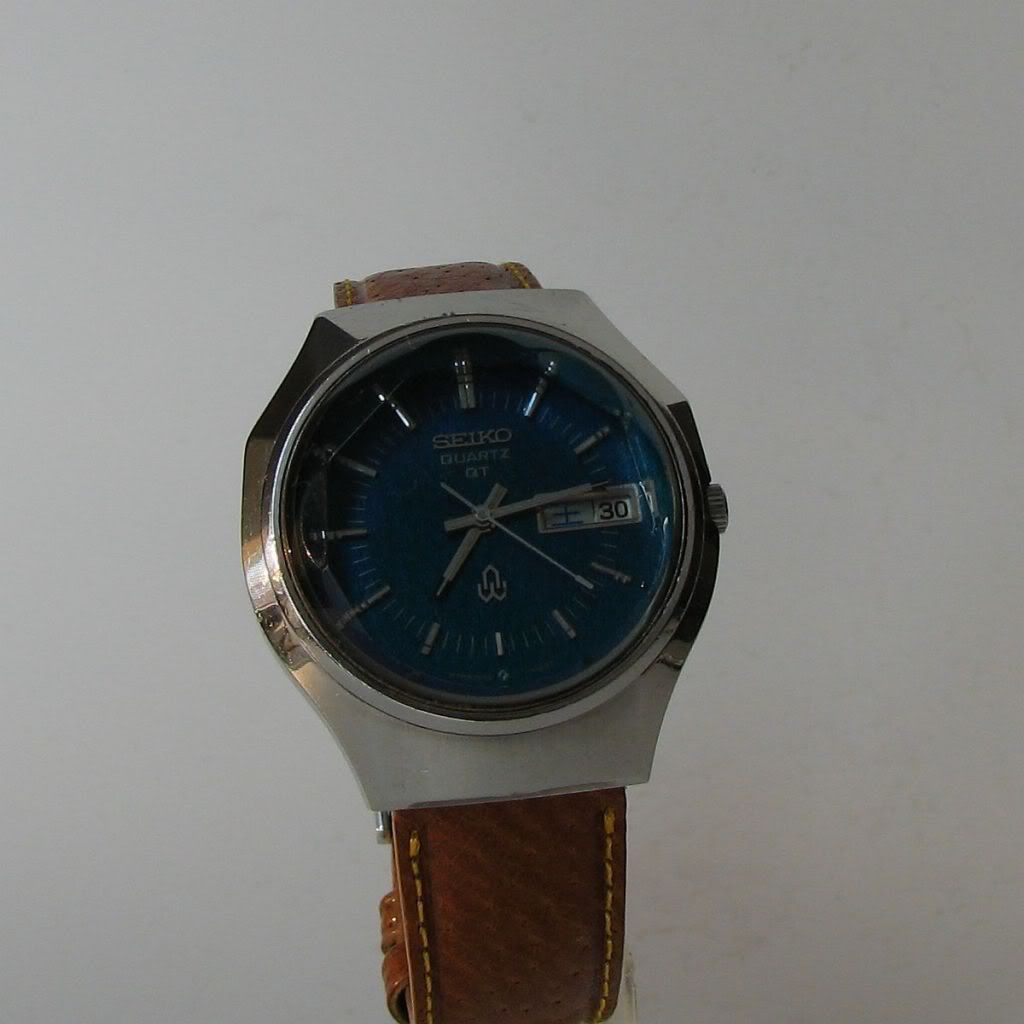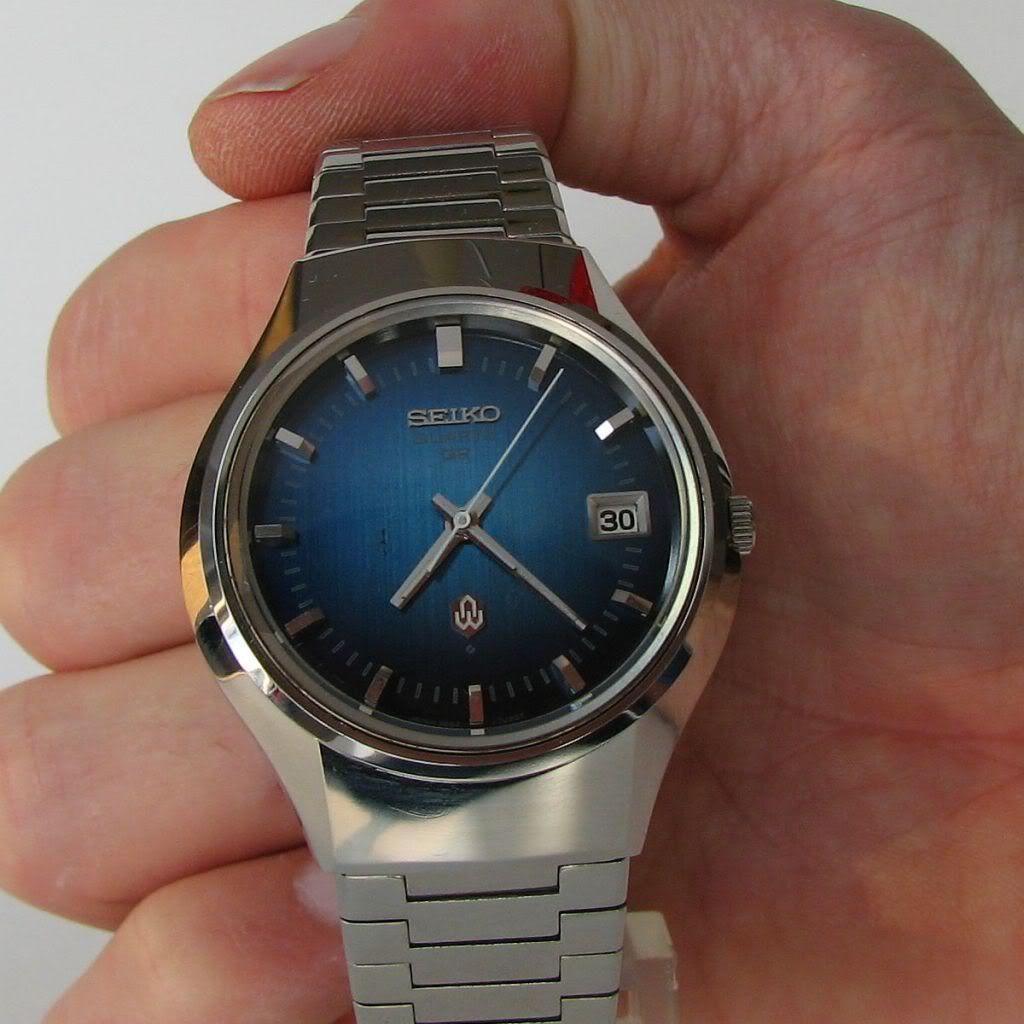 Interesting early 60s stuff

The first one is a 5717 one button chrono from 1964. The 5717 was introduced for the Tokyo Olympics as a part of the Seiko Crown series and came with a silver dial and a more uncommon black dial.




I have the silver one as well.




The second watch is a Seikomatic 6201 caliber SilverWave 50m "diver". As said in previous posts, this is both the first 50m rated Seiko as well as the first Seiko watch with a the "seiko-wave" caseback.




Again, this joins a silver version already in the collection.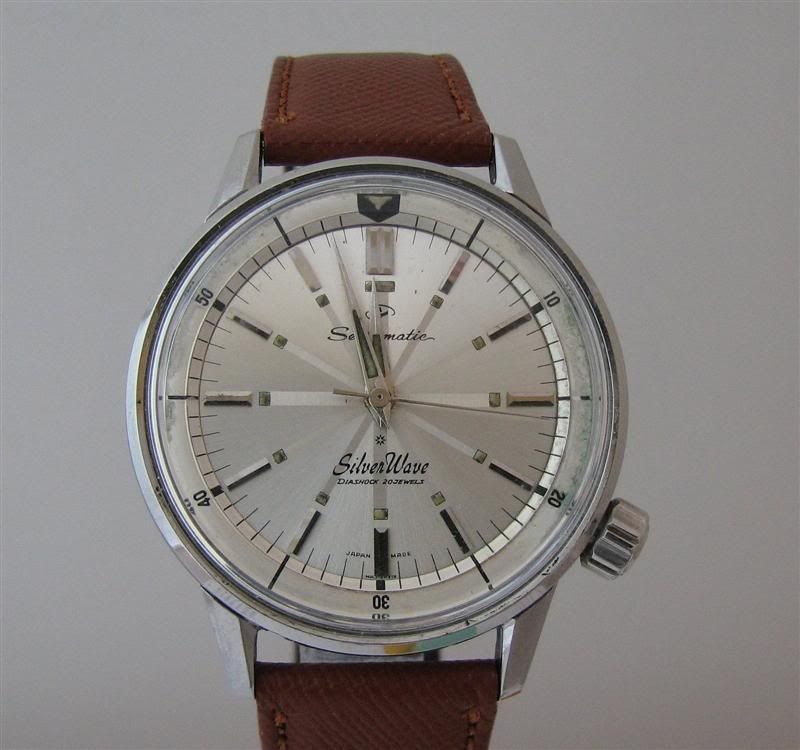 Not to be confused with the later quartz SilverWave. This one is a 7546 quartz caliber SilverWave Z.




High End Quartz

In addition to the 38 series, I tend to pick up a few more high end quartz watches. Usually cheap and very well made, these watches are specced and (if you are lucky) also run as well as the best Seiko quartz movements of today. I assume that these watches, being 30-40 years old, could stop working any day but so far I have been lucky with my purchases.

The first one is a 58 series King Quartz which I bought for the very intersting dial, which looks exactly as if it was made from slate stone.




The second one is a mid 80s Majesta which is interesting because it has the dual mode 9063 caliber. While Seiko initially achieved higher accuracy with their twin quartz models (which has two quartz crystals which can be used to correct each other) the dual mode has a single crystal which (as far as I can ascertain, their is very little information on this caliber) has two frequencies and can do the same correction internally. It is rated at +/-20s per year which is seriously good.




Bits and Bobs

Just another 5626 caliber KS. Not sure is the text on the dial is original as there seems to be a few Japanese sellers that redial normal KS to certified chronometer KS, which adds about 30 per cent to the price (if original). I have a green and a blue version of these as well but I will spare you the pictures.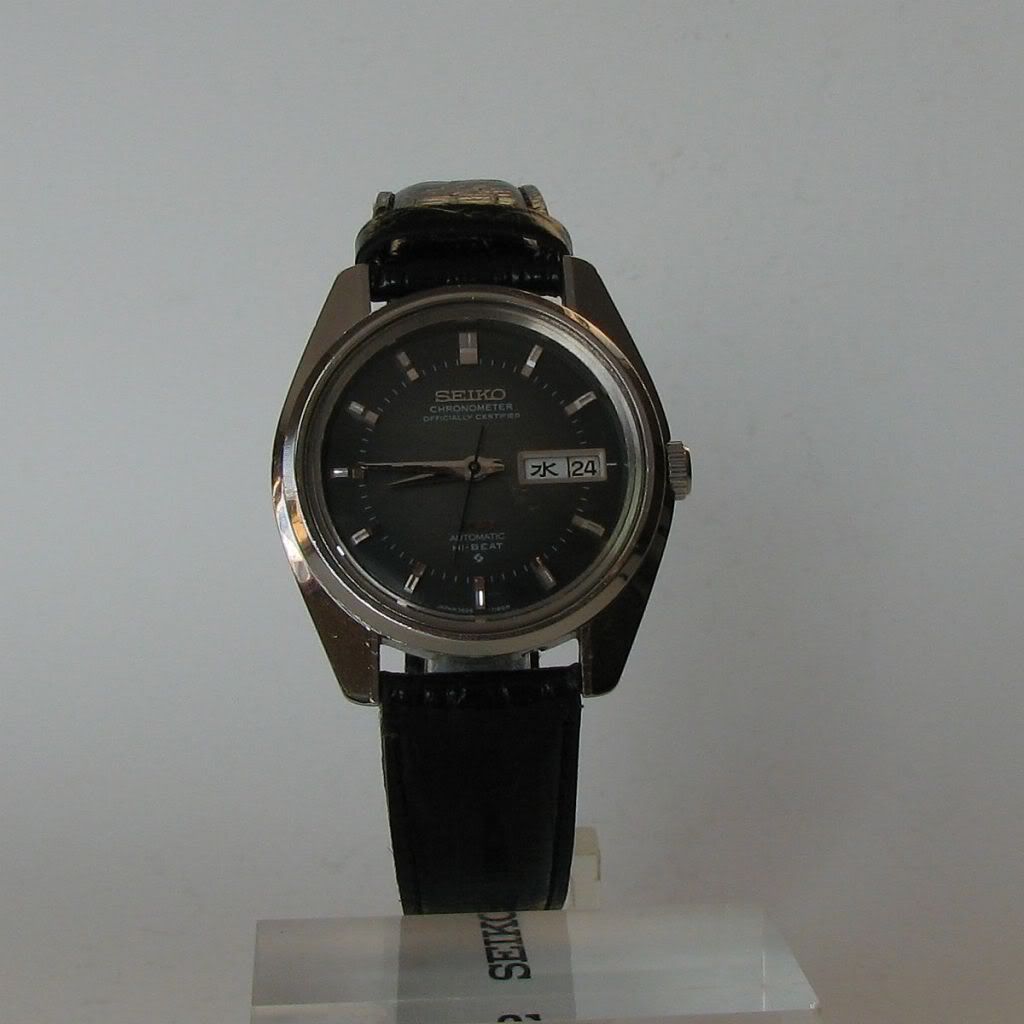 Chronos

The Chronos series (not to be confused with the dress vintage Cronos brand from the late 50s/early 60s) consists of low/medium priced quartz watches from the early 80s. The exist in a lot of variants, often in this bland and boring 80s design. I have picked up a few because of some interesting quirks (as also because they cost about USD 25 each). The first one is a 5C23 caliber quartz alarm clock with the unusual 10 o'clock crown for setting the alarm.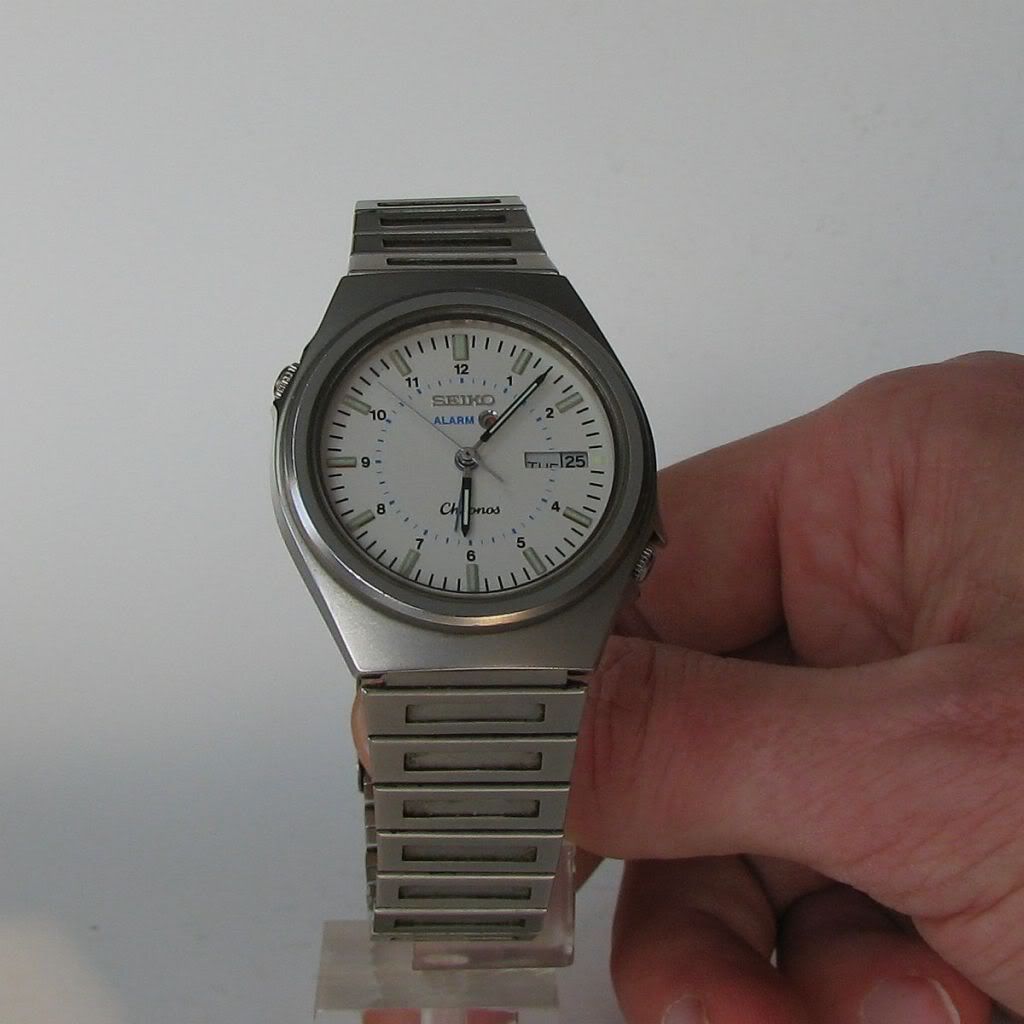 The second one is a special anti-magnetic version with a rather measly 60G rating.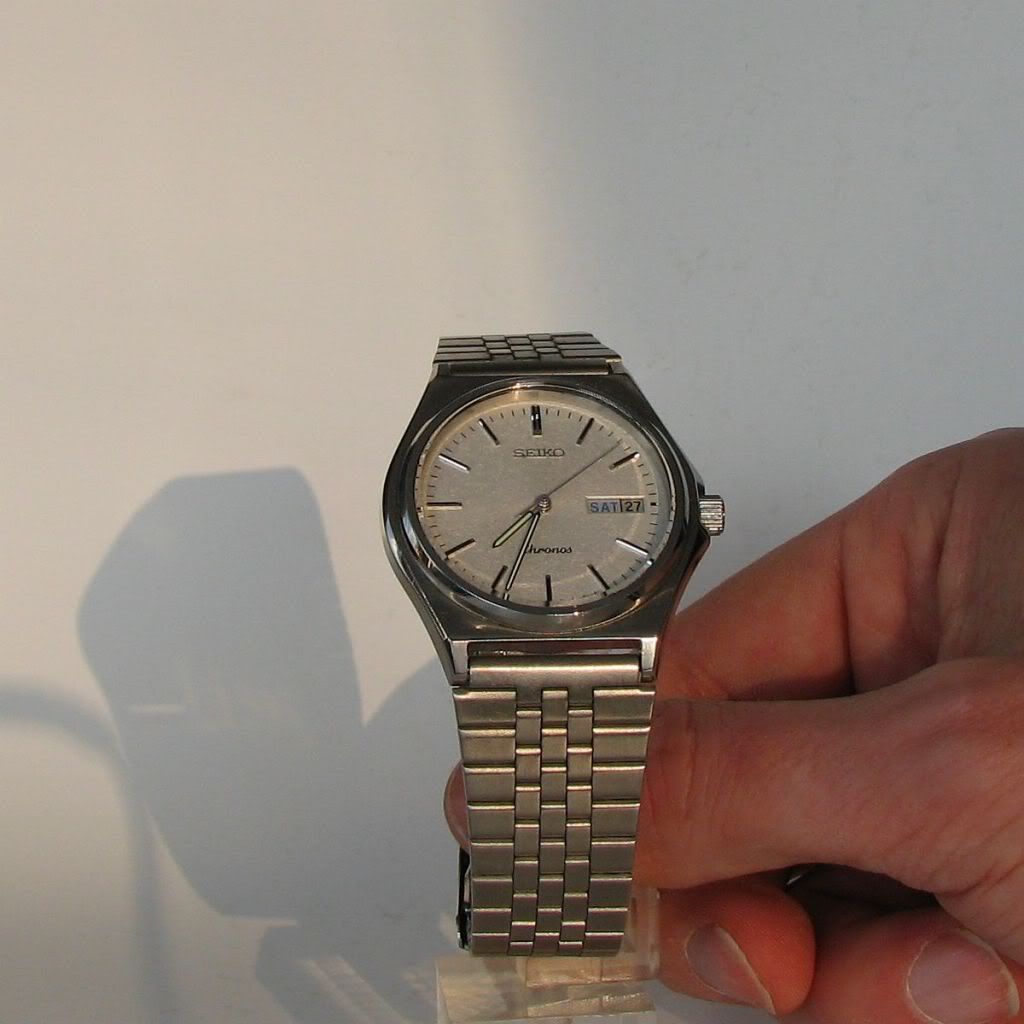 Kinetics

Kinetics are another overlooked part of Seikos history. Usually having been marketed as expensive watches, they use high quality materials and are very well finished.

The first on is a 5M23 shrouded watch. I have had a period when I thought gold and black watches looked nice.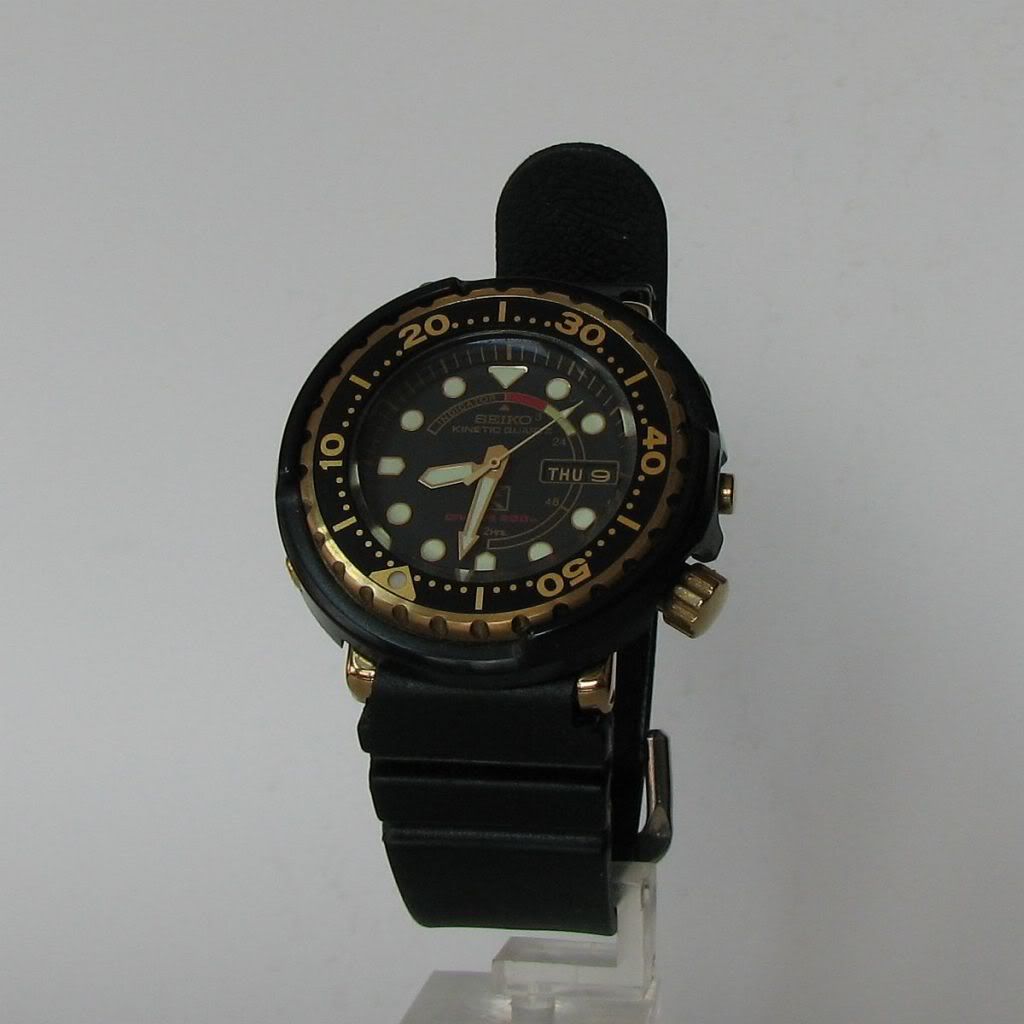 The second one is a good example of how out of fashion these watches are. This 5M43 caliber watch has sapphire crystal, display back, brushed/polished very well made case, deep black enamel dial with polished hour markers and a solid link bracelet, all in NOS condition. The only niggle would be the unnecessary fixed 24h bezel. This and similar watches sell for less than USD 50.




Third one is a rare SKJ045 titanium kinetic. I spent a few weeks looking for SKJ watches and they seem fairly common on the local European ebays but almost non existant in Japan.




Everyday stuff

One thing I promote to my friends are the everyday mechanical Seikos. You get a decent 7S caliber, display back and a classic design for less than USD 50. A real bargain.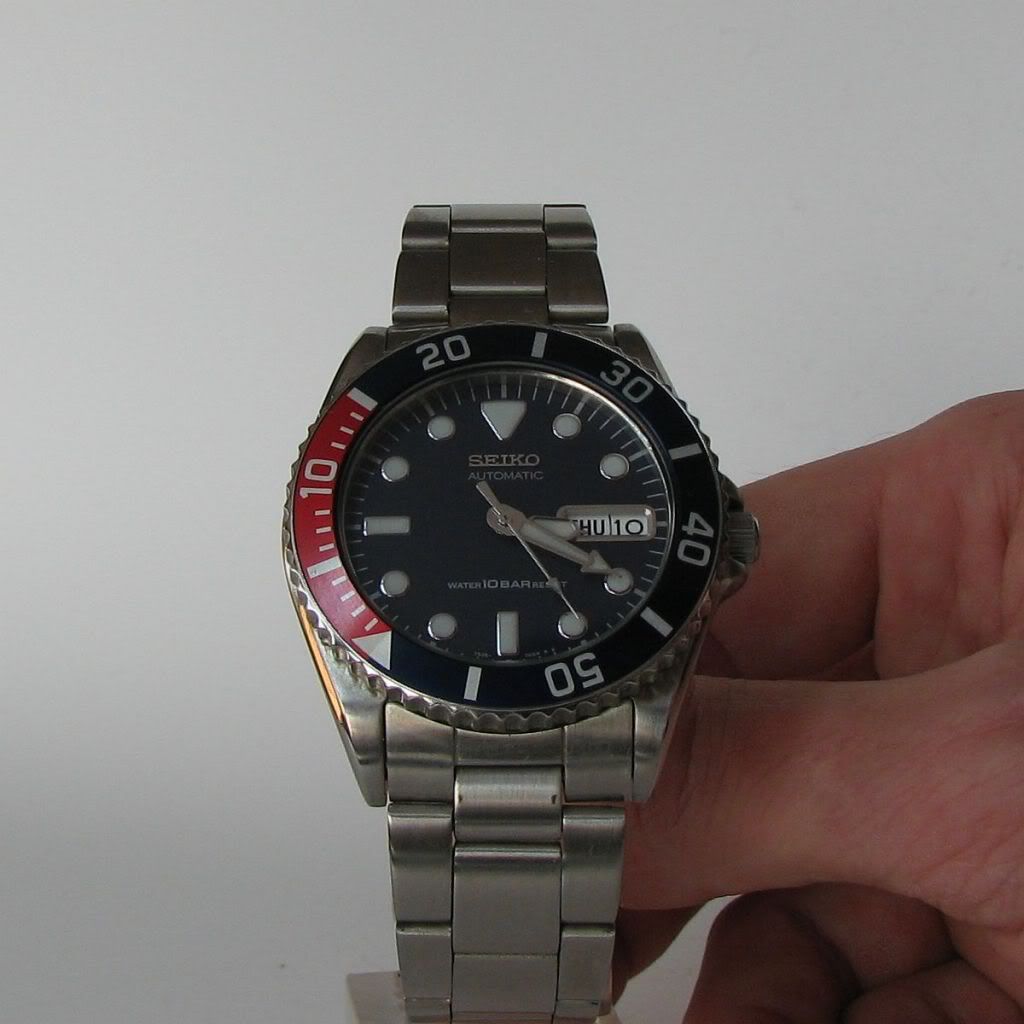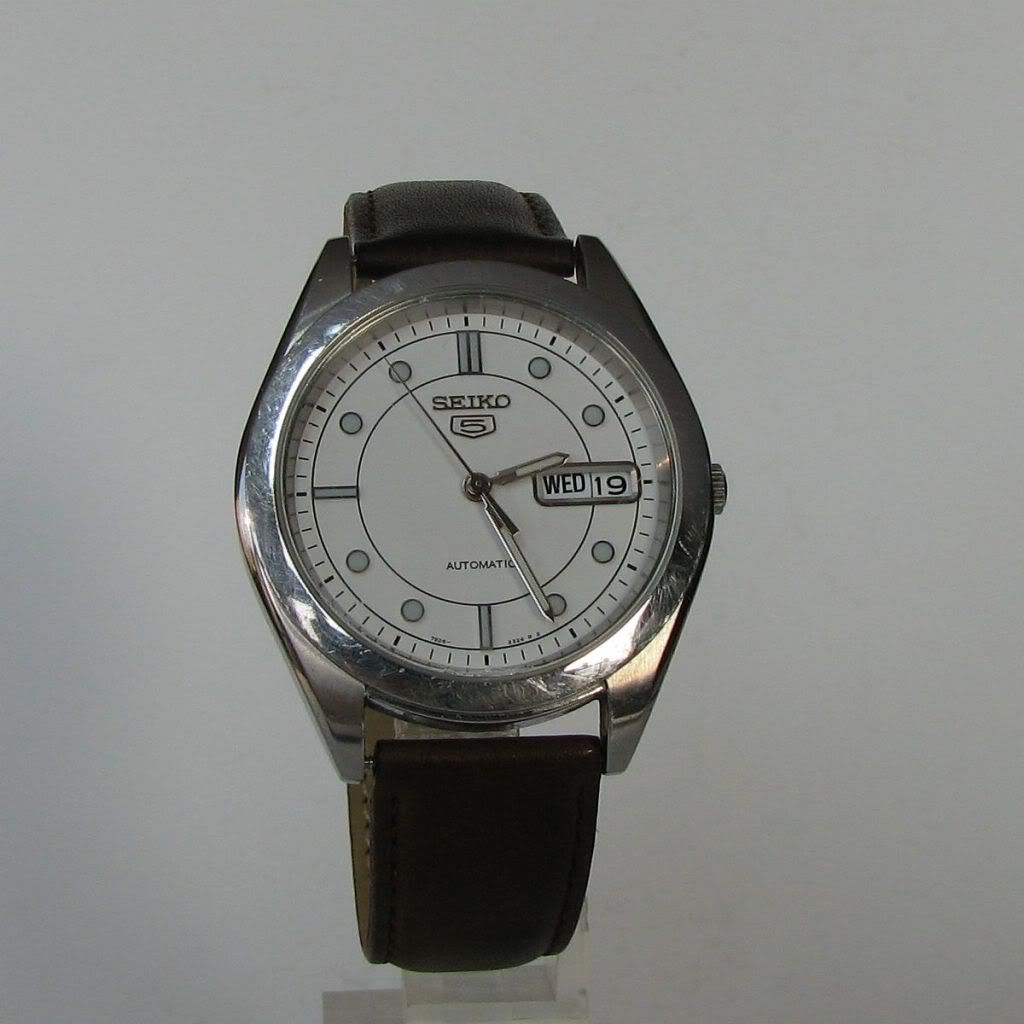 Same is true for quartz.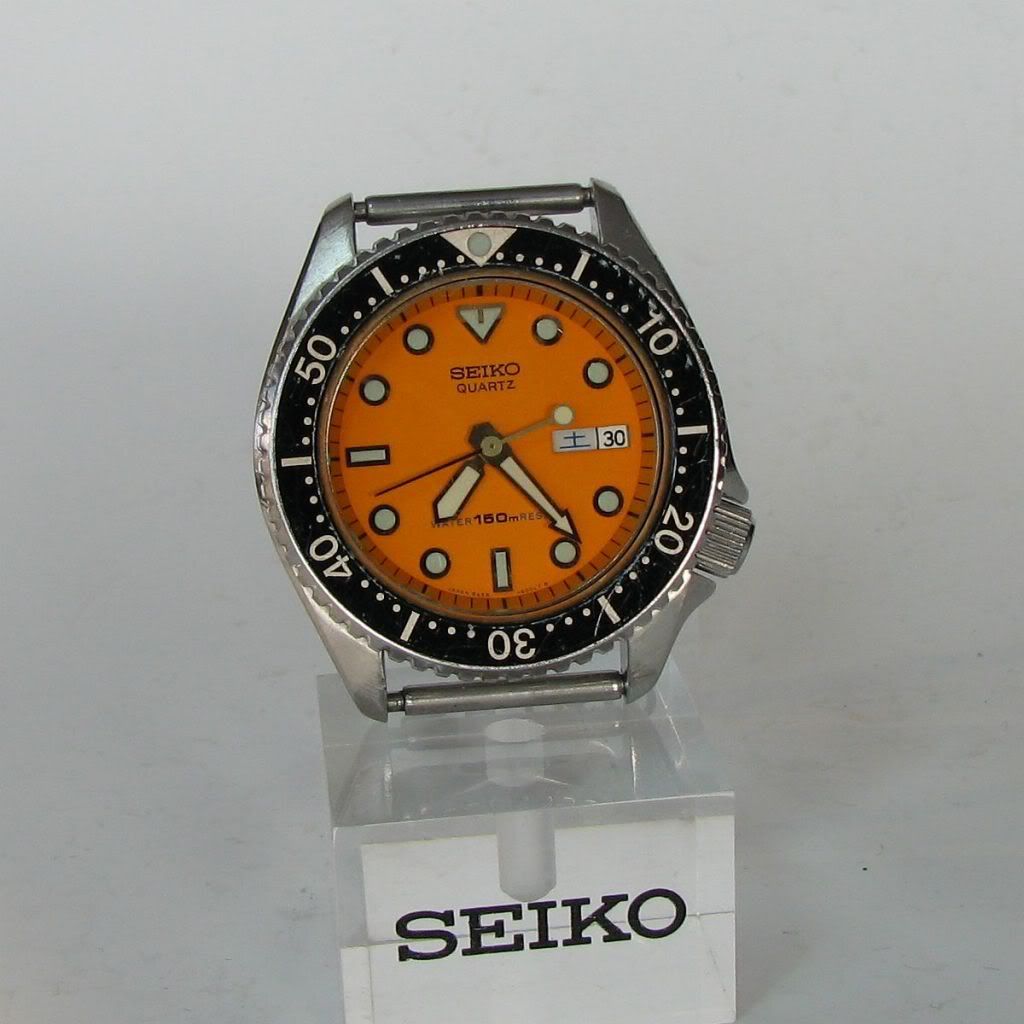 6R15

I have a search set for the SARB and SCVS series 6R15 watches. You really cannot get too many of these and with the prices for current models being around the USD 400 mark and above, a very slightly used one from the mid 00s is a bargain.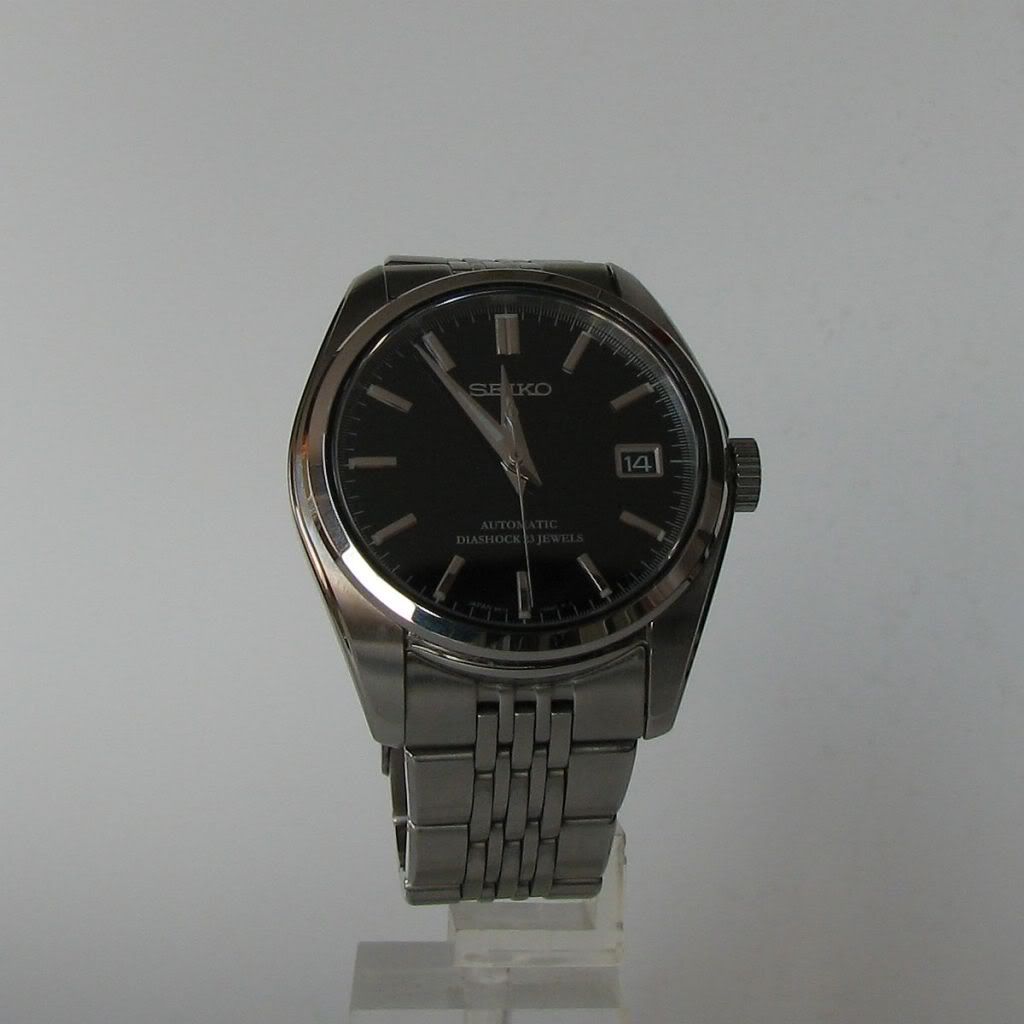 Sports and divers

Classic mid 70s 7006 caliber sports with radiant yellow dial. No collection is complete without one.




This watch will probably never see water but the S800 watches is a nice example of a Seiko dive computer.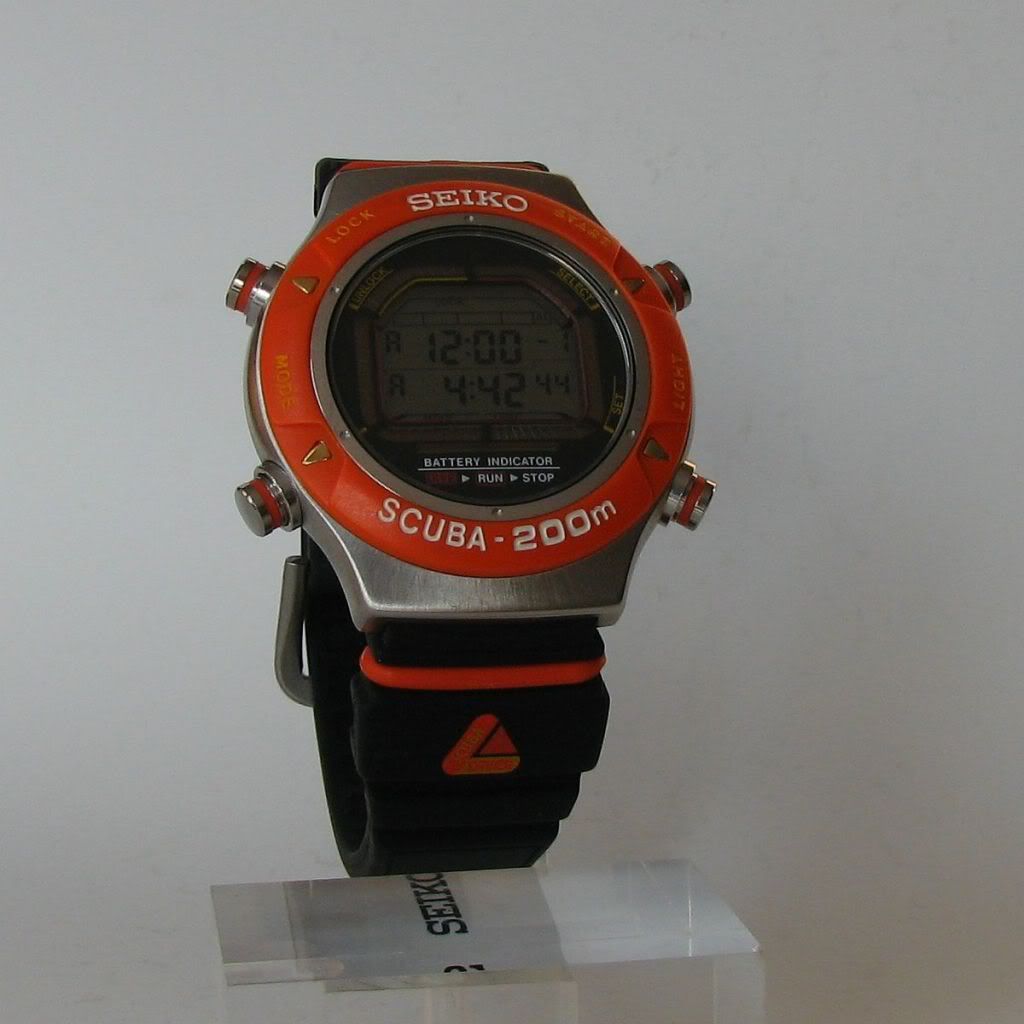 Uncommon but a bit boring stuff

The first one is a rather rare 7018 chrono with flyback function.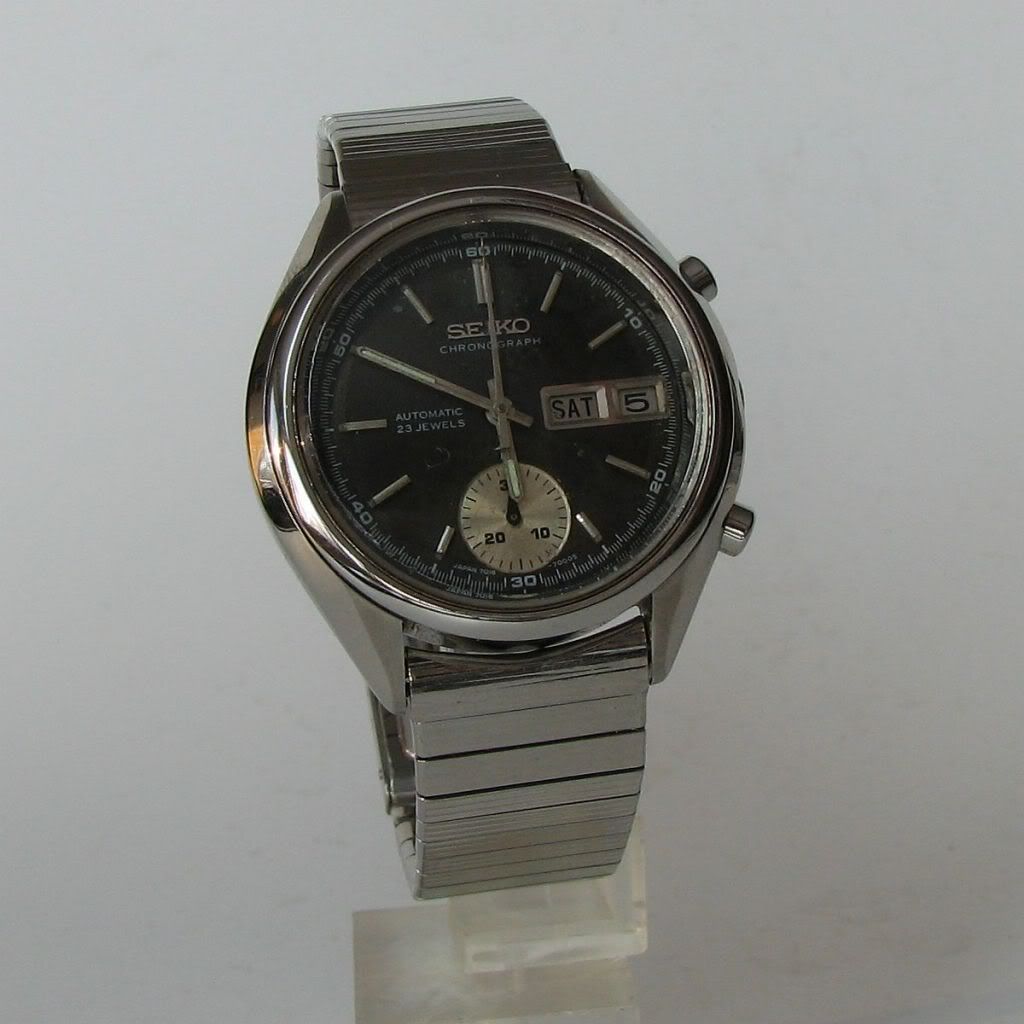 The second one is an early 60s 17j Sportsman with a very unusual dial.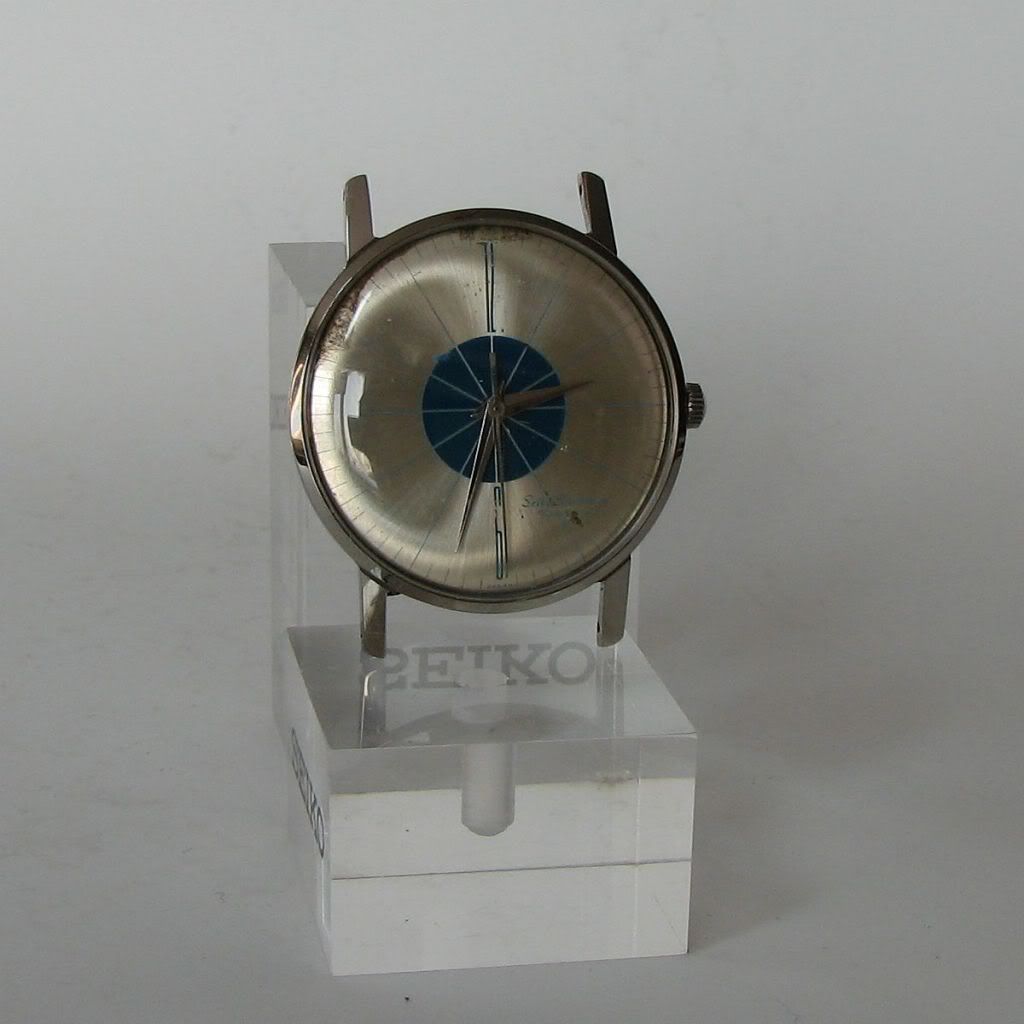 Italian football stuff

This is an 8M32 quartz caliber football sports timer made as promotional material for the 1990 world cup in Italy. They seem to be very common in Italy in NOS condition so they must have made a few too many.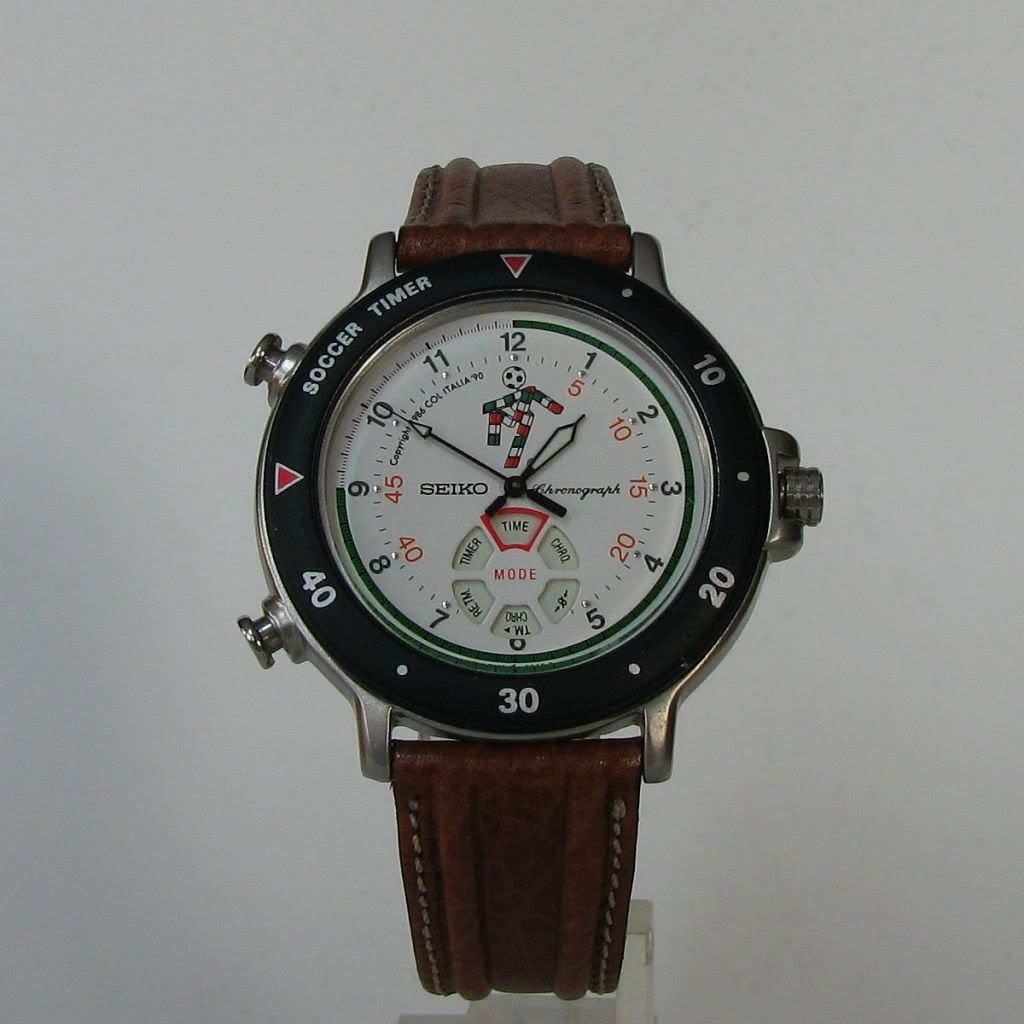 Vintage dress

The vintage dress part of my collection is now getting close to the 100 mark. I always think that I have the last or best dial variant or a specific brand but there always seems to be one more.

I do not buy very many watches with arabic dials but this early 60s 560 caliber Crown was too good to let go. The numbers are very well made and polished and applied to a silvery dial. Well above the quality of your average Seiko Crown.




Second pack are two great early 60s Liners. There is a separate post about these watches with dial close ups from a few days ago.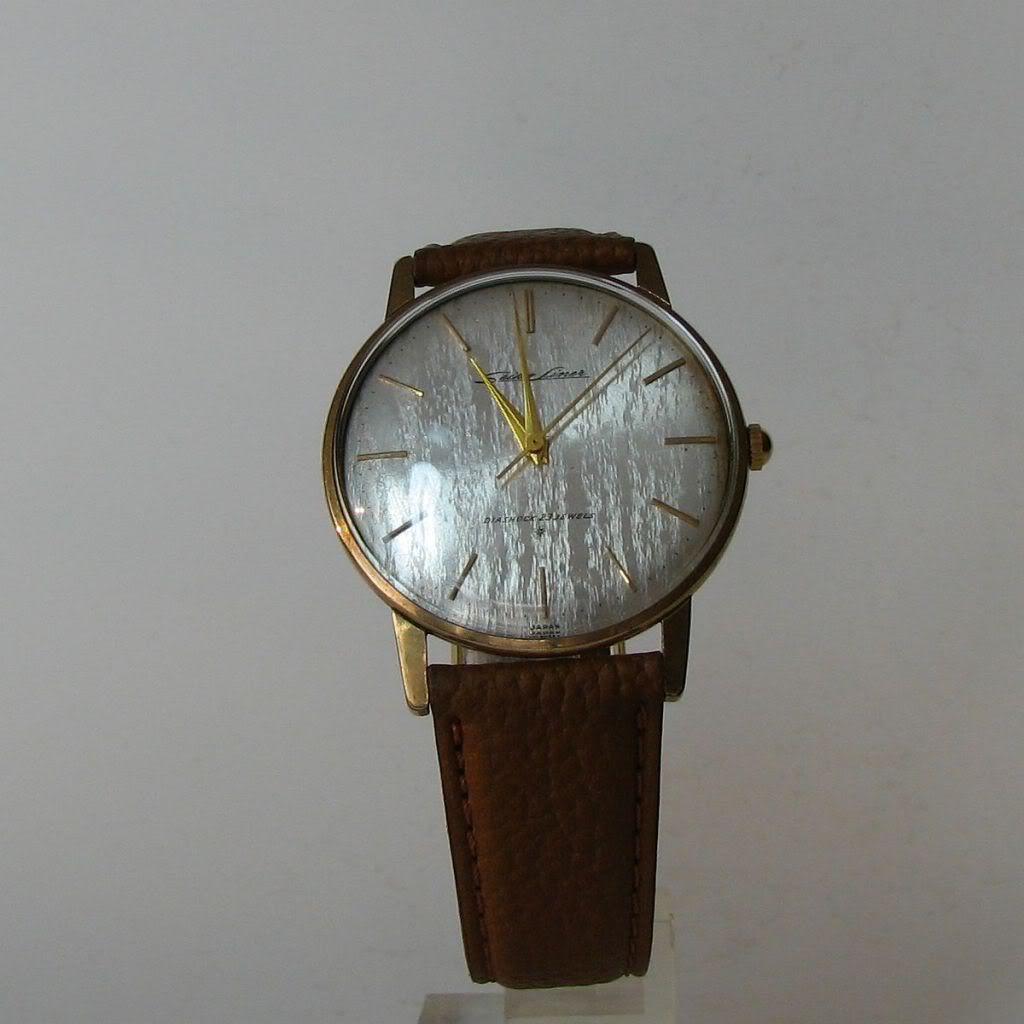 Rounding up is a Cronos with a dial with carved hour markers and an interesting assymetric text design and a Marvel with applied gold accents. The Marvel is almost unused and it is a bit unfortunate that the dial is spoiled.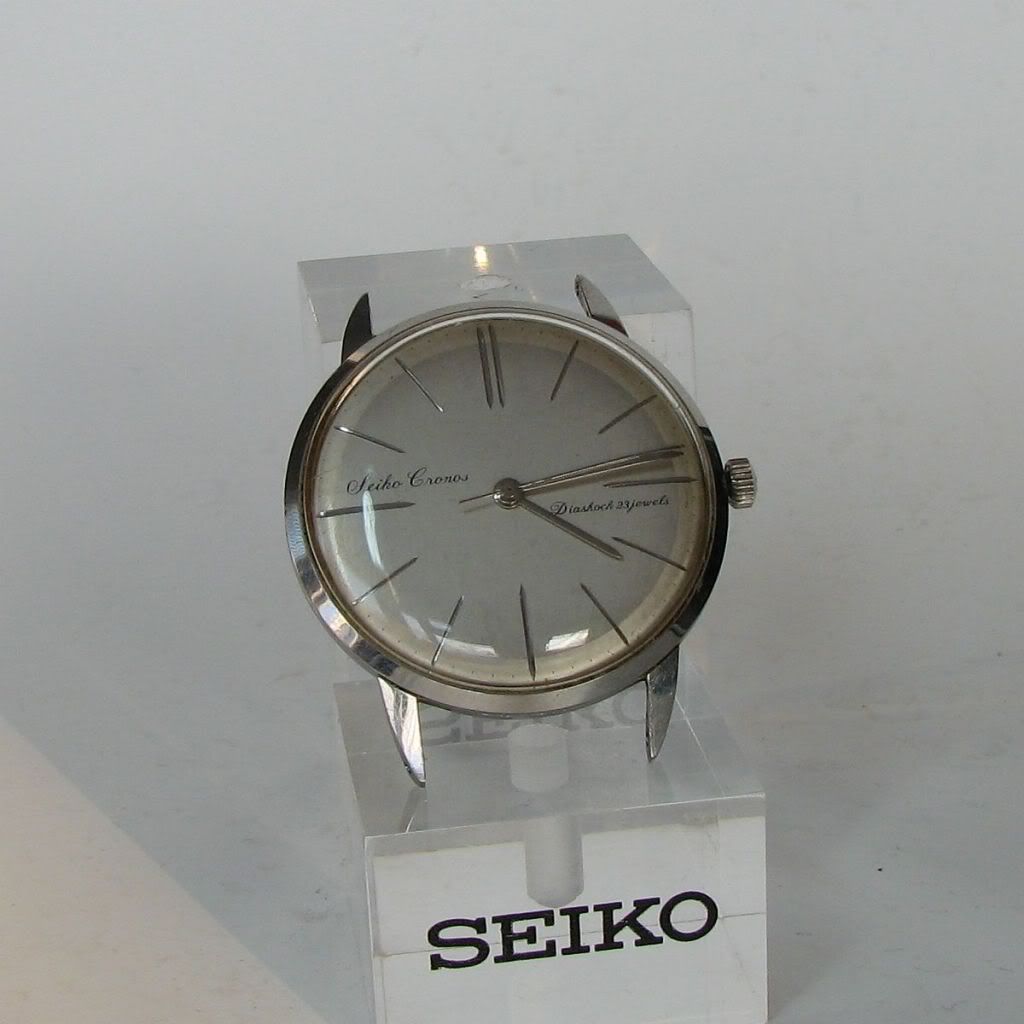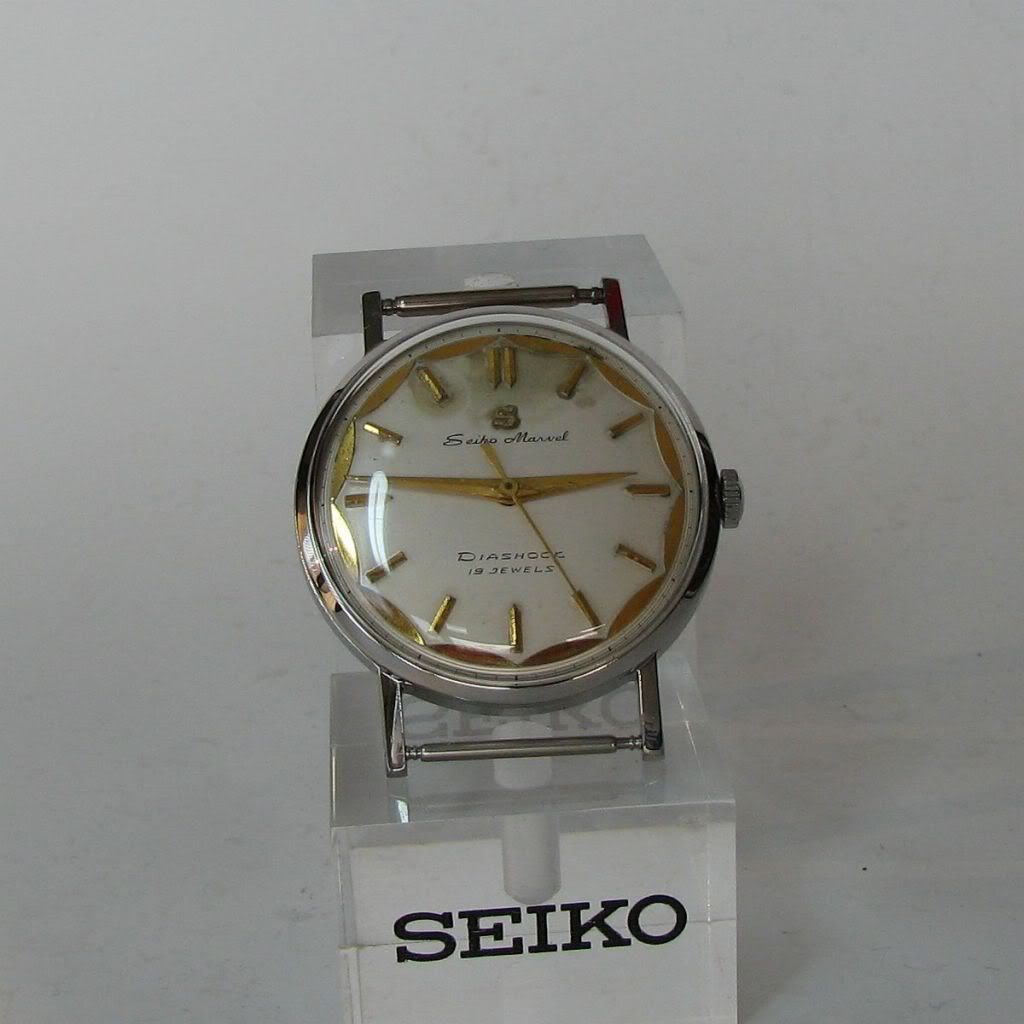 Square Goldfeathers

You have probably seen a lot of round Goldfeathers, the Seiko high end dress watch from the early 60s (if not the are a few examples in the full collection post above). More unknown are the square Goldfeathers that was made at the end of the life of the brand in the mid 60s. Available in both SS and gold, they have no Goldfeather designation on the dial but the caseback has Goldfeather text and an excellent representation of a feather (unfortunately caseback is etched so they wear off very easily). The gold version below is one of the best preserved goldplated Seikos that I have and it has a much deeper gold colour than most of my other 60s gold watches.




Really really really old stuff

A Laurel, Seikos first wristwatch from 1913. The movement and dial on this watch is in good condition but I need to find someone to reattach the second hand.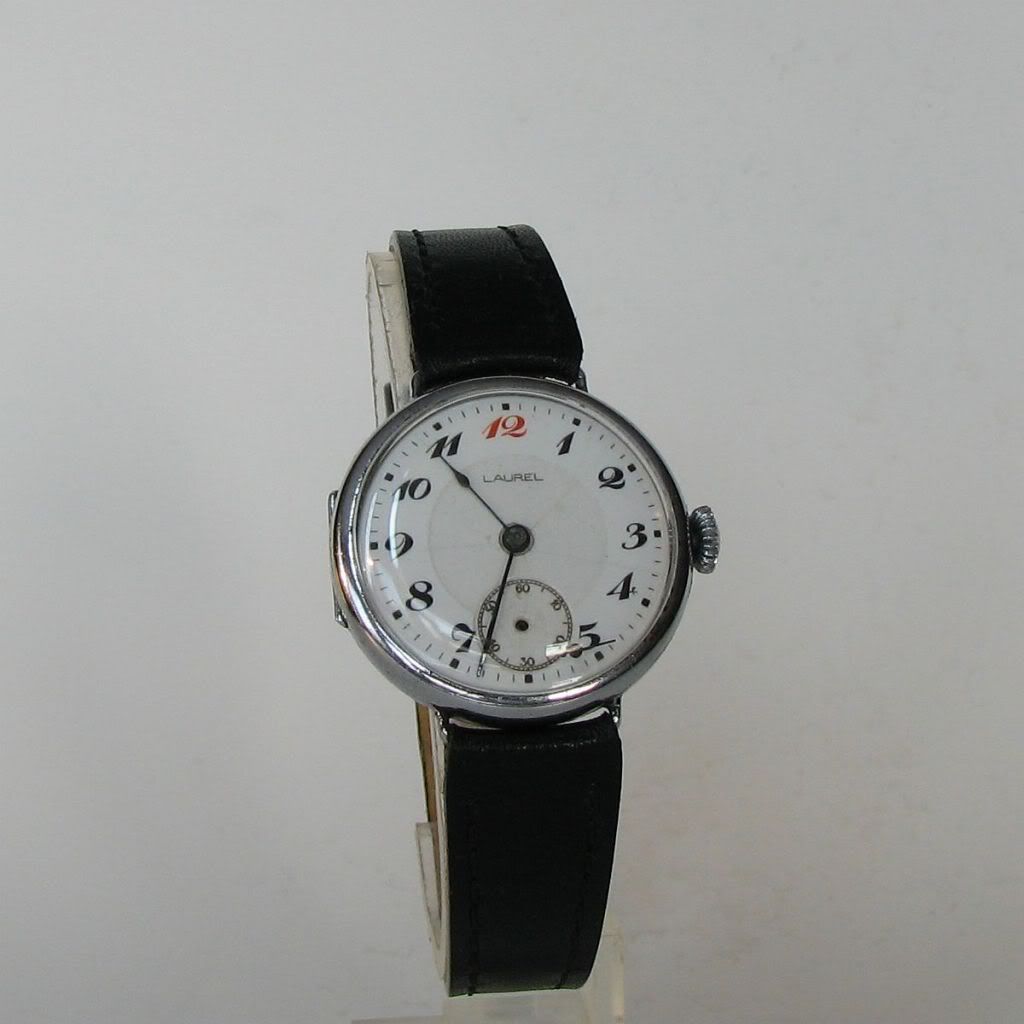 The really really serious stuff

I have so far stayed out of the more expensive modern watches as I think they are much too expensive compared to buying high end vintage watches such as 1960s GS. However, there are a few models that are a few years old and have come down a lot from their original prices so that they are no longer ridiculously expensive.

The first one is a Credor Node with the 8J80 quartz calibre. There is a separate article about this watch a few weeks ago with a few close up pictures of design details.




The second one is a SARA series watch with the elusive 4L25 caliber. An absolutely amazing dial on this watch. If I can get some decent pictures, there will be a GMT+9 article on this watch during spring.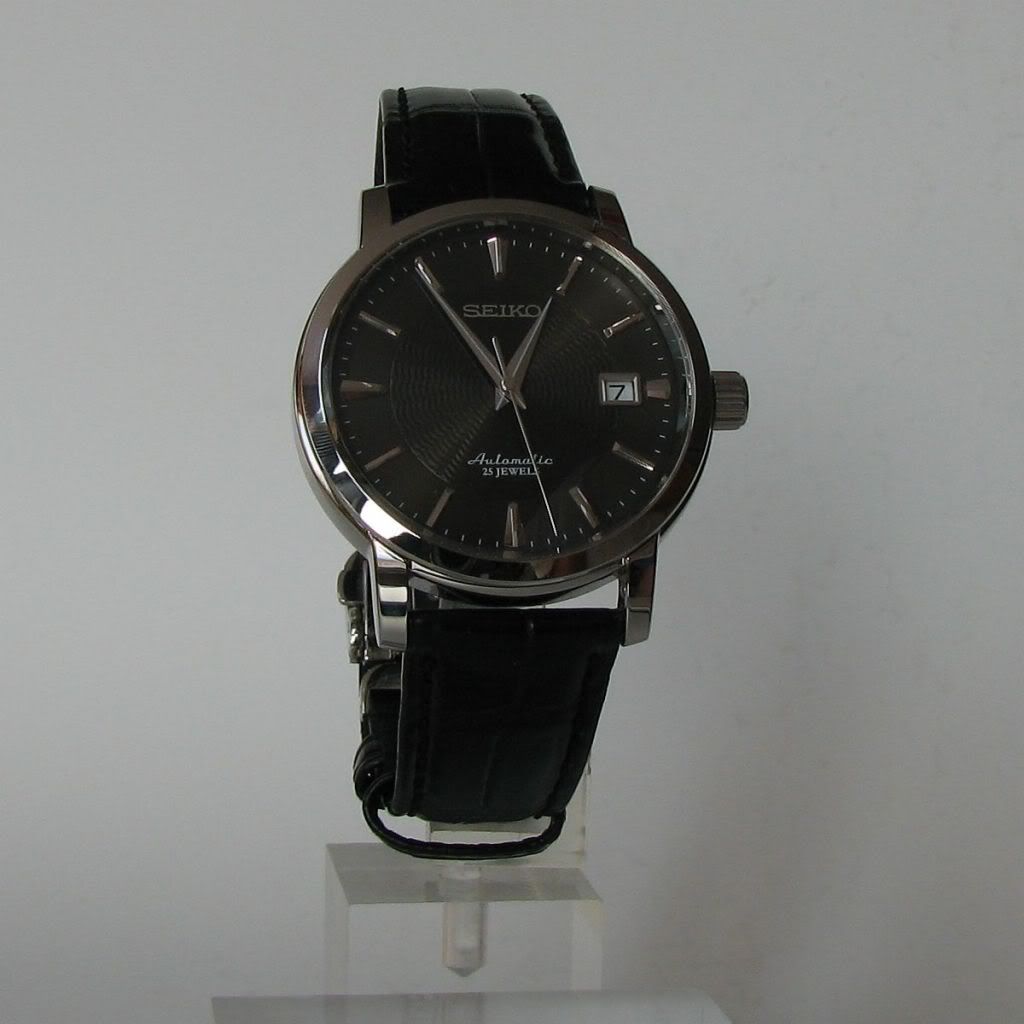 I guess you all know this one, a 2000 Historical Series 600m 8L35. I got this (comparatively) cheaply on French ebay. Seems like the French have good taste in watches.




Banners

I think this banner came from a dealer who used it at a grand Seiko promotion. At 10ft by 2ft, it is rather stunning.




Pins

Seikos sports timing business and sponsorship of sports events means that there are a lot of Seiko branded pins. Cheap and cheerful, most of them cost only a few dollars.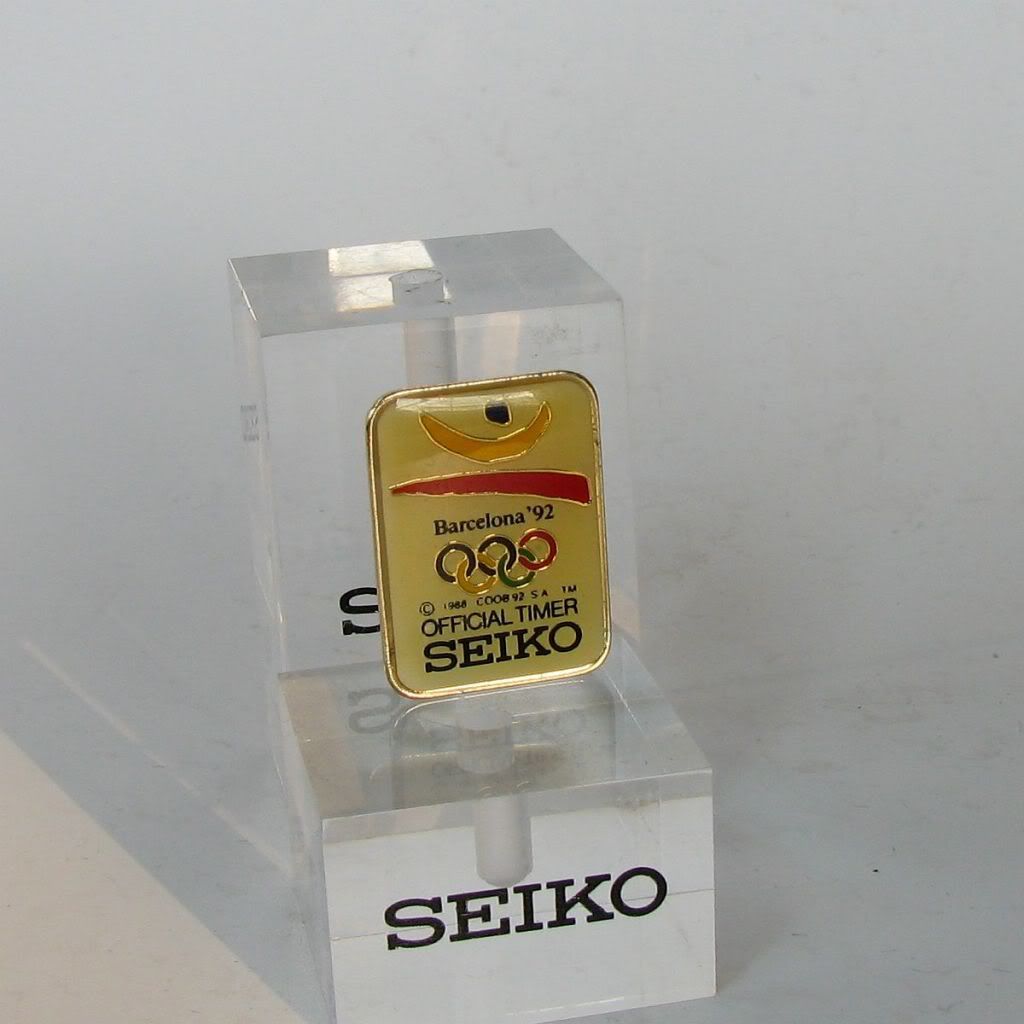 Medallions

A lot of Seiko watches in the early 60s came with medallions attached. The medallions correspond to the caseback designs and have bronze, silver and gold levels. My first idea was that this would correspond to 30, 50 and 70m ratings but that grading is not consistent. I have however not seen any 30m watches with silver or gold medallions. Bronze is fairly common but silver and gold is very unusual and full sets are extremely rare.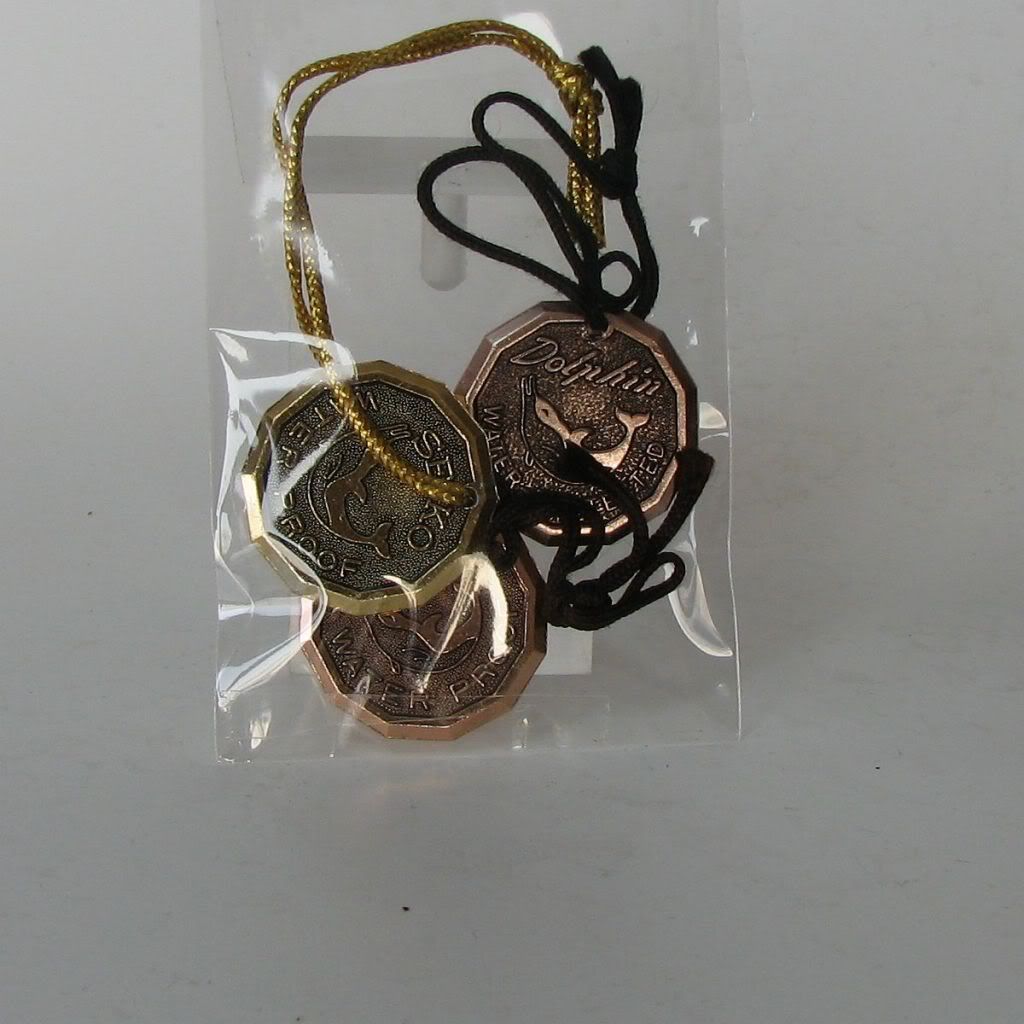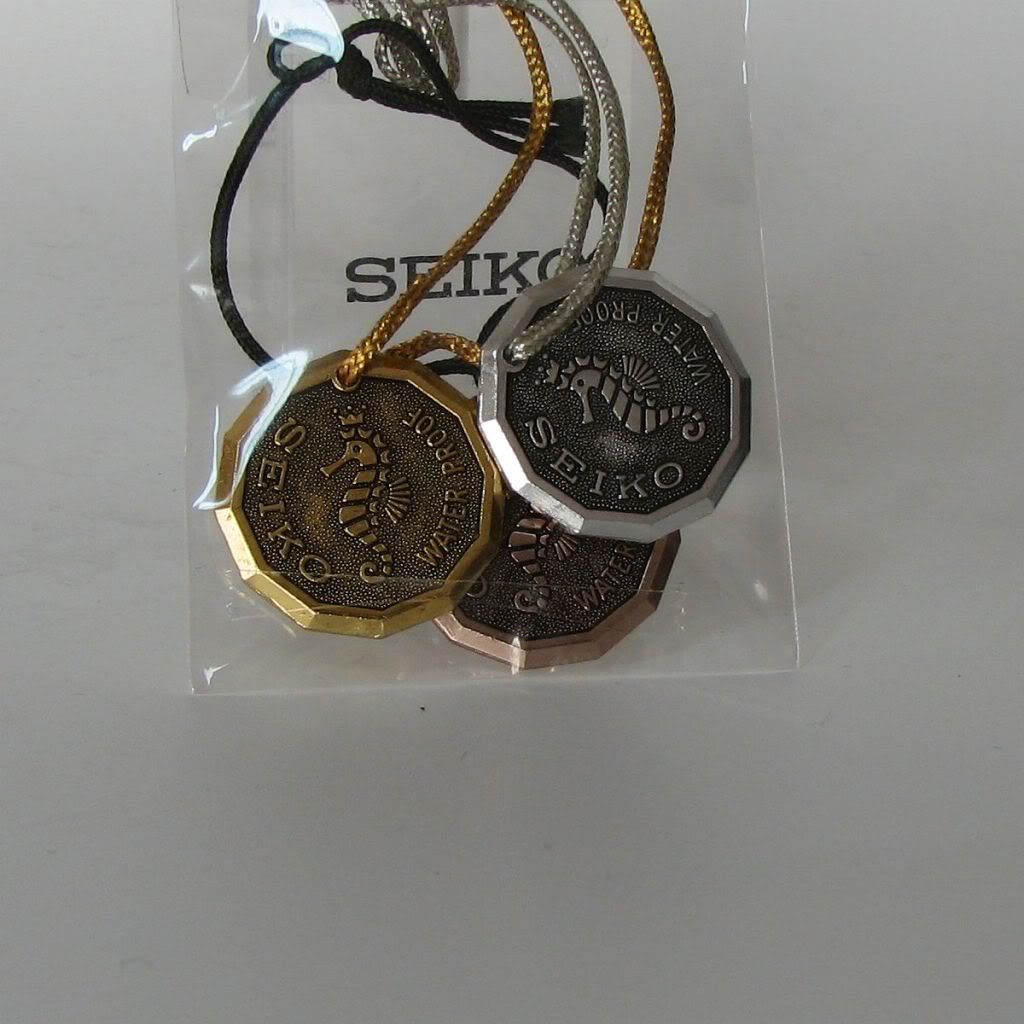 Box

The Seikomatic SelfDater Box from the early 60s is consistent in design with the other Seikomatic boxes. I have yet to understand the link to Venice.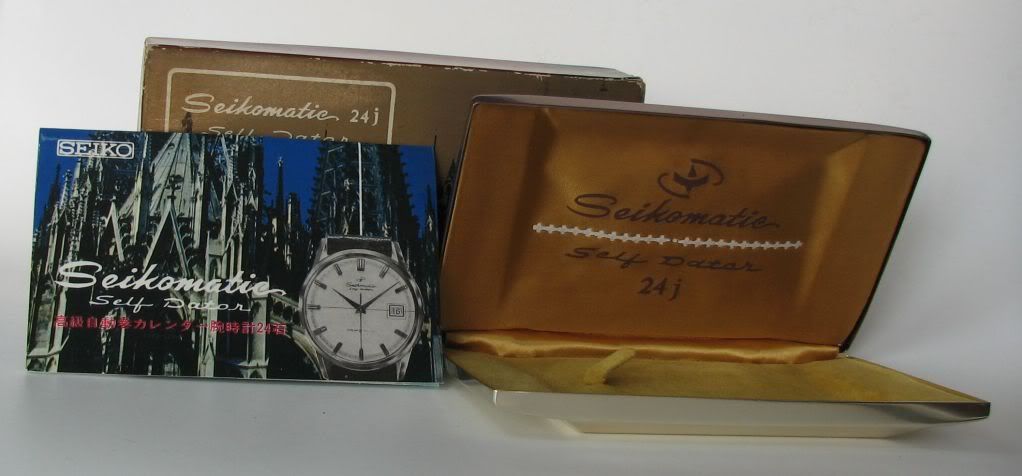 Book

This is an almanac that Seiko distributed to their resellers in 1970. It contains specifications of watches and other Seiko products as well as a Japanese-English watch dictionary for the export oriented reseller. There will be a detailed article about this almanac in GMT+9.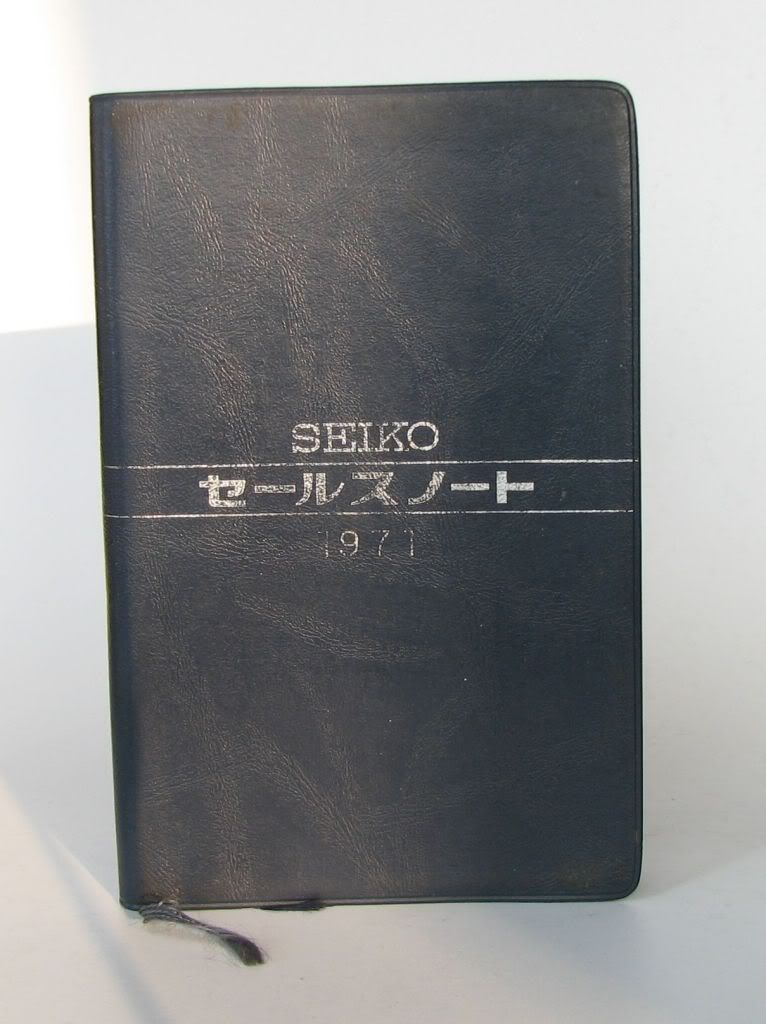 / martin