I have not made any collection updates for almost 6 months so I thought it was time for a new one. This time I am trying a new format with large pictures and a few comments in the update post rather than just posting thumbnails. Commentary will be a few tidbits and off-the-cuff remarks rather than the more researched posts I sometimes post, as the more detailed posts are better suited for specific brands or models rather than one of these broader selections. A few of these watches have been posted in "look what I got" posts previously so you might recognise both the watches and my thoughts about them.
The full collection post will be unchanged. I will be doing separate updates to the Orient collection and the Citizen collection later.
Please excuse the quality of the photos as I have changed my photo setup to a new lighting setup with better lighting. However, I have not yet learnt how to get rid of reflections in the more complicated situations.
OK, so here we go.
The first two watches are 3823 caliber Quartz VFA from 1971. This was Seikos first commercially viable Quartz watches. Extremely accurate for the time at 5s per month but slightly expensive at JPY 150.000 (about half a car or 6 KS watches)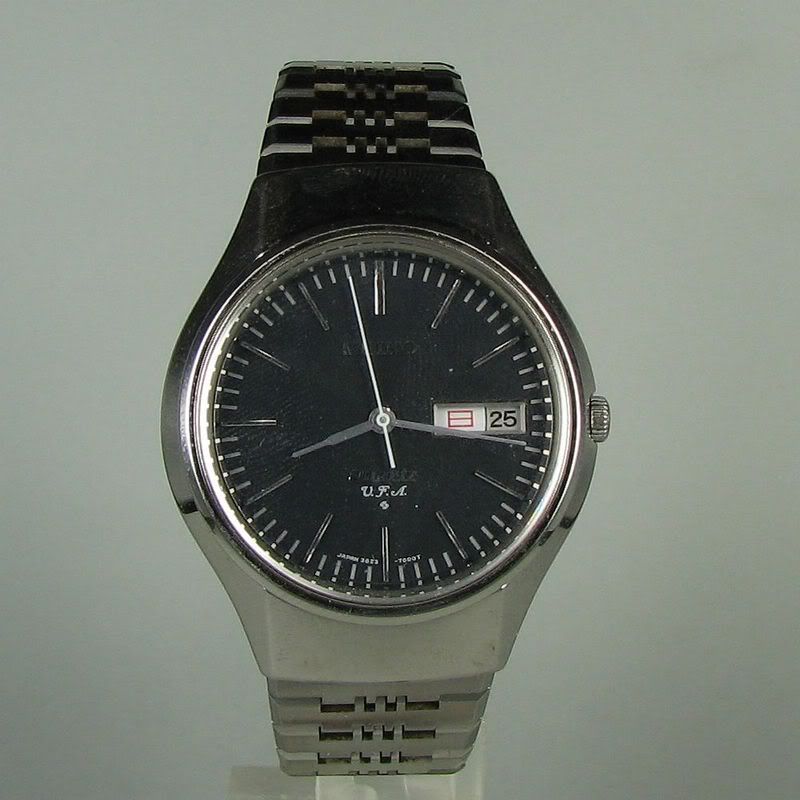 The next watch is a more normal watch in the same series, a 3863 caliber QR from 1974. Still accurate at 20s per month but a bit more affordable at JPY 40-50.000 (or 2 KS). As you can imgine, both this watch and the 3823s above are made to extremely high standards in order to be able to compete with the high end mechanical watches.
A more normal 5626 High-beat KS from the 70s. I bought this as I like the coloured grade dials which to me is an essential 70s design element. Also a very well made watch from the very end of Seikos mechanical period.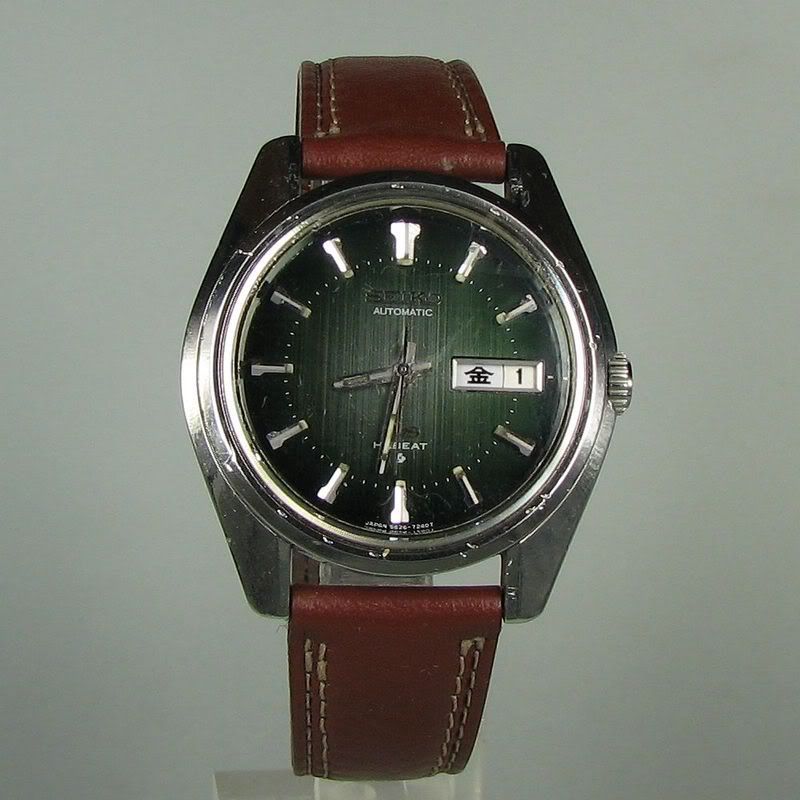 Getting into Kinetic territory with this 5M25 from 1987. This is a very early kinectic when they were still called AGS for Automatic Generating System. Seiko must have felt a need to show the user that something was actually happening inside the watch as this ha a weight on the dial side which is connected to and turns at the same time as the winder.
Next Kinetic is an icon in Seiko history, the Landmaster. This is the second generation which introduced the GMT hand. For anyone that wants to learn about Landmasters, look for petew posts on the forum.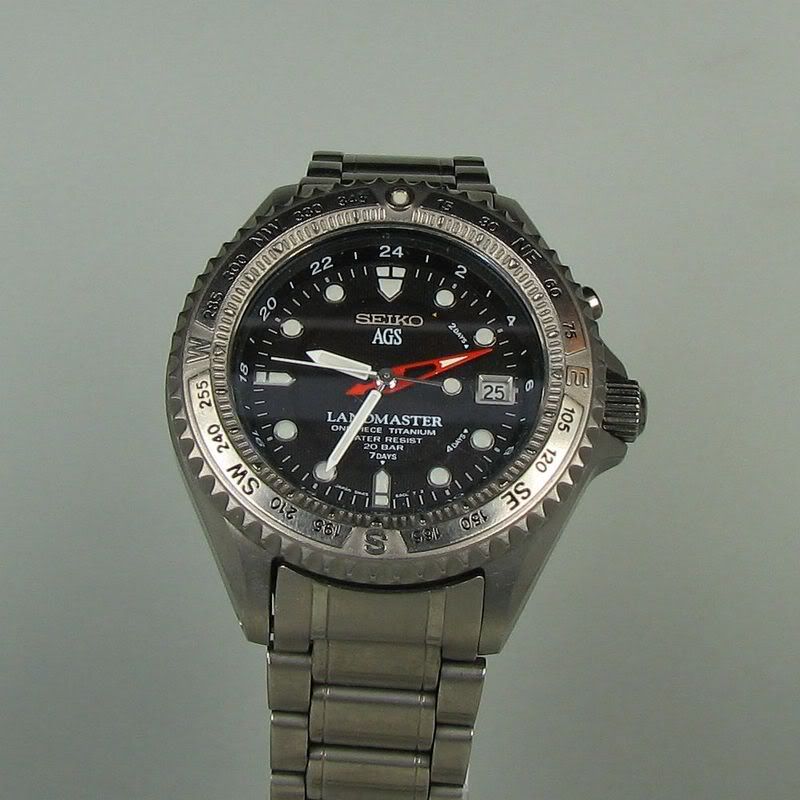 One of my more modern watches, a 5M62 diver. I bought this one because I liked to solid but classic styling and the tire-type bracelet (and because I got it very cheap).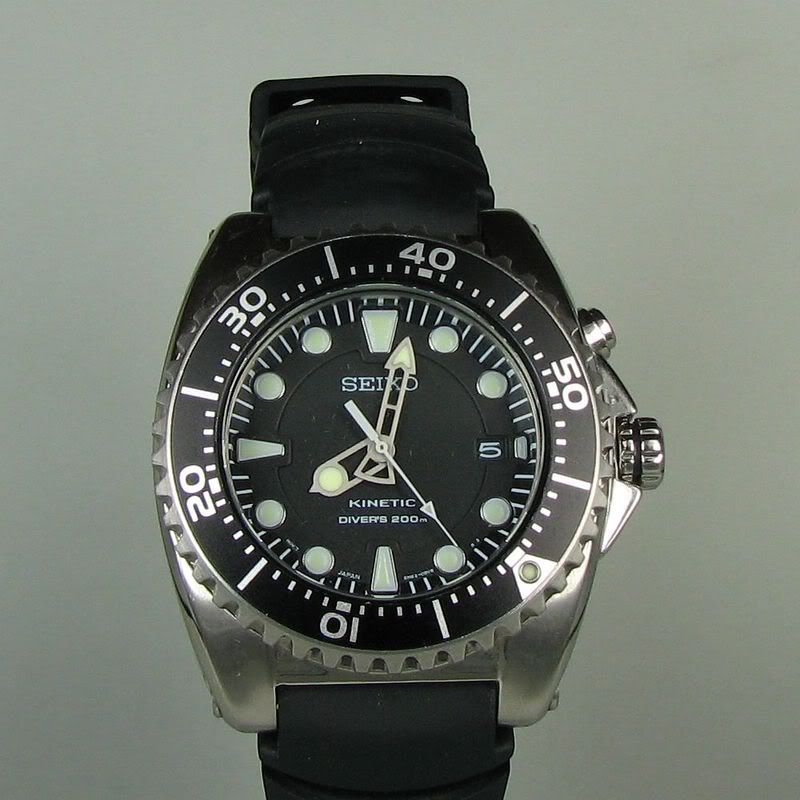 This is my combined Sportsmatic/Seikomatic SilverWave. I did a separate post on this one here:
http://www.network54.com/Forum/78440/message/1209295621/A+Silverwave+mix+and+mod
A cushion cased 6119. This watch has an excellent case, which seems almost unused. As you can see from Isthmus posts, this watch has an interesting construction with the lume located under the hour markers. Unfortunately on this watch, the lume has aged a bit so the green lume has bled through the original orange colour of the markers. However, I think this adds a bit of extra personality to the watch.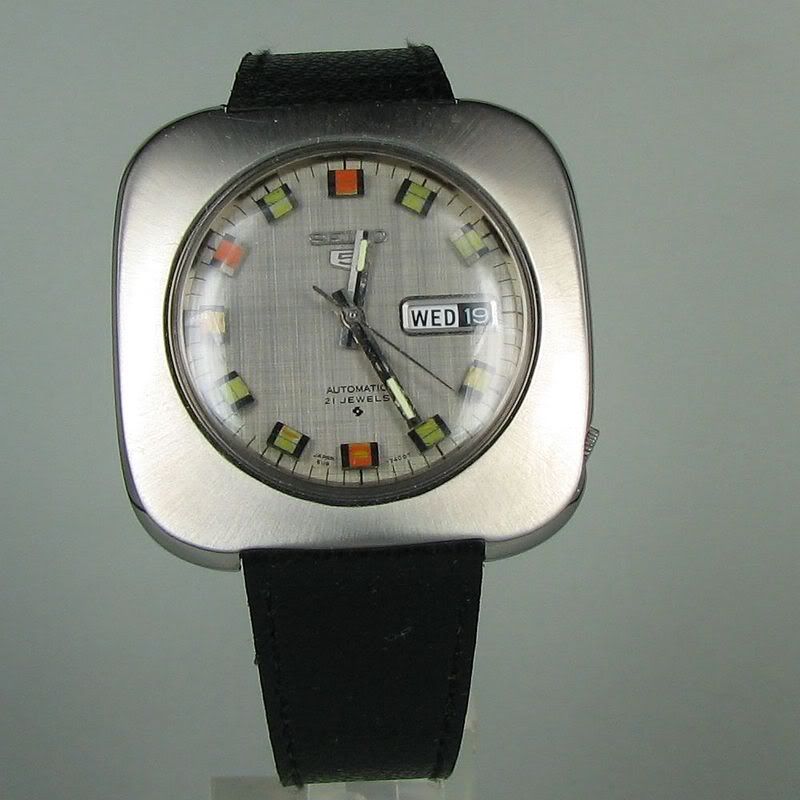 A 6119 Sports Diver. Nothing much to say except I like the blue bezen and the red semaphore second hand.
A 6138 Bullhead. The Japanese Speedmaster model with original bracelet. Finally I realised that every serious Seiko collection needs a Bullhead.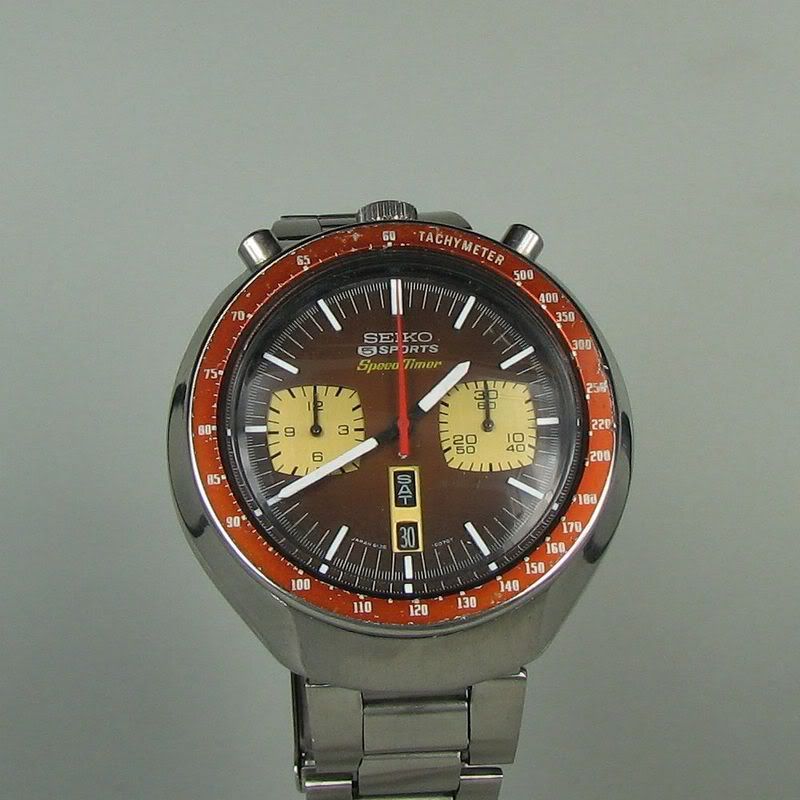 and a Monza.
A 6139 Speedtimer with an unusual textured bluegreen dial in good condition and inner bezel.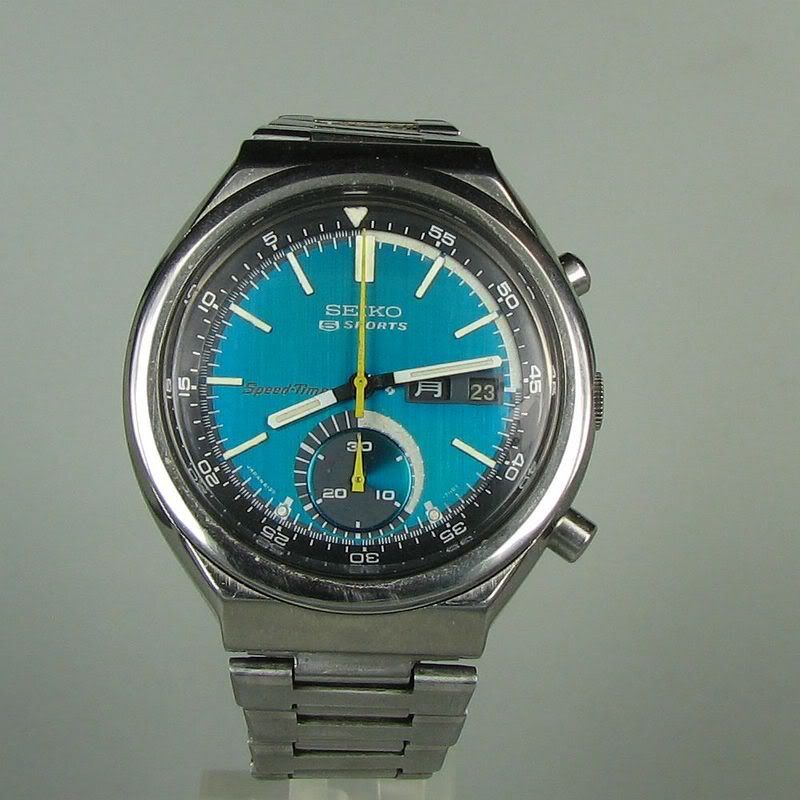 6217 MAS. For me, the real Seiko diver. Do not miss Harry buyers guide where this watch is featured with a much better picture.
http://www.larrybiggs.net/scwf/index.php?mod=103&action=0&id=1212077662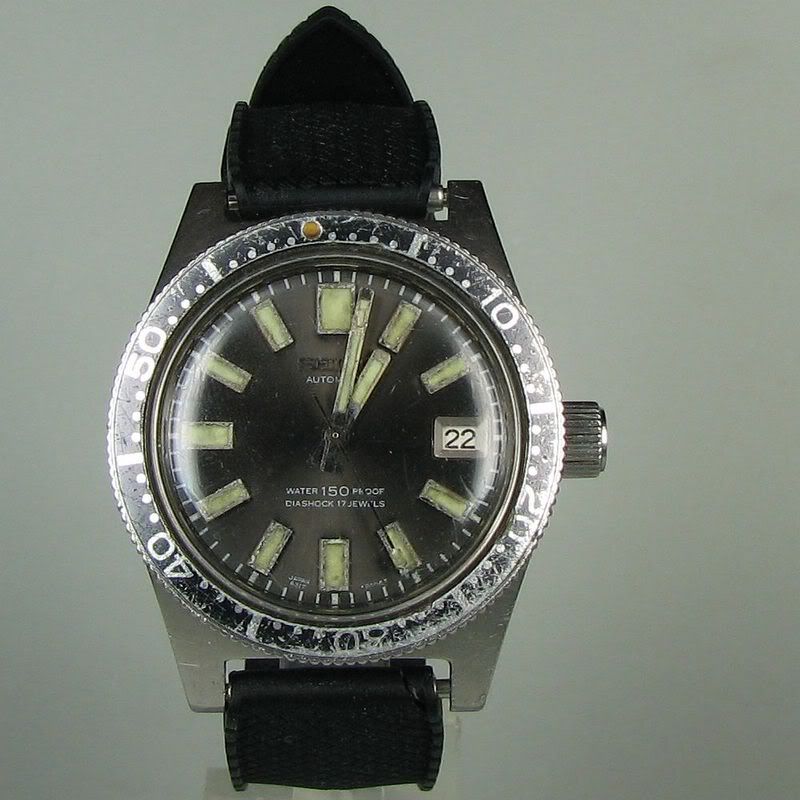 An unusual 6F24 Tidal chronometer quartz watch. Just setting this watch correctly takes a while but as there is no tide within 500 miles of where I live, it is not crucial. Instructions are here: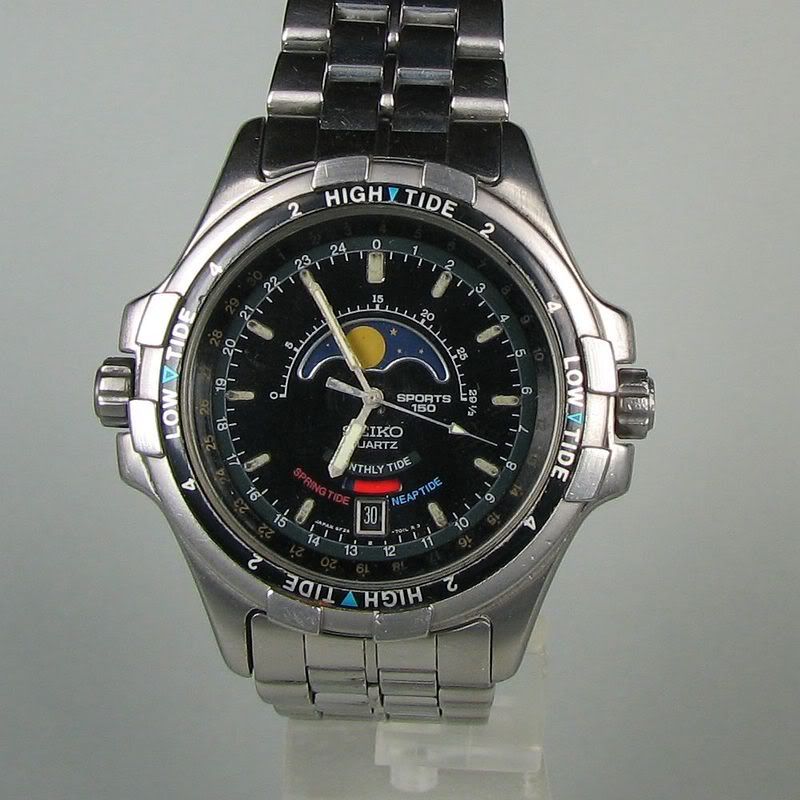 A 7005 Sports Diver renovated by Clement looking like the day it was born. Even if this is not one of Seikos flashier blue colours, I think it works very well with this watch. To me, the second classic Seiko diver. As you can see, I am strictly the desk diver type of person.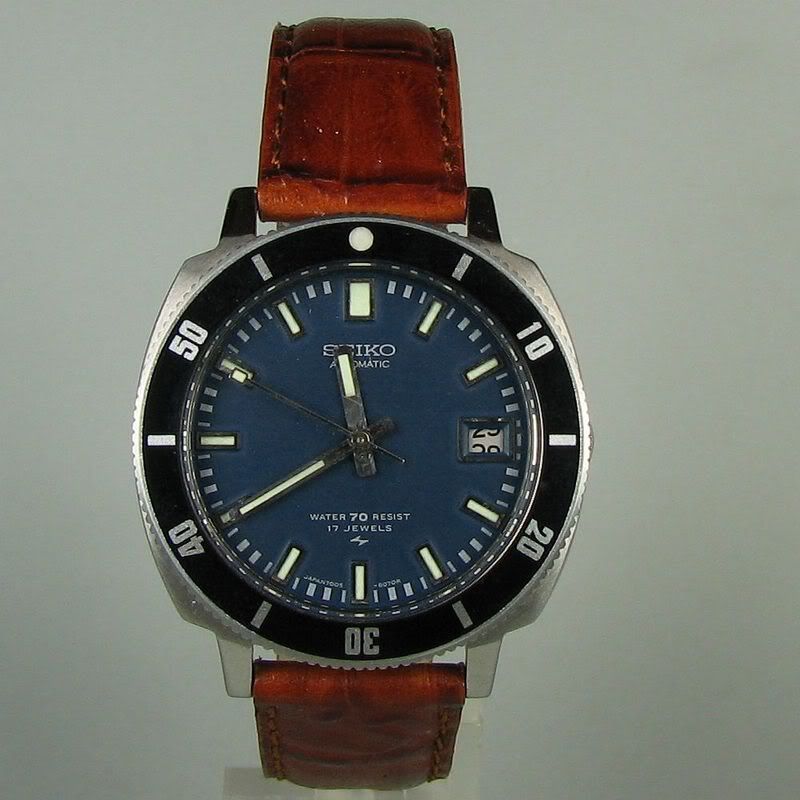 A lot of Speedmasters in this post. This is the 7017-6050 Rally Bezel version from 1971. A large and chunky watch in very good condition but I need to find a better matching bracelet.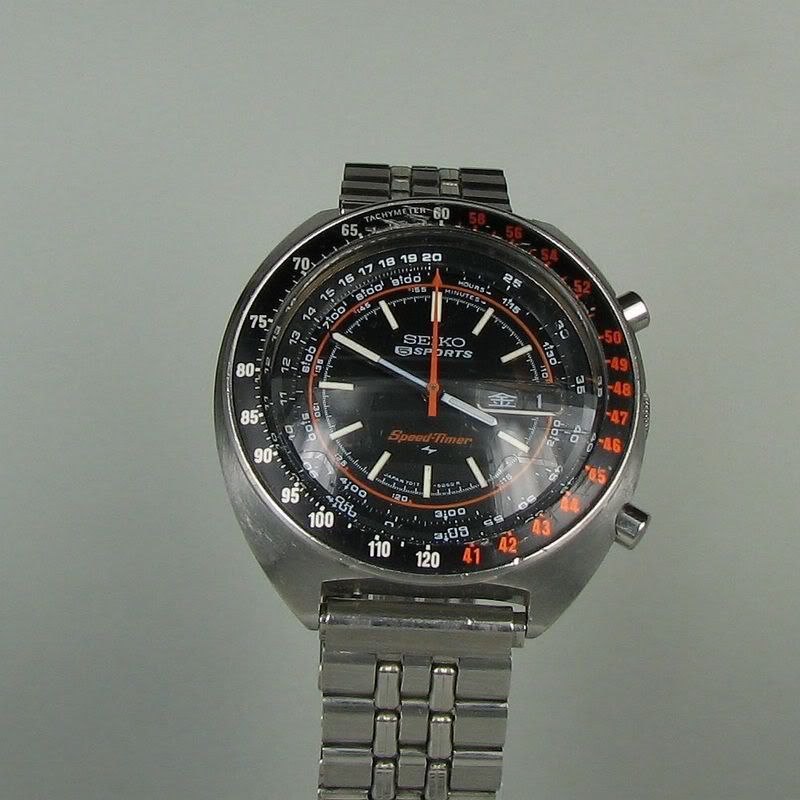 One more icon, the 7A28 Speedmaster Bike watch with rotating case so that you can turn it 360 degrees. Teh watch is from the first Giugiaro series for Seiko. I got this one NOS from Italy. The Italian Seiko distributor seems to have good contacts with Seiko as there are often a good supply of rare Seiko watches and special editions made only for Italy. The watch was made in December 1982 so it is a very early 7A28. Most of the literature lists 1983 as the introduction of the 7A28 but I have often found that Seiko seems to stockpile watches prior to the introduction so that the serial can be earlier then the year of introduction.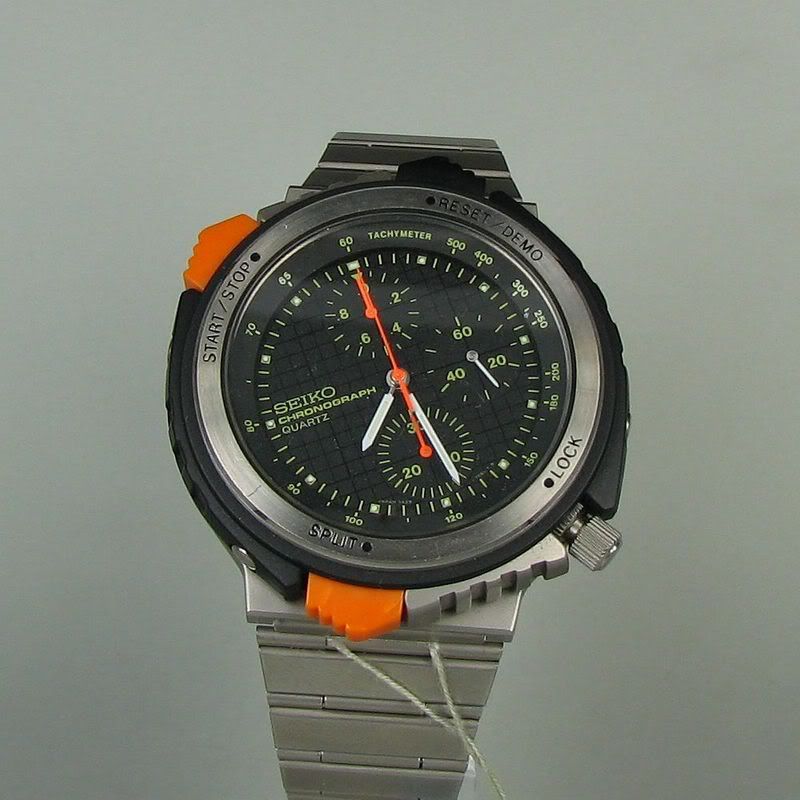 A watch from the junkpile, this Sports 100 7A38-6020. I got it for the very cool subdial hands and the PVD case. If you want to see how this watch should look, Derek has a fantastic example here:
http://www.larrybiggs.net/scwf/index.php?mod=103&action=0&id=1205189068
Blue Samurai. The blue is much better than the black
. I thought this would be much too big for me but it wears very well, especially on a leather strap. Ironically, this is one of my watches that gets the most attention. Spend a lifetime finding rare vintage dress watches and the most popular watch is a modern run of the mill diver.
.
A trio of reissue Sports Divers. As you can see, the last six months has been a very sports-divery time in my collecting. However, I like these watches very much. Very high quality and true to the originals.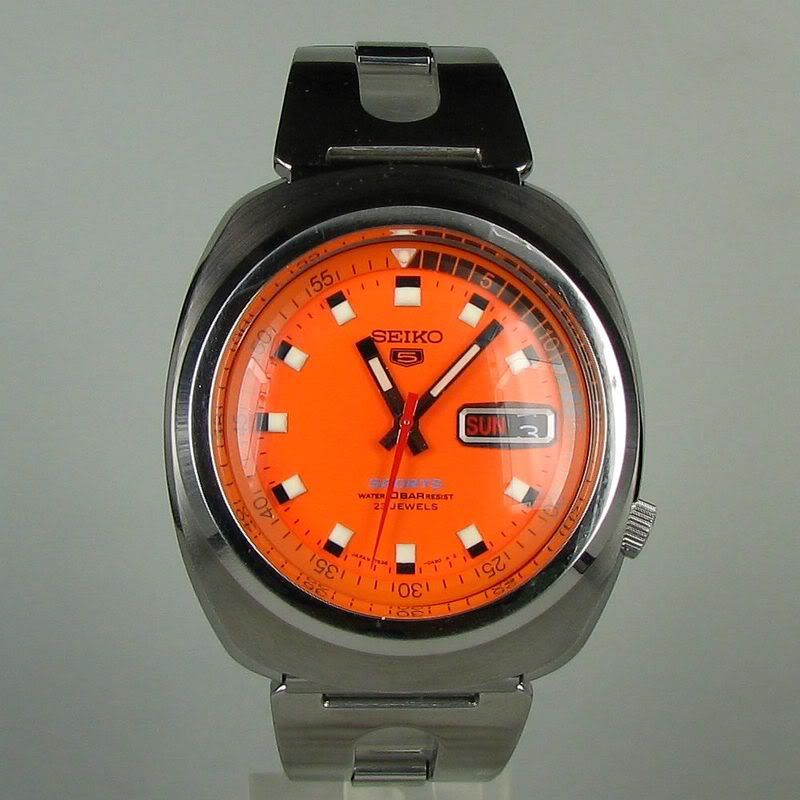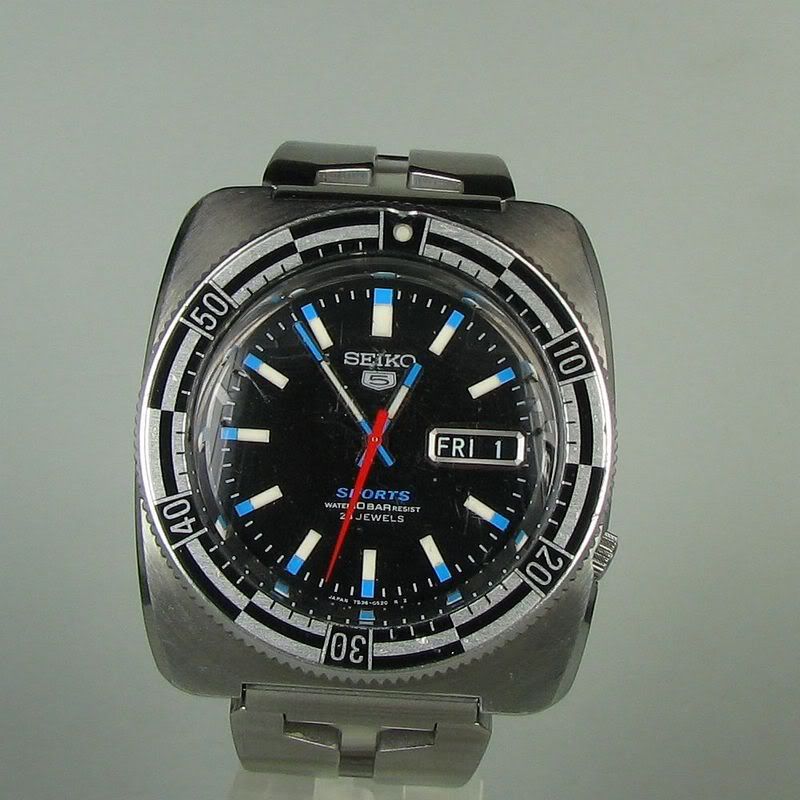 As mentioned above, the Italians seem to get a few special edition Seikos. This is a 7T22 quartz caliber (I have not seen or heard of this caliber other than in this watch). It is supposedly from the Seiko Rally series and has its own brand logo in the form of a stylised R on a green background (see button on strap). Otherwise, a good shot at the rally-theme with nice touches such as the button on the strap, the red text on the bezel and the chrome dots on the dial.
This 8S23 was one of Seikos first Solar watches in the late 70s. The solar panels are the triangular shaped parts of the dial. There is also a version of this watch which has honeycomb-shaped panels. Due to the unually rainy Swedish summer, this watch has not been used very much yet.
The 9581 was Seikos first forage into GS territory in 1988 after the GS brand was abandoned in the early 1970s. Seiko then dropped the Grand Quartz brand in favour of GS. The 9581 is a very well made watch, even if slightly small for todays taste. It is one of the very few Seiko watches that uses a 17mm lug. The caliber is very high end and is rated at 10s/year, which would make it one of the worlds most accurate watches even today, 20 years later. It is also one of the cheapest ways to get a GS.
The Alpinist also came in a few "stealth" versions, such as this goldplated Champion 850. The exact same watch as the more well known black and silver versions, it has the real Alpinist caseback.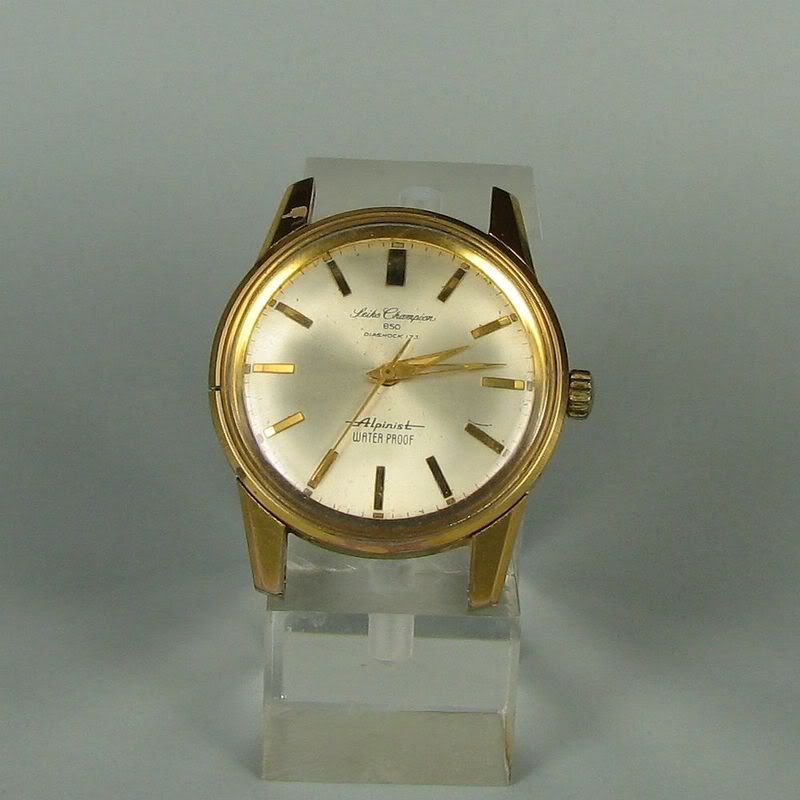 For soem unknow reason, Seiko used its thinnest movement from the Goldfeather to stick in one of its larger watches, this pocket watch from 1964.
A Gyro Marvel from the SCTF (or should I say SCTP). An early less common variant with the AD mark and the applique Gyro Marvel logo.
In the early 80s, Seiko decided to reuse the SilverWave brand for a lot of low-medium grade Sports watches. This is a colourful H556 version which I have seen also in green and yellow. A fun beater watch.
Next SilverWave is this B&R-style 2628 caliber from 1981. The 2628 is usually used in womens watches but presumably used in this watch as a small movement with a seconds sub-dial was needed. One of Seikos more military style watches which really does not look like anything else in Seikos lineup.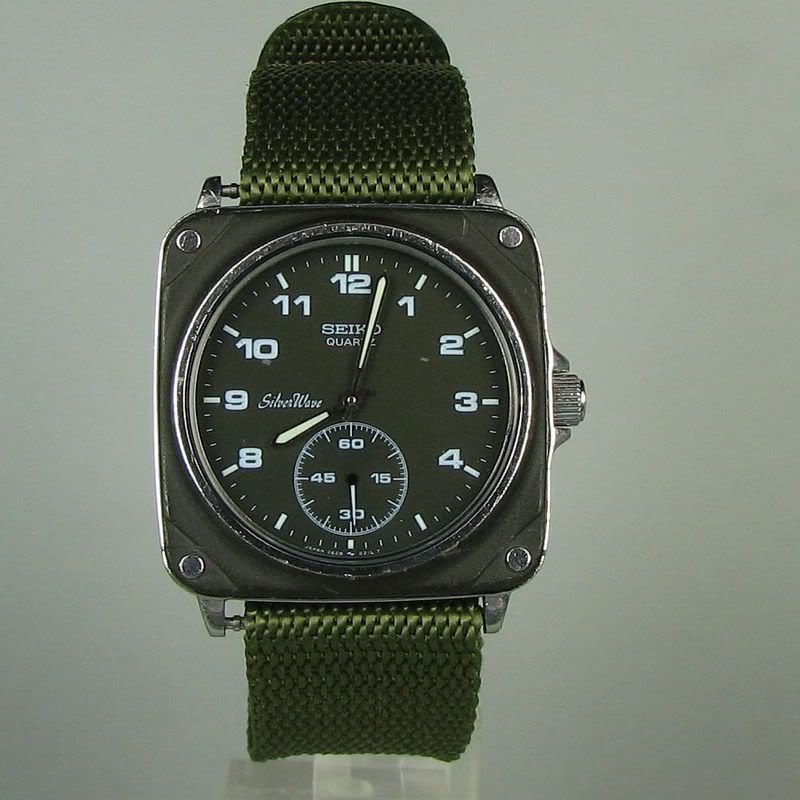 Another very interesting technical experiment from Seiko witrh the H711 caliber in 1987. This is a titanium cased watch with a LCD display layered at the back of the crystal. This did not work very well as the LCD display was impossible to see if you were outdoors or in most direct light. The watch was discontinued after a very short time.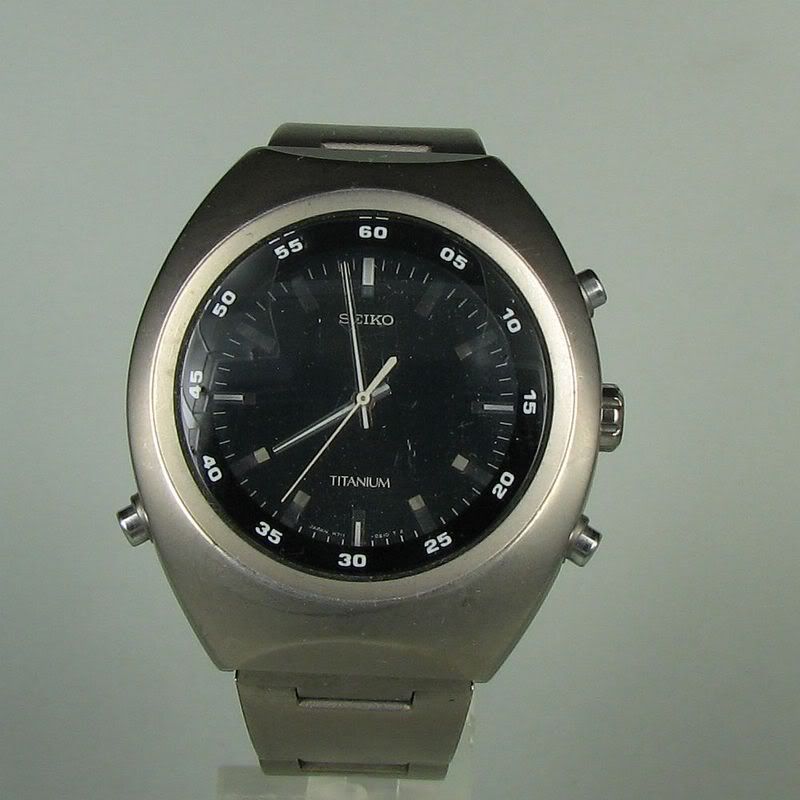 I have said iconic quite a lot of times in this post and now it is time again for this H810 caliber Fieldmaster. This is a great toolwatch with distance meter and plastic caseback. Best Fieldmaster summary is in Tys post here:
http://forums.timezone.com/?t=rview&th=607516&goto=1812026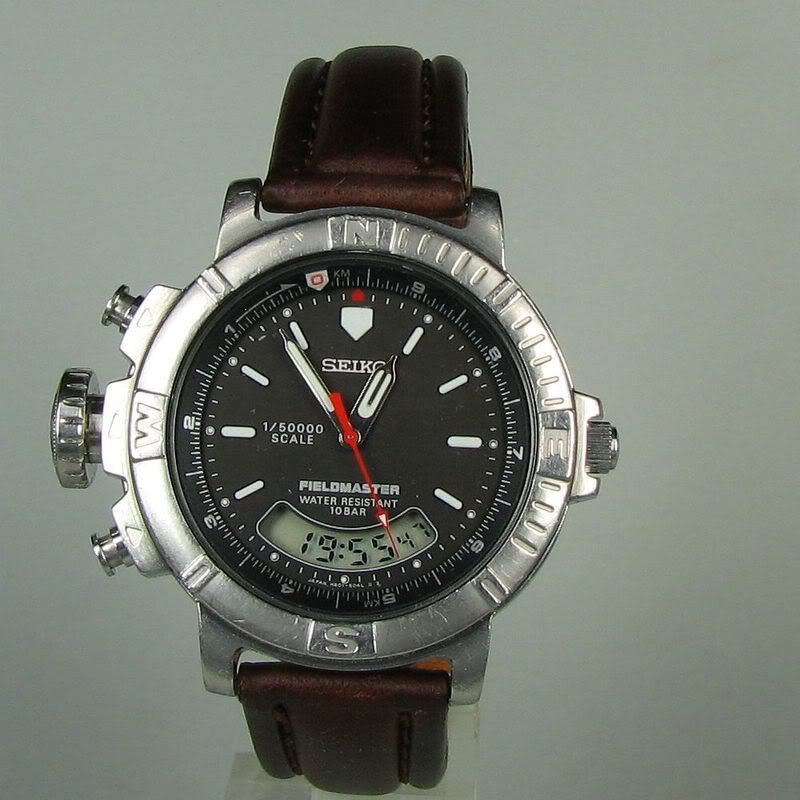 A magnificent 1st generation Lord Marvel with a slightly aged dial and the engraved Lord Marvel signature. Learn all you need about Lord Marvels in Koheis post here:
http://forums.timezone.com/index.php?t=tree&goto=3517662&rid=0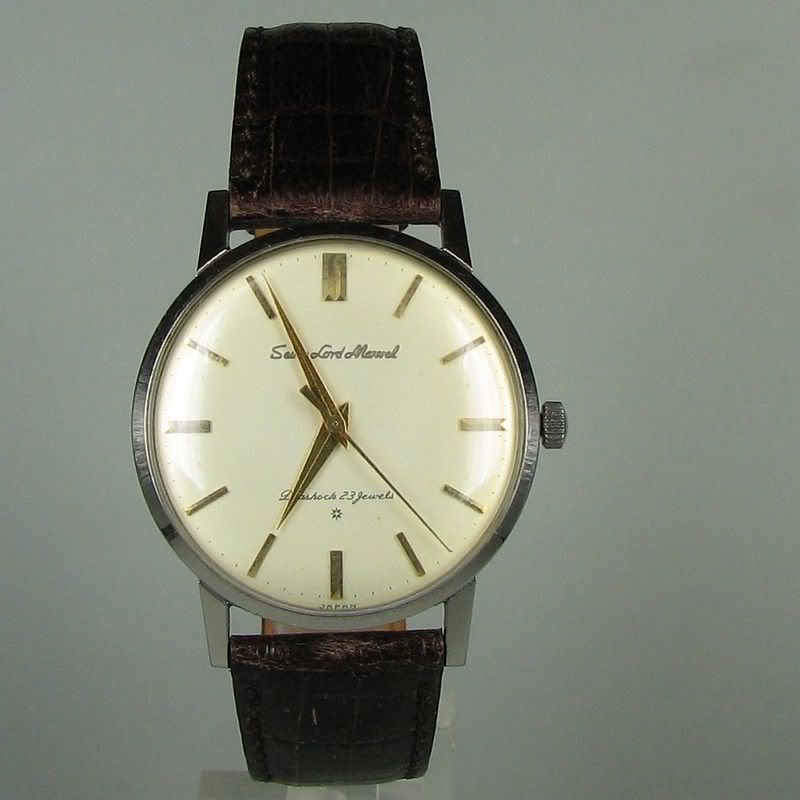 I like the analogue watches with the LCD display for alarm, chrono etc as it keeps the main dial a bit less cluttered. This is a Flightmaster style Sports 150. Another NOS find from Italy. This watch has an very nice high quality bracelet.
This period has not had very many of my core classic dress watches but a few of then turn up at the end. This is an early 60s 603 caliber Seikomatic. One of the best watches in this period. It came NOS from Taiwan including case, tags and manual (not a very big manual for this type of watch). It is also one of the most unusual and rare Seikomatics with the two tone black and silver dial. In real life, this watch is magnificent.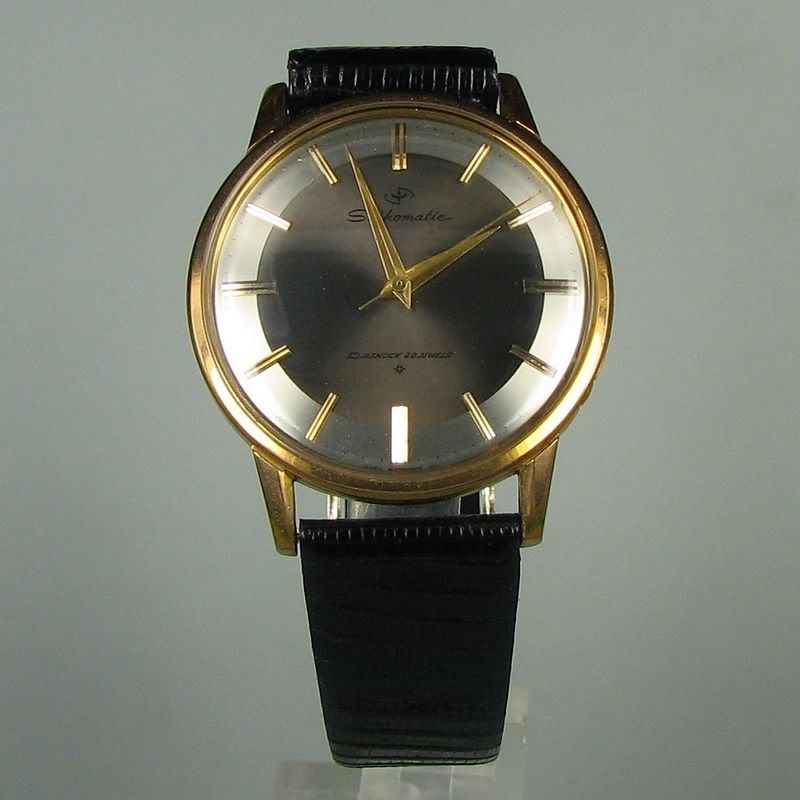 Another 603 caliber Seikomatic. The interesting thing about this watch is the pie pan-type dial which brings out the structure of the dial very well.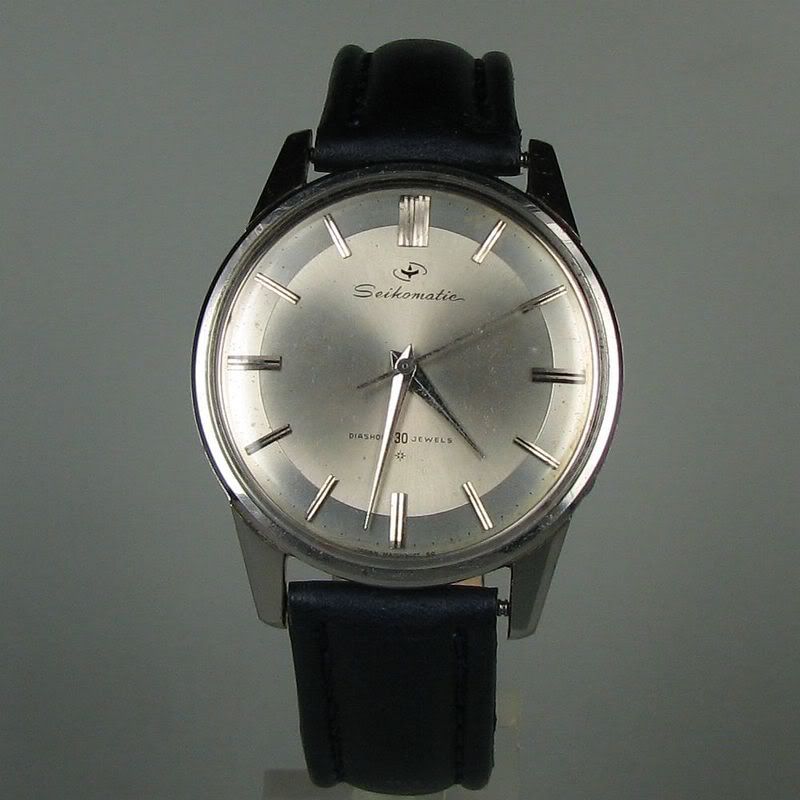 At the end of its life the 603 caliber was renamed the 6201 and was the core of the 62 series watches. The 6201 was made only in this style (AFAIK) and not in very large numbers. A precursor to the more designed styles of the mid-60s.
From a very late 603/6201 Seikomatic to a very early 603 caliber Seikomatic. This J14075 was one of the first Seikomatics made and it had a very unusual design with the structured edge and the graded dial. To me, it seems more like one of the last watches from the 50s than one of the first ones from the 60s.
Seiko often reused dial designs from its high end watches in its lower lines such as the Champion and the Sportsman. This is probably the best Sportsman I have ever seen and would have been a big gamble for your ordinary low level salaryman that was the target customer for the Sportsman range.
Last watch is the most unusual watch in this post. This is the Seiko Nooka classic designed by Matthew Waltman in cooperation with Seiko in 1999. Waltman and Seiko later ended the collaboration and Waltman continues to produce watches under the Nooka brand, like these ones here:
http://nooka.com/story/#id=story
. He has not had many new ideas since the first one, has he ?
/ martin