About three years ago, I started thinking about collecting watches. I had one or two decent Oris watches at that time so I was somewhat interested in the technical side of watches but really had no understanding for needing (or wanting) more then one or two watches. Starting to browse the watch forums and the internet, it became obvious that there was a thriving community of watch enthusiasts posting and discussing watches and watch collecting seemed like an interesting hobby. Not wanting to commit too much money, I started looking for a line of collecting which would bring together history, culture and technical development and still being reasonably cheap. Russian watches seemed like an interesting idea. Watchproduction has always been important in Russia mostly driven my military considerations and there is an interesting history linked to a lot of the evolution of Russian watchmaking. So Russian watches it was.
I will not elaborate much on history or other information here as I do not know what the general interest is with regard to Russian watches but rather point a a few excellent sites for reading up on and looking at Russian watches and also mentioning specific articles in the text.
This is the best site for Russian watch pics and in general a fantastic watch picture site.
http://www.netgrafik.ch/russiantimes.htm
It also has a good history section about the major Russian watchmakers (I generallly use the term Russian even if it would formally refer also to Soviet, Belo-Russian, Ukranian, Estonian etc based watch companies).
http://www.netgrafik.ch/poljot_history.htm
Here is the "official" Poljot history.
http://www.poljotwatch.com/about.htm
A good overview in pictures of the Poljot line of watches is here.
http://www.horology.info/pic_library/man/man.php?page=poljot
This is a good selection of pictures and history for the major Russian watchmakers.
http://russianwatches.altervista.org/overview.htm
The main forum in English for Russian watches is at Watchuseek. Here is where I learnt most of the things I know about Russian watches. Friendly and helpful like some other watch forums I know.
http://forums.watchuseek.com/forumdisplay.php?f=10
So over to the collection. Collecting Russian watches means buying a lot of strange things from Russia and the Ukraine. A lot of watches does not cost more than USD 15-25 but you also get a lot of junk with some pearls in between. My total Russian collection is probably about 50-60 watches but the ones not posted here are either in bad condition or not very interesting. You might also want to note that my fact-checking has not be very thorough so some things said here might be open for discussion or just plainly incorrect.
My first Russian watch and still my favourite is the Poljot Strela. The Strela together with the Ocean below are the most famous Russian vintage watches. The Strela has been produced in different versions since the early 60s and a number of remakes and modern versions exist. Mine are both from a series produced in 2003-04 and are to me a good balance between cost and history. Both have the very common but excellent handwind 3133 caliber. Had to get both a black and a white as I could not decide which one I liked best. Early Strelas look amazing but will cost USD 1000 and upwards for good examples.
Here is a good article about Strela history.
http://www.pilotswatch.nl/Pages/Watches/strela.htm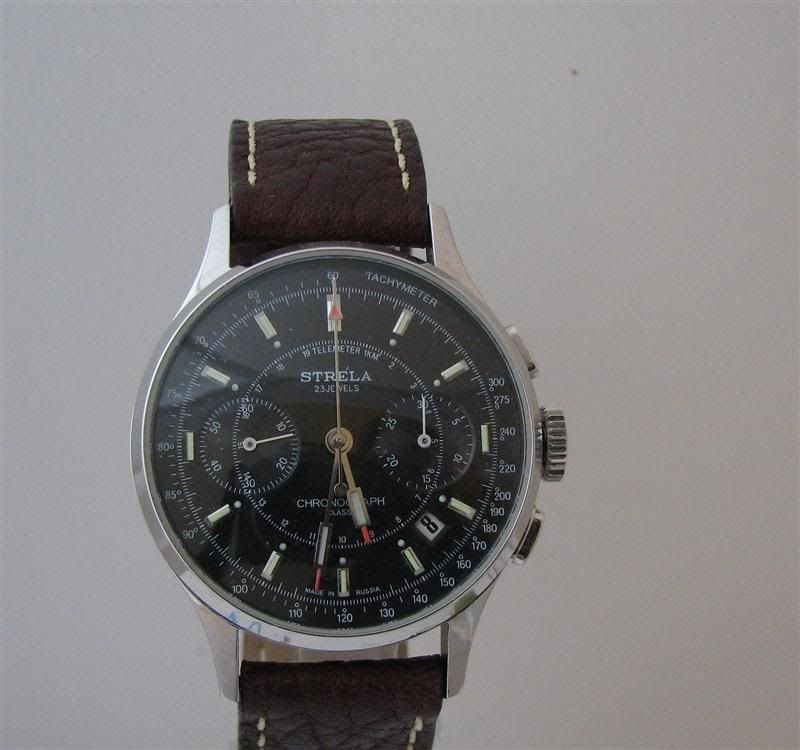 The Ocean (or OKEAH as the fancy collectors call it) is the other iconic Russian vintage watch. The Ocean is supposed to have been produced for Russian Naval Officers starting in the 80s and only been available to the public from the late 80s or early 90s. Borrowing a lot of design cues from earlier European watches (Lancos ?), it still manages to look quite Russian. Again, the 3133 caliber.
An article about re-issues of Russian watches, including the Strela and the Ocean.
http://www.network54.com/Forum/306982/message/1098614088/Reissue+Issues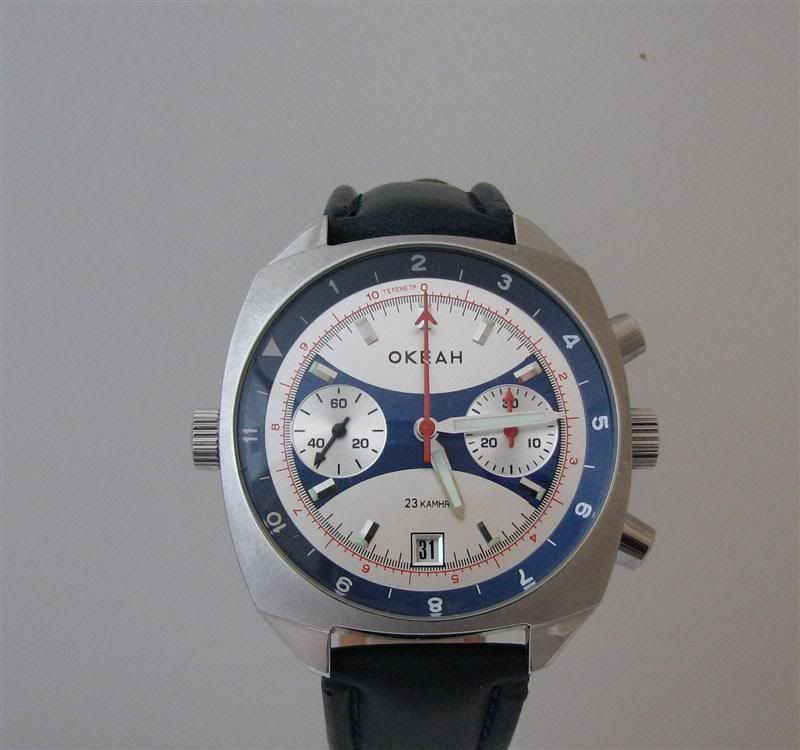 Together with the military angle, Russian watches have always had a strong connection to the Russian space programme. This article provides a good overview;
http://www.netgrafik.ch/russian_space_watches.htm
This is a reissue of the Sturmanskie, supposedly used by Juri Gagarin on his first spaceflight.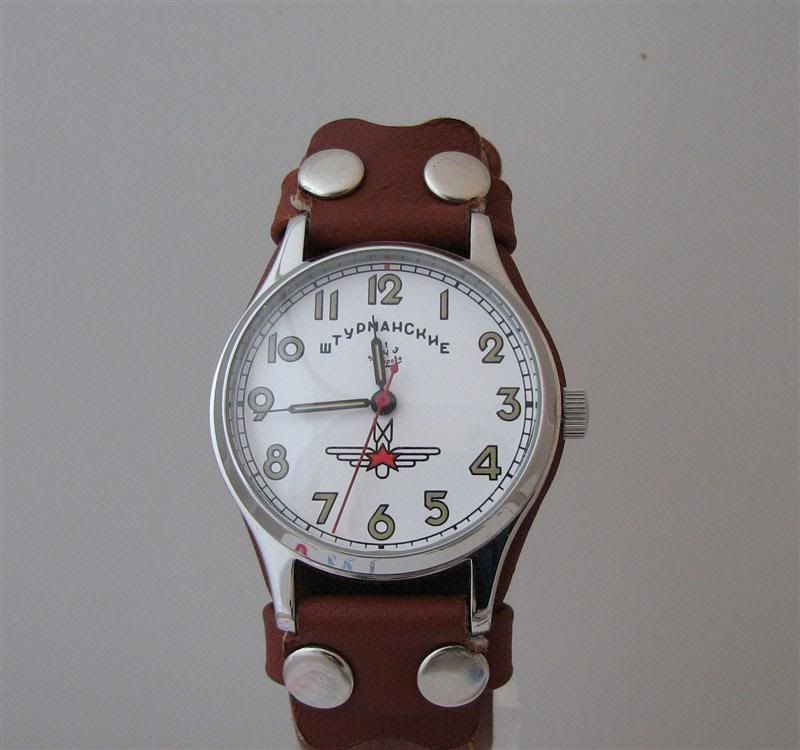 Another Gagarin-related watch, a Poljot with the usual 3133 caliber. Watch was issued in 2001 for the 40th anniversary of the Gagarin spaceflight.
As mentioned above, Russian watchmakers are quick to be inspired by designs made by other watchmakers. In comparision with some other "homage" watches, a lot of the Russian watches are very high quality and quite expensive. This Hanhart homage has (of course) a 3133 movement and cost about USD 200. A very nice watch but I really wish I could afford the original.
This is how the original looks.
Another pretty good copy. Not really familiar with other watches than Seikos and Russian things, I have been told that this is supposed to look like a Breitling. I am very impressed with the bracelet on this one. Solid steel and very well made.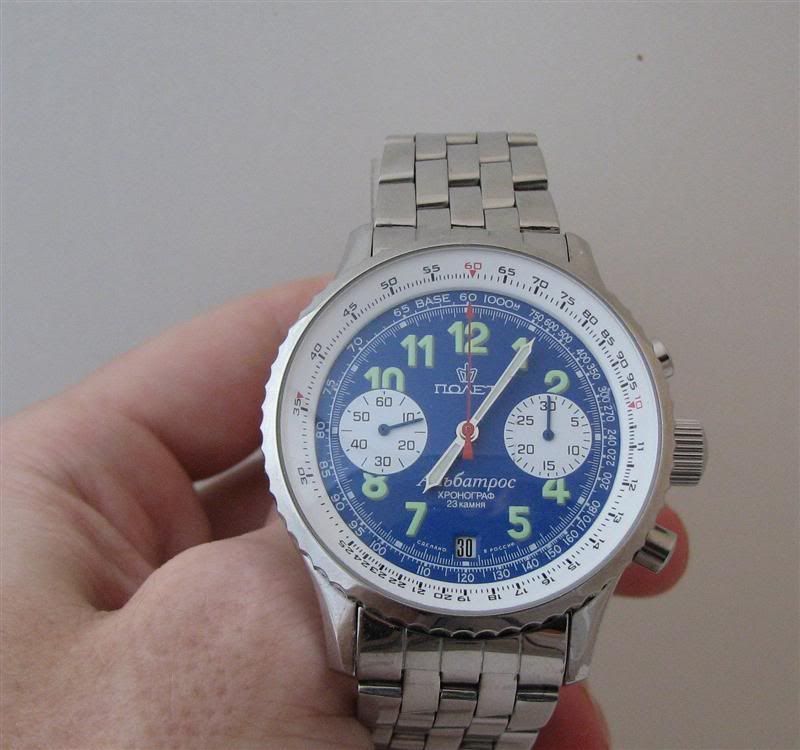 The other style/brand of chrono you will note when looking at Russian watches is the Sturmanskie. 3133 caliber (what else) with a moveable inner bezel on a separate crown. This is an early version from late 90s/early 00s but there are probably a hundred different Sturmanskie variants.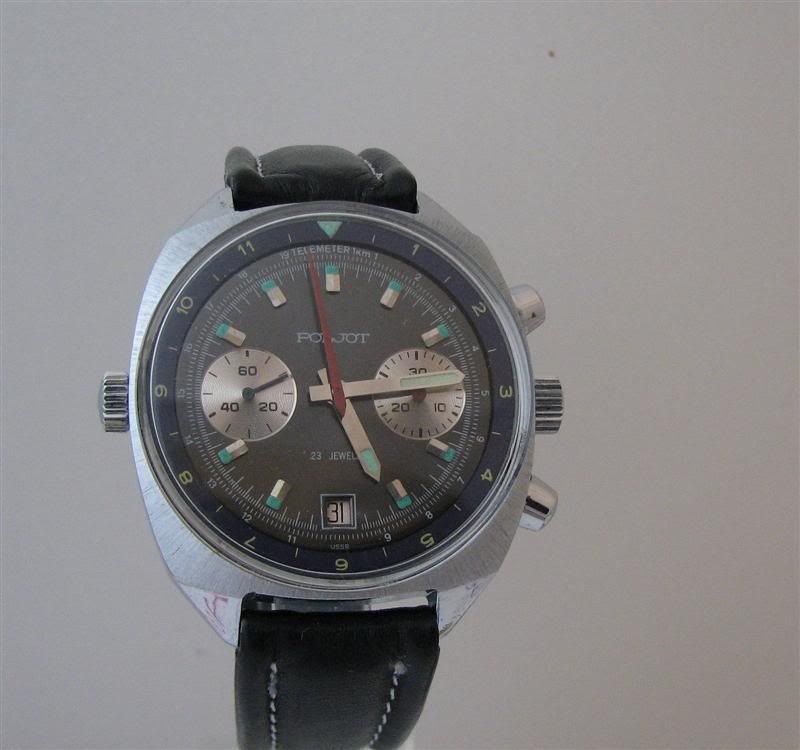 From 2004, Poljot started an offensive with new designs and models and tried to expand both in Russian and in the export markets. This is a decent watch in the USD 50 price bracket.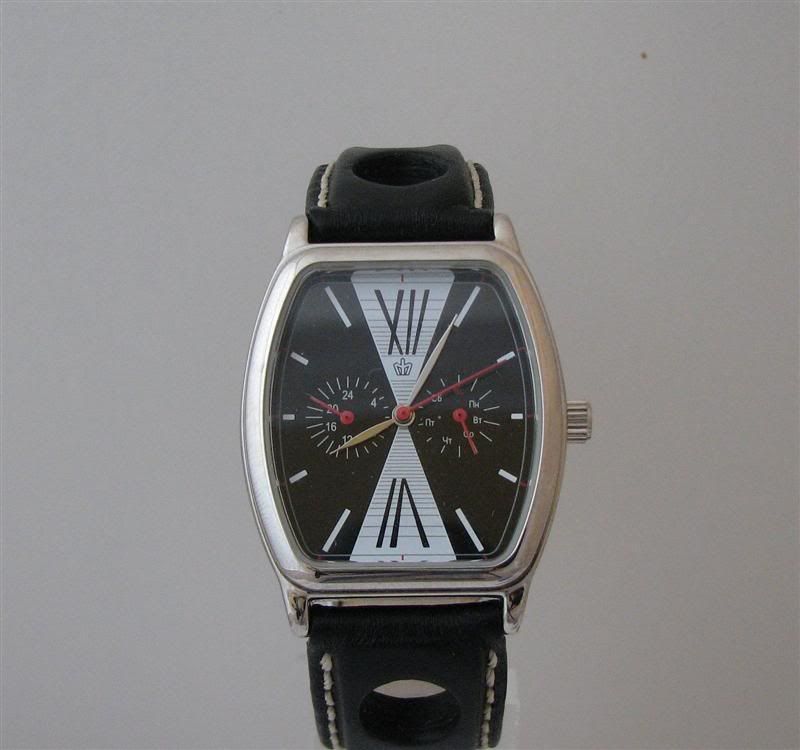 Another mainstay in Russian and especially Poljot watch production has been alarm watches. Poljot is the biggest producer of mechanical alarm watches in the world ever since they bought the old A Schild manufacturing plant and moved it from Switzerland to Russia in the 1960s.
Here is a good article and comparision of Poljot alarm watches.
http://www.wa.apana.org.au/~abolton/alarm.htm
Export versions of Poljot alarm watches were sold as Cornavin. Presumably in an effort to sound Swiss.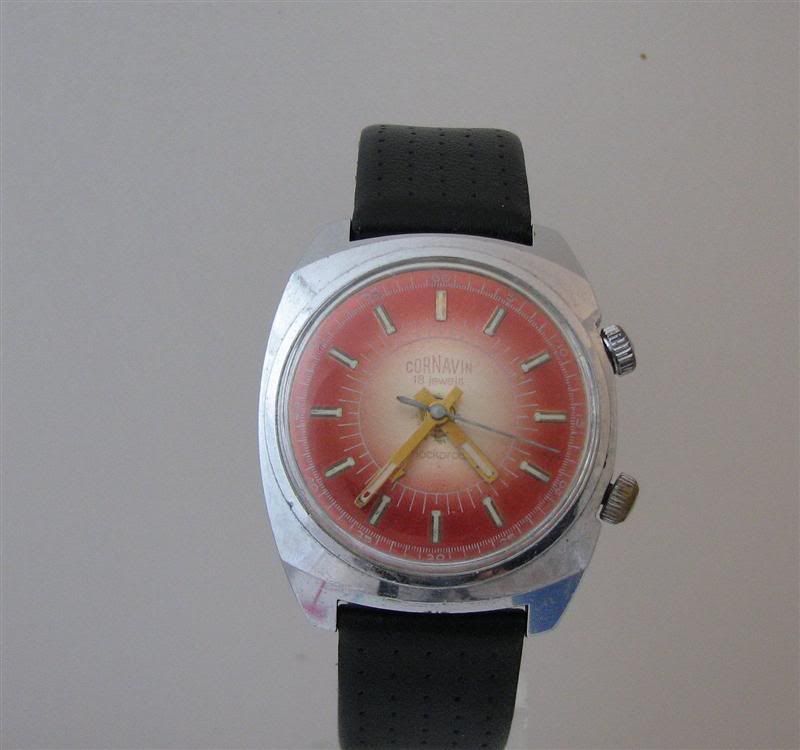 Another jeans-style watch, now with the Poljot name.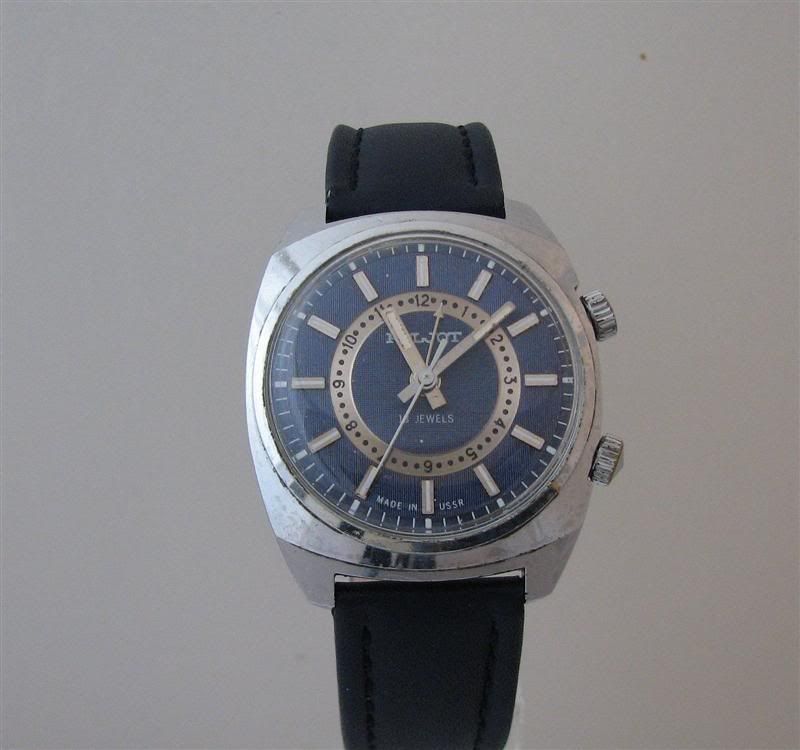 Modern Poljot alarm watches often have world time bezels.
A Luch quartz alarm with a center disc for setting the alarm time (vegetable in picture of no horological significance).
Russian mechanical expertise in watch production has always been excellent as they needed to fulfil military specifications for accuracy and ruggedness. Upto the early 60s, I would say that they were at least as good as Seiko.
A good article on early Russian watch movements.
http://www.horology.ru/articles/TZ.htm
As mentioned in the previous article, the Russian government ordered the watch producers to come up with the worls thinnest watch movement. While they succeeded thinness-wise with the 1.85mm 2200 caliber, this caliber was too weak for regular use and never produced in any major quantities. Better success and reliability was achieved with the 2209 caliber of 2.9 mm.
A Luch 2209 caliber in striking purple.
Side shot shows the thinness of the watch, a bit let down by the crystal.
Another thin caliber was the automatic Poljot 2415/16. A 24 mm caliber (first two figures of Russian caliber numbers often designate size so a 24XX is 24 mm and a 22XX is 22 mm) slightly thicker at 3.9 mm which is still very good for an auto. This is a 23j higher quality caliber used for the more expensive dress watches mainly made for export. The Russian Goldfeather perhaps.
Also very thin profile with a thicker crystal.
In most countries, good quality dress watches was used to mark anniversaries, long terms of service and other important times. In a communist economy, important events are slightly different.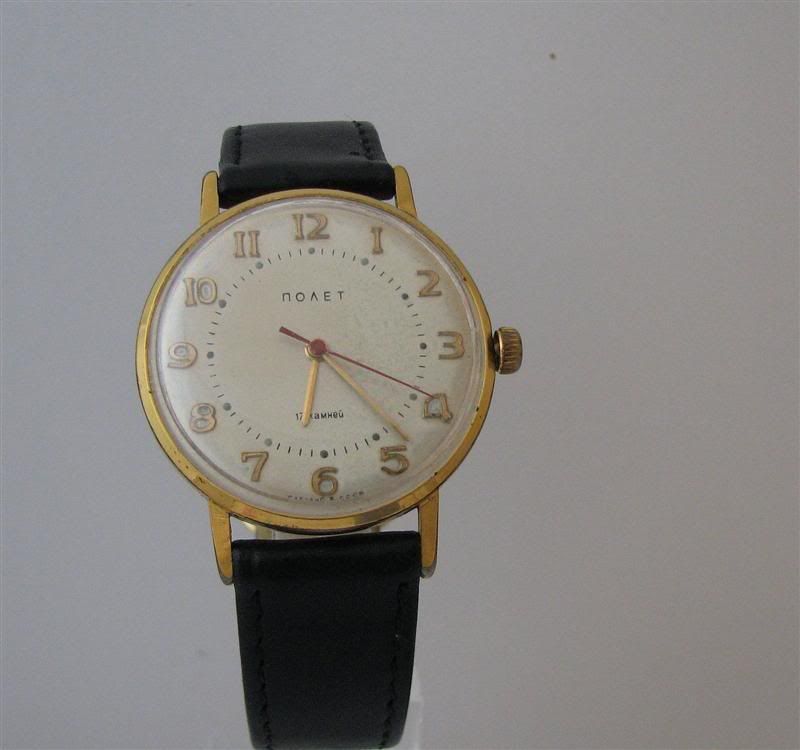 As you can see from the back, this watch was presented to the delegates of the third agricultural congress in 1969, presumably a big success.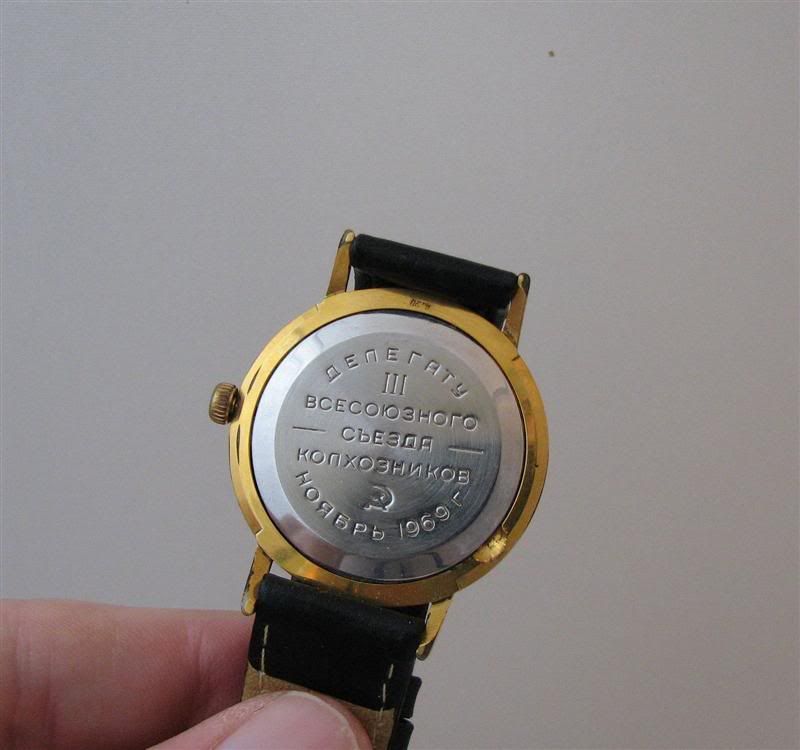 My appreciation of simple dress watches extend also to Russian watches.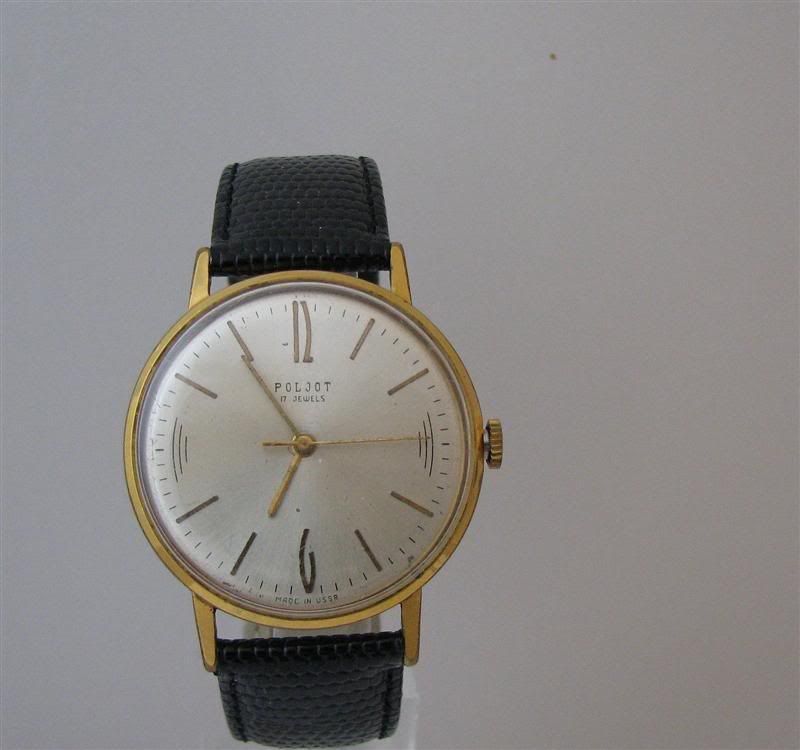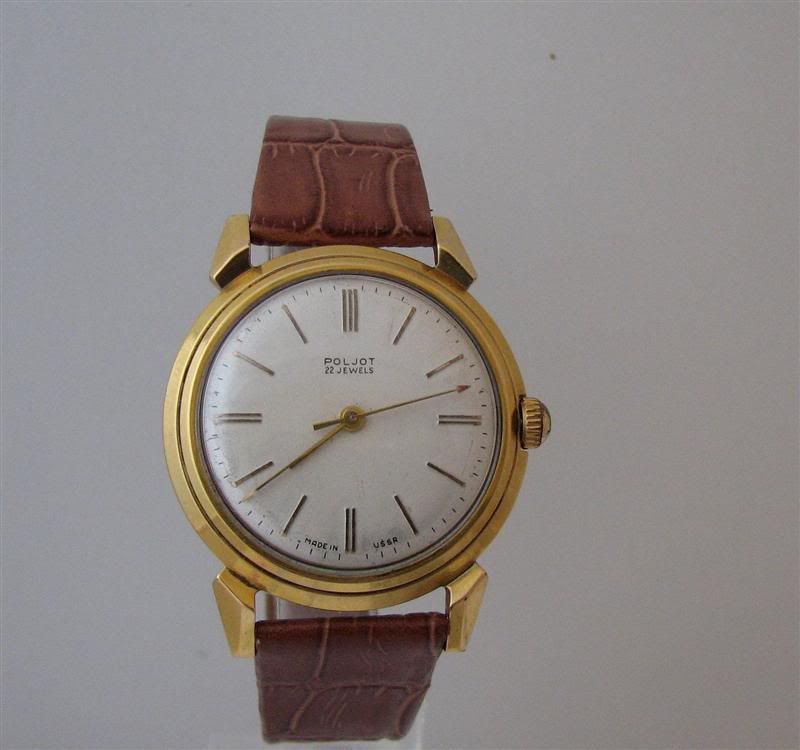 Early Russian watches were often a very large pocketwatch movement in a slightly adapted case so you could wear it on the wrist. This watch is an army issue watch and 52 mm big.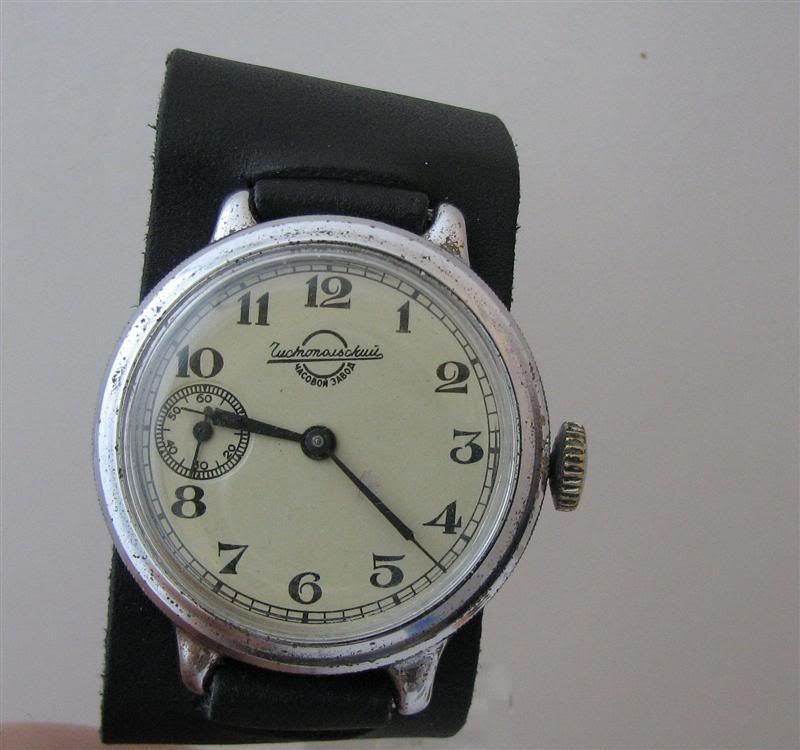 A lot of the Russian watches sold are cheap but excellent divers watches like the Komandirskie and similar. As usual, the naval and military connotations are evident. One of the more famous is the Radio Room watch, supposedly made for ships radio operators. This article explain the significance of the markings on the dial.
http://alanwatch.homestead.com/russian.html
Another Russian specialty is "real" 24hour watches, i.e. where the hour hand does one revolution in 24 hours rather than 12. This was a usual a military development and supposedly important in Russia because of the long nights/days up north, you could not know if 6 was a.m. or p.m.
This version is a Raketa watch made to commemorate some famous Russian Arctic expedition.
Another 24h watch with world time bezel. These bezels really make a lot of sense on 24h watches.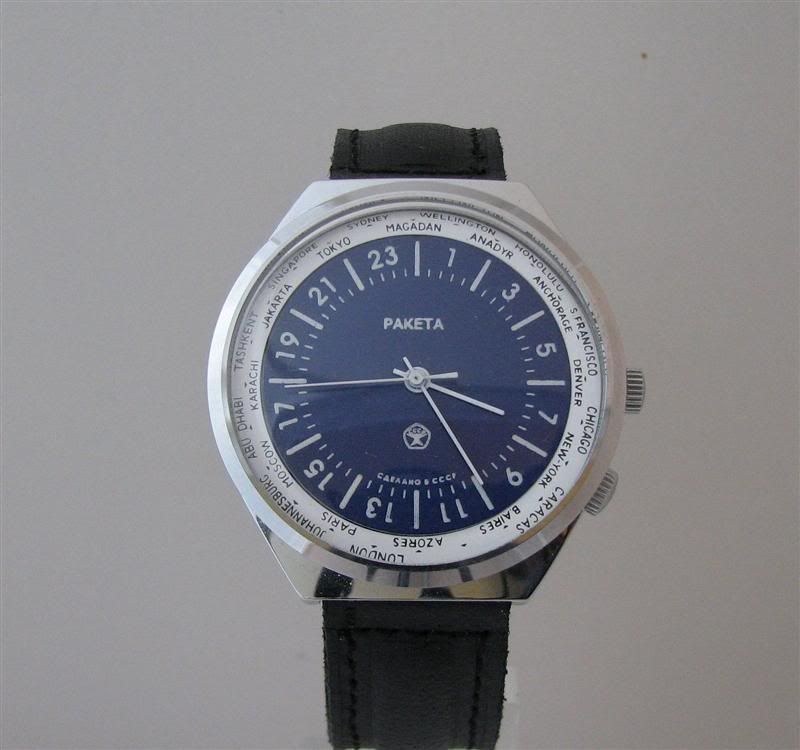 The later years of Russian watch production have seen the making of a lot of souvenir watches as visitors to Russia have considered watches to be an excellent thing to bring home. I assume that a lot of these are made in China but they are still quite fun and very cheap.
The hammer and sickle model (extremely rare upside down version).
The sun and moon sputnik version.
Coming back a bit to other Russian watch producers than Poljot, major producers include Vostok and Slava (see website mentioned initially for more information).
A nice 60s design with a 2 o´clock crown and red detailing from Vostok.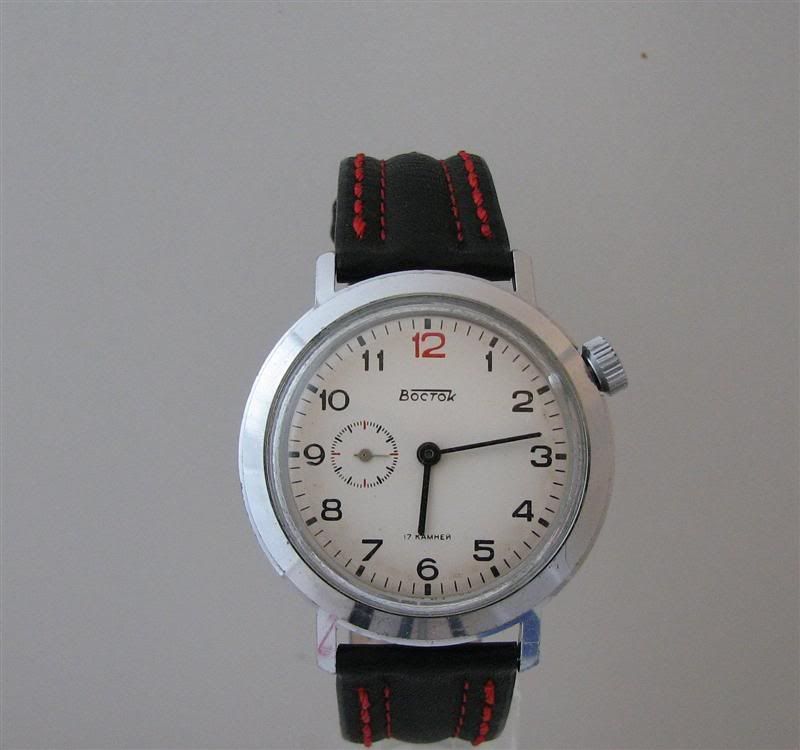 A Vostok high end 31j watch. This is a re-issue of the military K43 watch stated to have been an officers watch during or directly after the second world war. A very well made watch with a good design. I am particularly fond of the off center second.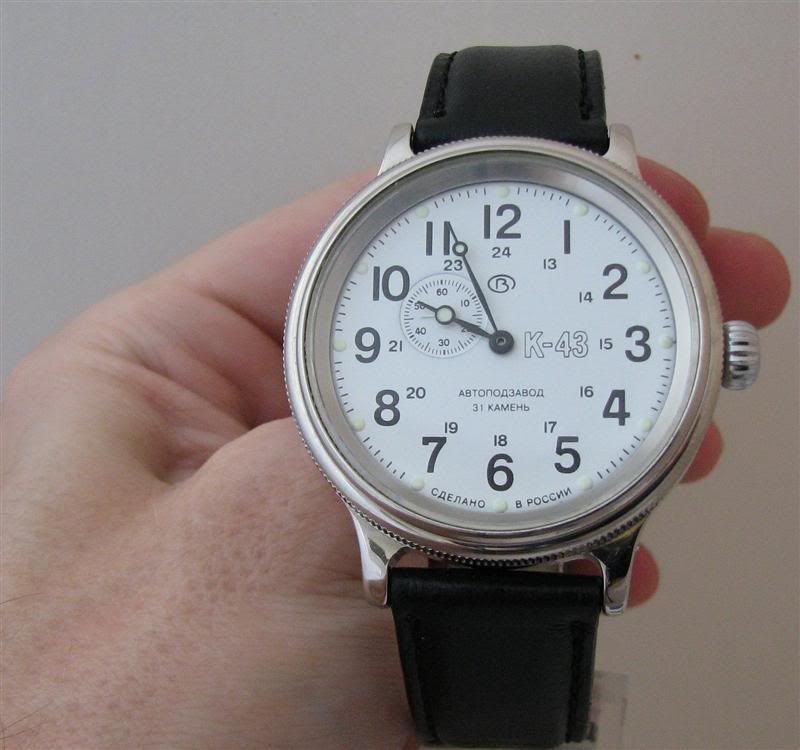 Also in later years, Russian watch producers have focussed on modern high quality watches made solely for the Western markets. One of the more well known is Vostok Europe who makes very nice divers like this Submarine K3.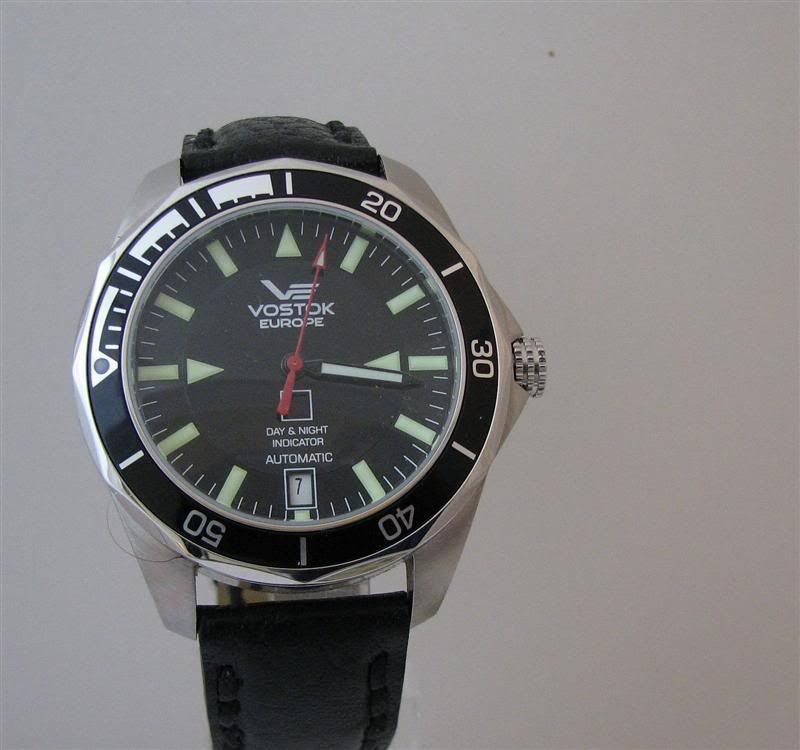 Finishing off, this is a 27j Slava. Little knob at 2 o'clock is quick set date.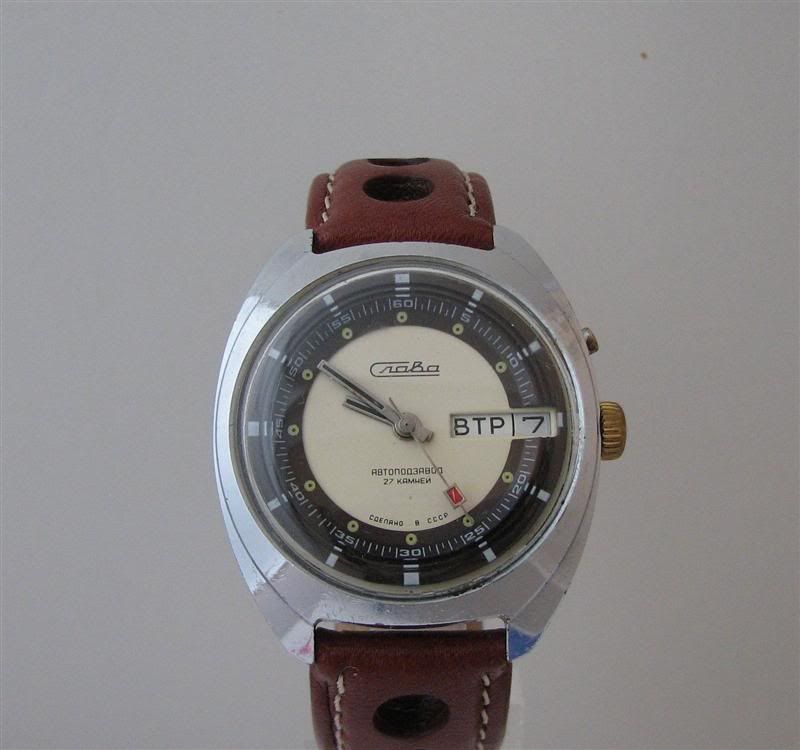 And for those who thought Russian watches were boring, a flashy Slava in gold and purple with a riskque off-set date window.